Are you a WordPress website owner and want an effective conversation with your visitors or customers?
Then move your way towards chatbots. It's the best strategy that any business owner can adopt to increase the conversation rate on the website. Plus, with the help of chatbots, you're available to your customer all the time that is 24*7*365 days.
In the same way, to know in depth about chatbots check my article on chatbots and its importance for your WordPress website.
What is Chatbot?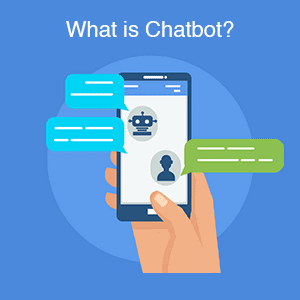 A chatbot is a computer program that is built with rules or artificial intelligence or both for easy communication via a chat interface. In short, it's an automated option to live chat.
User's input in the chatbot process is either a statement or a question. So, the reply should be a relevant answer which users will find it easy to get a solution. Moreover, some chatbots are fully pre-programmed that is designed with a list of responses or replies. Its main aim is to serve the user and help them to place an order easily.
Gartner predicts that by 2020, 85% of customer interactions will be done without a human.
The ultimate reason for this change is consumer preferences. Messaging or chatting is the most popular medium of communication. This has increased the demand for messaging apps and it has active users in comparison to social media networks.
Additionally, 98% of users are entertaining the private messages that are five times more in comparison to 20% of the average open rate of email. This clearly indicates that people give priority to messaging or communication through messaging interfaces.
Also Read: 7 Tips to Handle Support Service During the Holiday Rush
5 Ways a Chatbot Can Boost Your Customer Service on WordPress Website
1) Best Source to Collect Leads from Your Sales Team
The main purpose of any lead – based firm's website is to collect information and hand over to the sales team for contacting. A chatbot is a perfect tool for collecting the genuine information of the customer.
For example, we at MilesWeb use a chatbot pop-up for collecting the information of visitors. Plus, in the header of the website, you'll get an option to chat with our support team members.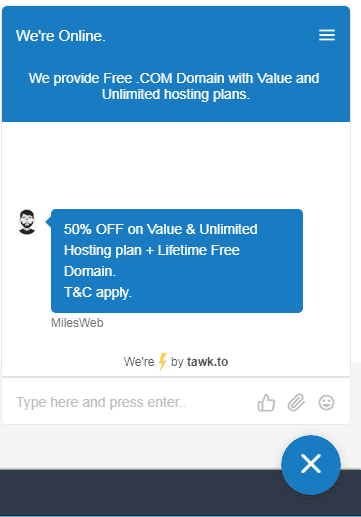 You can directly start the conversation without submitting any information. If you are willing to submit the details like mail id and name then you can click on the hamburger icon to get a list of information where you can submit the details.
2) Build Good Relationship Between Team Members and Visitors
A chatbot is introduced to make work easy for firms and visitors. Still, most of the people believe that chatbot is build to replace the human support staff and sales team. But this isn't the scenario.
In reality, one of the best roles a chatbot can play is to connect the customers with the staff.
Visitors can easily connect to sales and support staff to know more about products and services.
3) Give Useful Resources to the Visitors
I know your website must be having a blog, forum and FAQ section, right? As we all know that content is the king and we are using the content to make our website attractive and appealing.
Likewise, you can also provide content by training a chatbot to guide visitors with proper resources for clearing their queries.
For example, if any visitor is looking for a query like a guide on the domain, web hosting & website then you can provide the knowledgebase link for better understanding of the visitors:
Related: Beginners Guide to Domain, Web Hosting & Website
4) Visitor Get Superior Browsing Experience
In past, whenever a visitor used to browse any lead based company's website, it was not that much interesting or entertaining. Now, the pattern has changed because of a chatbot.
You'll get a question of how then answer is very simple that humans are getting welcome by a chatbot in a very standard manner that gives delightful experience to the visitors. Chatbot also tailors conversations as per the segments of an audience and delivers relevant information to the visitors based on required demand.
For example at MilesWeb, whenever visitors start a conversation, the first line that a chatbot puts forward to the visitors is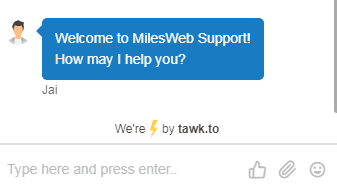 Your visitors will get a warm welcome that will motivate them to initiate a chat further and have a satisfying conversation.
5) Decrease Employees' Workload
We have discussed many pointers under this heading to make you understand the importance of chatbot for WordPress website. This indicates that implementing a chatbot on WordPress website will eliminate the workload of your employees. Moreover, if you add support related content then your employees can focus on issues that require time to get a solution.
While initiating chat, the customer will select the question that is very basic for you but important from a customer's point of view. Therefore, adding those frequently asked questions will be always beneficial for both the parties.
Handpicked Chatbots that You Can Implement on Your Website
1) WP Chatbot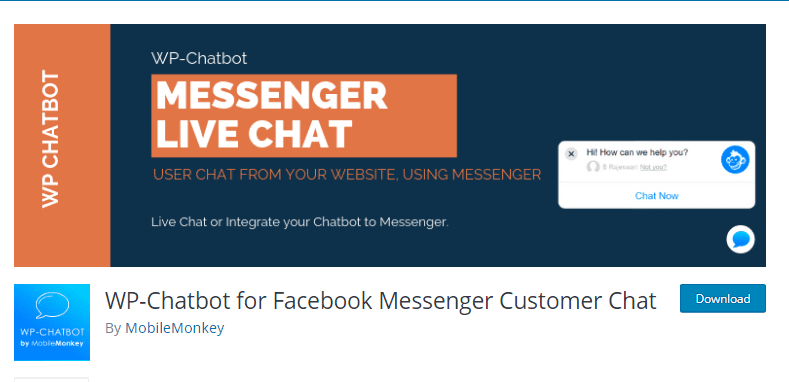 WP Chatbot is the best chatbot that allows implementing Facebook Messenger feature on the WordPress website or blog. You can use messenger on your website with an aim to chat live with the users, or deploy a Facebook chatbot like ManyChat or ChatFuel.
For using the WP chatbot, you need a free Facebook Developer account along with chatbot app's ID and page ID. Use these mentioned details for configuring the Chatbot on your WordPress website.  Further, you'll also get Customer Chat plugin installed that is useful for integrating the Messenger functionally on your website.
Features
Easy to install and access
Available at free of cost, no premium plans are available
Related: Top 20 WordPress Plugins for Live Chat
2. WoowBot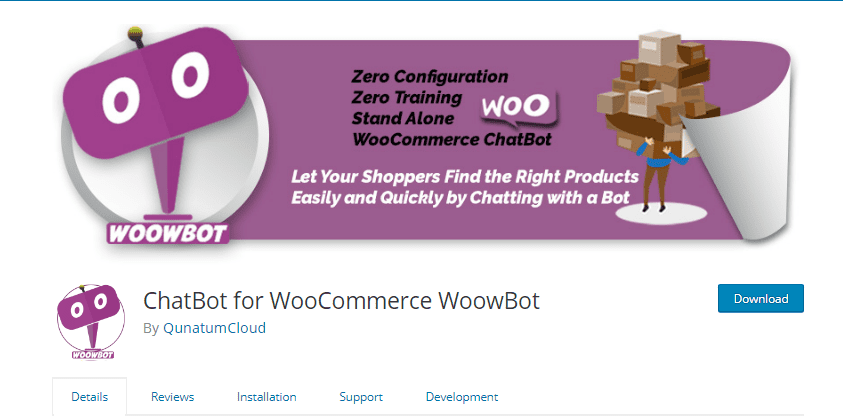 If we are talking about WordPress then WoowBot is the simple plug- and- play live chat that is specially developed for WooCommerce websites. It doesn't need any 3rd – party services or an extra step for configuration purpose. In a simple way, it's the easiest chatbot on WordPress to implement.
The free version of the plugin is useful to search for products as per the demand, like an advanced search function. On the other side, the paid version of the plugin includes extra functions like enabling the users to add items to their carts directly through the chat box. You can also customize the WoowBot's replies to the queries.
Features
Easy to operate and install without any configuration.
Offers useful search features to your WooCommerce website.
The premium version contains the latest features.
3. Botsify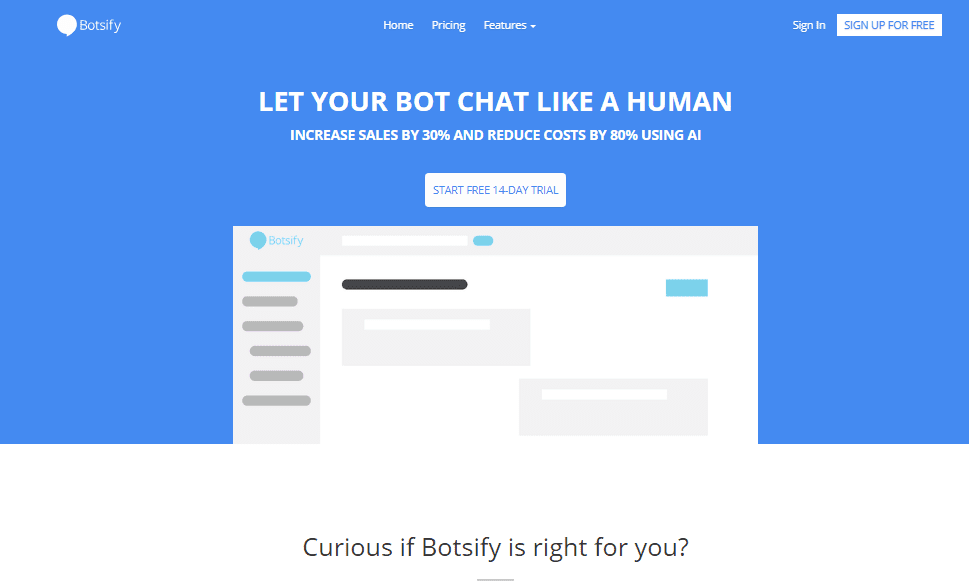 Botsify is easy and simple to use both for professionals and newbies. It offers drag – n – drop feature that makes easy for the developer to create the application. You can develop a chatbot without learning the coding skills. Plus, you get various alternatives for analytics options to refine your WordPress chatbot over a period of time.
Features
Easy to integrate
The only paid version is available after completion of 14 days free trial
Welcome, Chatbots…
Integrating a chatbot on your website is like hiring an employee to run your website effectively. Your chatbot will welcome your visitors on your behalf and increase the engagement on the website. Many organizations are experiencing great benefits from the chatbot. Then, why do you choose to remain behind from success?