Buy .COM & get .ONLINE for free!
Privacy protection included with .COM

Domain registration

required: 1 Year
.com 9.5
.co.uk 8.5
.uk 8.5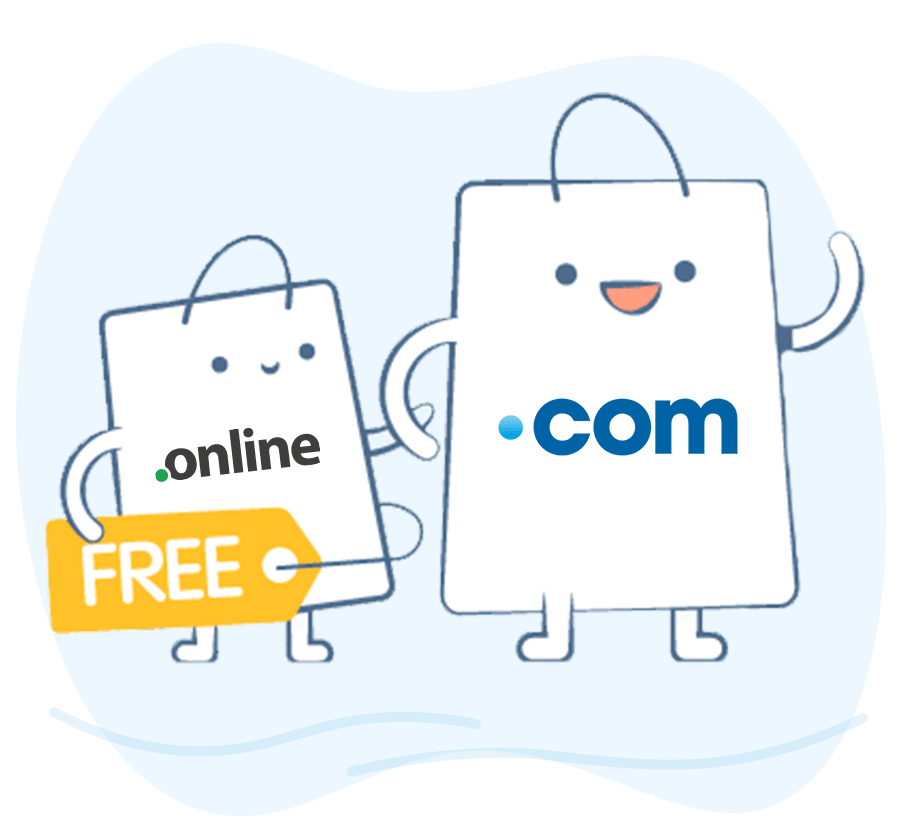 Search

for the right top level domain for your business

Country

A country code, also known as ccTLDs (Country Code Top-Level domains) are best ways to connect with your customers from a particular country, sovereign state, or a dependent territory. They are the most popular domain names for the businesses of all sizes and segments.

Example
.in

for India

.co.uk

for UK
Generic
Generic, also known as gTLDs(Generic top-level domains) are best ways to mark your brand in the market. They build interest and awareness of your brand in the market. Enjoy the highest exposure by registering your business-related domain along with your country domain.
Example
.edu

for educational institutes

.cake

for cake shop
Global
Global domains, also known as TLDs (Top Level Domains) are the best ways to target the global market. To make it more effective, many businesses or individuals register a Country domain and Global domain together. Interconnect your world by dissolving all the barriers.
Example
.com

for commercial

.org

for organization
Get your business online in 3 easy steps
Select a domain name
From a wide range of domain extensions like .com, .in, .org, and others you can choose the best domain name that represents your business on the internet.
Select hosting plan
Select the best web hosting plan from MilesWeb at an affordable price in the market.
Launch your website
Setup your website and get the instant account from us to launch your website immediately.
Domain Names – Register, Renew & Transfer!
Affordable domain registration in UK with one of the most trusted registrars
| TLD | Minimum Years | Register | Transfer | Renew |
| --- | --- | --- | --- | --- |
| .com | 1 | 9.5 | 9.5 | 10 |
| .shop | 1 | 7 | 25 | 25 |
| .co.uk | 1 | 8.5 | 8.5 | 8.5 |
| .uk | 1 | 8.5 | 8.5 | 8.5 |
| .org.uk | 1 | 8.5 | 8.5 | 8.5 |
| .me.uk | 1 | 8.5 | 8.5 | 8.5 |
| .eu | 1 | 8 | 8 | 8 |
| .net | 1 | 13 | 13 | 13 |
| .org | 1 | 9.9 | 9.9 | 9.9 |
| .info | 1 | 9.7 | 9.7 | 9.7 |
| .biz | 1 | 11 | 11 | 11 |
| .blog | 1 | 28 | 28 | 28 |
| .london | 1 | 38 | 38 | 38 |
| .wales | 1 | 12 | 12 | 12 |
| .io | 1 | 38 | 38 | 38 |
| .digital | 1 | 22.5 | 22.5 | 22.5 |
| .com.au | 1 | 16.25 | 16.25 | 16.25 |
| .net.au | 1 | 16 | 16 | 16 |
| .xyz | 1 | 3 | 9.50 | 9.50 |
Perks of Owning a Domain
Represent your business
Clients will definitely check out your website before reaching to you, and your website representation starts right from its domain name. To showcase your professionalism and credibility, you must own a domain.
Get easily visible
A clean and easy domain name attracts many visitors. Also, it is easy to remember the next time when you visitor wants to recall it.
Get better exposure on search engines.
A domain name that relates to your business or organization, improves your website ranking on search engine pages. This gives wide exposure to your business by showing your website in top searches for your potential customers, and engages them for a longer time.
Establishes your brand identity
Domain name should tell your audience about your business. A simple domain name is easy to identify and remember that increases the impact of your business on people. This helps in increasing your business identity and eventually you create a brand out of your business.
A domain name can safeguard your business
Domain squatting and hi-jacking is a common practice carried out by hackers on your online business. Protect it today, from such fraudulent and safeguard your business by providing a shield of copyright and trademark protection with MilesWeb.
Send professional emails
Make your online conversation more effective by using the professional email that represents your business. Instead of using generic emails from Gmail, Yahoo or other providers, it is always better to use your own domain name.
Already have the perfect domain name?
That's great!
We won't mind even if you have a registered domain name, you still can switch your hosting to MilesWeb. We are always happy to add more accounts in our web hosting family, and still promise you to provide the same hosting treatment as others. Once associated with us, you will feel secure and valuable. That's how we care for our customers.
How Do You Manage Your Domain Name?
Manage all your domain names, renewals, billing and services in one place. Through our friendly Domain Manager which is included with every domain.
With a simple "one click" setup feature you can connect your domain instantly to Web Hosting, Email Hosting or any services, without any tech knowledge.
The Domain Manager comes complete with quick bulk update tools and domain folders allowing you to group and organise your domain portfolio easily.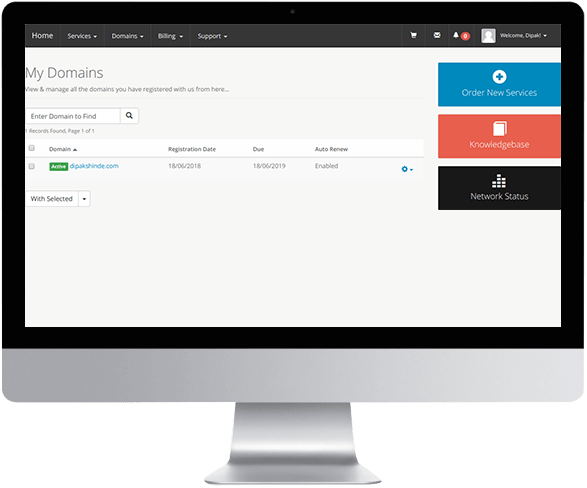 We are Always Here if You Need Us!
Need assistance with your web hosting?
We are happy to answer your queries about our service. Our skilled professionals are available 24x7 and 365 days for any support you need.
The Highest Rated Web Hosting Company in UK
Checkout our ratings on the most popular review platforms.
Register your Free Domain With Master & Expert plan
FAQ
Domain name is like an address of your online business. Once the domain name is set to your server space, your website gets visible on the internet. When anyone puts the domain name in the address bar, it will redirect them to the website with the same domain name.
Can I buy the same domain name as my registered business name?
Yes, you can register such a domain name. But make sure you follow some tips while choosing a domain name same as your business name. Like, suppose you have registered a business name as Fresh Cakes Ltd. then you wouldn't want to pick a domain name as nicksfreshcakes.com.
But you can consider other options like :
freshcakes.com
freshpastery.com
Can I use hyphens and numbers in my domain name?
Hyphens and Numbers can jumble your customers and hence, you need to avoid its use as far as possible. Like, if your juice bar name is 'Juice For All' then avoid using 'juice4all' domain name. It may confuse your audience making them think that you serve 4 types of juice to everyone.
Adhere to A to Z for your effective domain name.
Does my domain name choice affect SEO?
Yes, it does affect but not at a large level. Having a targeted keyword in your domain name is a good sign of having an effective domain name.
What should be the length of my domain name?
It is always better to have the shorter domain name. Would you love to see freshcakesbestinlondon.com as your domain name? It's confusing and difficult to remember right?
Same your visitors will feel about it, so keep it short. According to studies, it is found that the ideal length of a domain name is eight characters, but not every brand will be able to achieve it. So, at least make sure that you choose the name that satisfies this condition.
Would you offer me a free domain name?
Yes, we offer free domain name with our Master and Expert web hosting plans.
Do I need a .com domain name only?
No, there are other options also available.
E.g. for the non-profit organisation (organization) you may register a .org domain name.
You can also choose the domain names as per the country code like, for India .in is available likewise, for the UK you have .co.uk
You can search such different helpful extensions for your business.
\
Does my domain name expire?
Yes, domain registration lasts mainly from one to ten years. So, it is required by you to note the expiry date of your domain name and renew it before it expires. The free domain name that you get from MilesWeb web hosting plans remains with you as long as you are associated with the company.
Can I use a domain name for emails pointing to other sites?
Yes, you can set up email at your custom domain name pointing to other websites like LinkedIn, Facebook or Twitter. Sending email from custom domain name looks more professional for your business work.
Do I need a trendy domain?
Earlier, omitting vowels from brand names was considered as a clever choice. That's why Twitter used Twttr.com and Flicker used Flickr.com, but later they decided to limit this confusion and started using their default business name in their domain name.
Thus, using misspellings just for the sake of having a trendy domain isn't a good choice. Simple domain names are easy to understand and remember.