Let's start with the basics!
What are the things that catch your attention when you visit a website? Imagine it in your mind and read the points below to understand what a customer would look for.
User Interface / User Experience of the website
The loading speed and how long it takes for the entire website to be presented
Highlighted marketing phrases in the top banner
Choice of colors, font
Overall reliability factor on the brand if it offers products or services
Before stepping in to integrate a bunch of plugins that will enable calendars, scrolling widgets, and live chat for WordPress, understand some of the common errors WordPress website owners make. This will help you avoid making such mistakes on your website.
After all, when a new visitor drops on your landing page or the home page of your WordPress website, all they look for are answers to their questions. If you make sure your website is presented in a way your customer is looking for, you can witness a great conversion rate and add new customers to your brand.
Hidden Errors that Affect the Landing Page Performance
Don't be put off with all the errors listed below. You must learn to get rid of them and start thinking like an entrepreneur to understand how to optimize your landing page effectively. In the competitive world of selling products and services, get rid of your shortcomings first before you bring in the big guns called upgrades and powerful plugins to improve user experience.
A website that takes a long time to load is a big 'NO' as it may drive off visitors from your landing page.
The page should make use of pleasant color choices that make it easy to read even in the dark.
A major percentage of users have switched to mobile and the landing page, if not mobile-friendly, will have adverse effects.
Create something a more preferred landing page for visitors so that they can easily find what they need.
Lack of WordPress live chat plugin deprives users of not being able to seek help immediately.
4 Well-Researched and Practical Ideas to Improve the Landing Page Performance
A search engine optimization expert can help a newbie WordPress developer or a WP website owner to help boost their website's overall performance. However, considering the massive amount of information available online in the form of blogs and YouTube videos, you can go from noob to pro in a matter of weeks.
Also, the most significant advantage of WordPress landing page plugins is that they are bundled and available in easy-to-use files. Just download the files in your administrator panel and install them in a few minutes. Purchasing paid plugins are even simplified as they have live support from their developers to help wade through any technical hurdles.
Related: A Definite Beginners Guide To WordPress Themes
1. Make Your WordPress Website/Landing Page Faster and Responsive
Wouldn't it annoy you if your smartphone, PC, or an app is either too slow or doesn't respond to your commands? Choosing to speed up a WordPress site is the first and foremost strategy any website owner should adopt to witness better conversion rates.
An Akamai study revealed that if the website takes more than 2 seconds to load, the bounce rate on the page is about 47 percent. While it is essential to keep server costs affordable in the long run, it is also mandatory to make your website faster and more responsive.
Try GTmetrix to check the current loading speed of your website and improve it by upgrading your server, reducing the number of images and having a Google Robot friendly page design.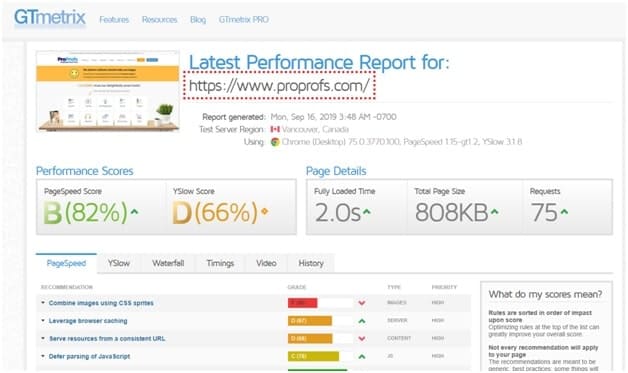 2. Never Stuff Your Landing Page with Too Many Images
An average marketer would passionately want to share lots of things at once but keep your landing page simple and easy to understand. Never stuff the page with too many images because they can often act against the proposed message. Large, high-quality images will affect page loading times as they won't load immediately on slower internet connections.
Google, Bing, and other search engine bots find it difficult to crawl inside an image and understand the text written in it. That's why images with text aren't showcased it in their search engine index. A common mistake that UX designers or graphic designers do is add lots of different fonts, colors, and images to convey the message. Check page loading times and keep the landing page simple, with a clear message on top.
3. Provide Instant Live Help When Your Visitors Need it
The marketing strategy can be different for both potential customers and visitors who are interested in a product or service you have to offer. That's because the next apparent step is to know more about it, pre-order it, or ask for a trial.
Instead of going for pre-defined answers, add live chat to WordPress website. That's because it will help you answer visitor questions faster and manage multiple issues at the same time. What's more, it is easy to implement. So, your website gets equipped with the ability to get visitor queries and doubts clarified through live chat. It doubles your chance to convert visitors into customers besides creating a credible name for the website/service provider.
4. Bring Your Call to Action Button to the Forefront
It is essential to bring your CTA button to the forefront, among other landing page optimization best practice is to keep things simple and easy to understand. Once you have showcased your product or service in the right way, ask your visitors to check out the trial or find a way to sign up to use it.
Clarifying the visitor on a landing page with the Call to Action button upfront makes it easier for them to give it a shot even if they are not sure whether they are going to purchase it or not. This is the first step towards completing a successful sale and improving conversion rates on the landing page.
Bottomline
Understanding how to boost and promote landing page performance on a WordPress website is a never-ending quest where you have to evolve your strategies with time. However, it always pays off when you get the basics right and implement an intuitive and handy solution such as live chat for WordPress for better loading times and impressive
UX design to convince visitors on your landing page to check out a product or service that you have to offer.
Share your opinion on more creative ways to improve a WordPress website's performance in the comments below.