When developing a website, ensuring that it reflects your unique brand and message is critical. Because Brand Identity is so crucial at a time when thousands of companies are promoting similar products and services online, it's vital to know how to create a site that stands out from the rest.
To create a website that reflects your brand identity, you must ensure that the colors, texts, images, navigation, and everything else are optimized for ideal brand representation. The following article will go into detail on the subject of how you can create a website design that reflects your brand identity.
What is a brand identity?
Before discussing creating a website design for your brand, we must first address what we mean when we say "brand identity." A brand identity is a collection of distinct features, ideas, and characteristics that express a company's visual identity and serve to differentiate it from other businesses in the minds of consumers as an overall brand image.
In other words, a brand identity comprises what your brand stands for, your company's values, how you market your goods, and the emotions you want customers to experience when doing business with you. Your company's personality and everything related make up your brand identity.
Why is brand identity so important?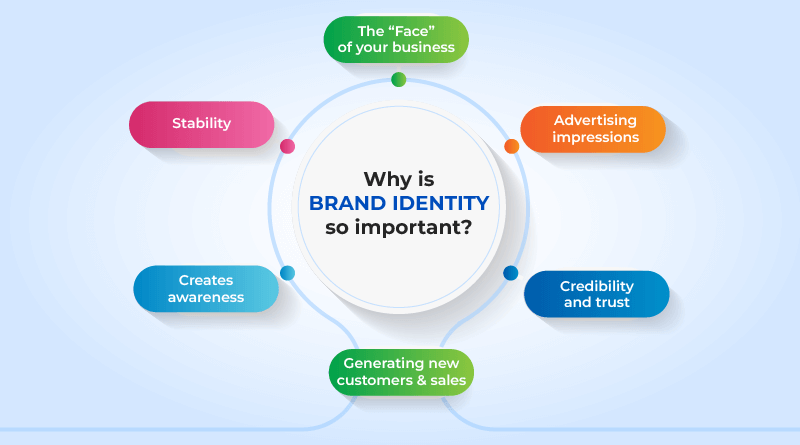 Now that you know what a brand identity is, it's essential to understand why it's so important. Below is a list of reasons why brand identity is so crucial:
The "Face" of your business
Your brand identity is the "face" of your business. When someone sees your company name and logo, they immediately associate that name and logo with your company and its products and services.
As a company, you want customers to associate your company with its quality products and service. Ensuring that your brand identity is well-developed will help you ensure customers feel confident about doing business with your company.
Advertising impressions
A brand identity is a template for advertising your company and its products to the public. That is, the first impression that your audience sees of your company when viewing your advertisements or product packaging helps to establish a lasting impression in the minds of consumers.
For this reason, a brand identity is critical to your company's future success in the market. The more simple, striking, and well-developed your company's brand identity is, the better your initial impressions will be.
Credibility and trust
Brand identity attracts people to your company, but more importantly, it helps you grow your audience and increase your credibility and trust with customers. A brand that establishes a face or image for itself immediately tells the public that it's a business worth doing business with.
The stronger your brand identity is, the more potential customers will trust your company to provide quality products and services. A well-developed brand image ensures customers will continue purchasing from you and returning for more.
Related: Designing for Mobile-First: Best Practices and Considerations
Stability
A rock-solid brand identity gives your company added market stability and helps you stand out from competitors. Let's face it- no one wants to be associated with a company or product that will fail in the future.
A well-developed brand identity helps your company differentiate itself from the consumer's list of potential customers. By projecting stability and reliability, your brand becomes more attractive to potential buyers and customers.
Generating new customers and sales
A great brand identity allows your company to develop a customer base that attracts new potential customers. More importantly, a brand identity makes it easy for current customers to refer your products and services to others.
A great brand image isn't something you can buy; you have to develop on your own and build from scratch. Prior to hiring a professional Web Design Company in Los Angeles, business owners need to do the necessary research to create the Website for their brand identity.
Pick A MilesWeb's Domain Hosting Plans For Incredible Features & Rock-bottom Prices.!
Creates awareness
A well-developed brand identity creates awareness of your company and product or service. For this reason, a brand identity is the first step in creating awareness of your company's name and logo among potential customers.
This ensures more exposure, sales, and potential customers, which is ideal. By exposing your company and product to a large audience, you can reach new potential customers who might have never found out about your company.
Effective ways to create a website design that reflects your brand identity
Creating a website design that reflects your brand identity is the first step in creating a well-developed brand image and attracting new customers. A well-designed website will get others interested in your company and, more importantly, encourage them to do business with you.
Following the guidelines and key elements of website design, you can learn how to create a website that reflects your brand identity.
Typography
The font you select for your branding materials is referred to as typography. They greatly influence your website copy's style and clarity, making them highly insightful. Therefore, picking the ideal font for your brand's identity is essential.
The font you select for your brand will immediately determine your company's tone. A more conservative font design will convey stability and reliability, while a more modern font will reflect your brand's creativity and forward-thinking ideas.
Related: Web Design: The Top Trends You Need to Know About
There are four significant types of typography.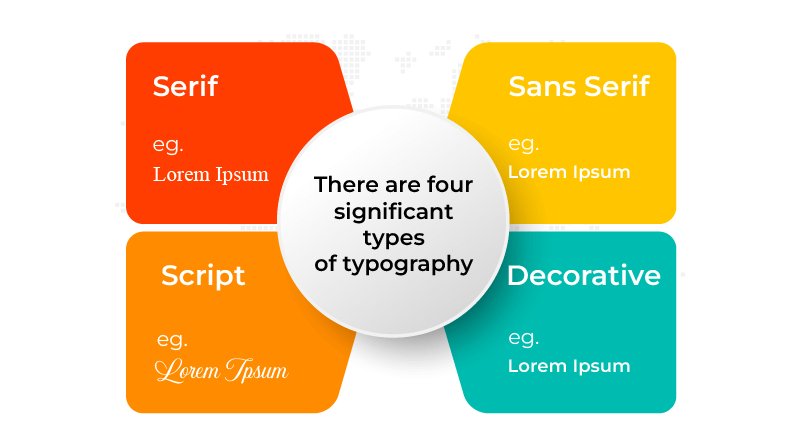 Serif: These are fonts with tiny lines at the ends of letters. They give your website design a traditional look.
Sans Serif: contains straight and smooth edges, and they give your brand a more modern look.
Script: Imitated cursive handwriting, and they are ideal for logos with an elegant tone that appeals to a broader audience.
Decorative: Decorative or display fonts are great for bold statements because they are more out-of-the-box and possess unique characteristics.
You can choose your fonts based on the tone you want to convey. For instance, you can choose a traditional font if you have a conservative brand. On the other hand, if your company has a more forward-thinking and creative tone, such as a luxury brand, use modern fonts that reflect that tone.
Color palette
Color is an effective way to convey a tone and image for your brand. A color palette that's well-balanced, simple, and beautiful will communicate consistency, professionalism, and trustworthiness.
The best thing about properly using color is that it increases brand recognition by 80%. It also raises the visual appearance by 93%. Color is an effective way to achieve your company's goals, and it is an effective way to make consumers remember your brand.
The step in creating a color palette for your website design is to create these simple rules:
Create a uniform color palette representing all aspects of your company – product packaging, logo, color scheme, and website design.
Use simple color combinations that can be easily reproduced on other color palettes and materials.
Website Layout
Your website layout is your most valuable marketing asset because it is a framework for your brand identity. This is where your website's typography, color palette, and layout come together.
A website layout is critical because it is the first thing any visitor views. It is vital that you have a design that represents your brand and that it communicates your message and tone clearly and effectively.
Optimized content
Just like your website design, the content you place on your website reflects your brand identity. Therefore, it is vital to be professional, attractive, Eye-catching photos, compelling and valuable information, and consistent with your content.
However, focus on creating content that displays how your brand is vital to the lifestyle of your target audience and how it satisfies their needs. Furthermore, premium content is highly valued by search engines and can raise the rank of your website in search results.
Attractive call-to-action
A call-to-action is an element that encourages visitors to perform a specific action on your site, such as sharing information with friends, signing up for a newsletter, or purchasing a product. The call-to-action can take many forms, such as a pop-up, a text link, or an image button.
Consider your "call to action" as a critical component of the user experience when developing a website. Make your call-to-action button visible to draw attention to it. It should be well-designed, visually appealing, and simple to understand.
Optimizing your website for search engines
Optimizing your website for search engines is crucial to increase your brand's visibility and accessibility. Search engine optimization (SEO) entails optimizing the content and architecture of your website to rank higher in search engine results pages (SERPs).
To optimize your website for search engines, you should:
Optimize your website content using keywords specific to your industry, audience, and goals.
Implement keywords in strategic parts of your page so that search engines can find them easily when relevant users search for them.
Leave meta tags specific to your website and important for search engine crawlers and spiders to detect.
Responsive logo design
The logo is the most visible element of your brand identity, so it must represent your company well. A great logo is essential for branding and, by extension, for a well-designed website. A logo is more than just a picture, though. It's an impression of your brand's character, personality, and values.
When creating a logo, consider what you want your brand image to represent! It needs to be the visual synonym of your company's name, so make sure you also position it in a prominent place on your website and use it in all your marketing materials.
Monitor your website to maintain its brand identity.
For the long-term viability of your website, you need to monitor it constantly to ensure that it remains true to its brand identity. Use Google Analytics, comments, surveys, reviews, and other feedback to analyze your website's response and make changes as necessary.
This will allow you to change your brand as needed — to correct a mistake to improve Brand Identity or align with current marketing trends.
Use high-quality imagery
A strong brand identity must be created using images of the highest quality. Use High-Quality Imagery on your website that expresses the nature and values of your company. This means selecting images that align with your brand and generating a positive emotional response.
When choosing a suitable image, consider the message you want to convey, the products and services your brand offers, and the tone you want to set. As a result, use images that portray your company's message and product and reflect your brand images and personality.
Make your site mobile-friendly
Today, most people use smartphones and tablets to surf the Internet, so it is vital to make your website mobile-friendly. A mobile-friendly version of your website is vital to establishing a solid brand identity and an effective digital presence.
The layout, content, code, and components must be optimized for mobile devices to make your website mobile-friendly. In addition, the entire website should be responsive (meaning it can be displayed on any size screen).
Related: How to Build Customer Trust with the Power of Web Design?
5 Key Elements of brand identity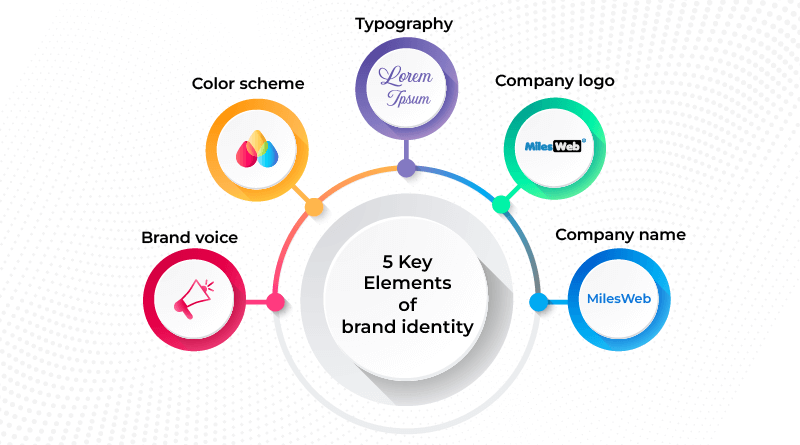 A recognizable visual identity is the first step toward building a successful brand. A good brand identity has five key elements:
01. Brand voice
A brand's voice is the tone underlying its messaging, which is crucial to the relationship you build with your customers. Your brand may sound like a natural extension of your personality, but you must be careful that it doesn't clash with your style.
02. Color scheme
In a good brand identity design, the color palette works harmoniously with the other essential elements — such as typography, photography, or illustration — to create a cohesive visual identity.
03. Typography
Your website typography will represent your brand identity, so it must represent your brand accurately and efficiently – both in its design and how it's used alongside other elements of your website.
04. Company logo
The company logo represents the brand, so it is also an essential component of your brand identity and an extension of its image. The design should be simple and memorable but still specific to your business.
05. Company name
A business name is another important element of your brand identity, as it will attract new customers, shape your own business identity, and differentiate you from competitors.
Conclusion
A strong brand identity is the foundation of any successful business. It can differentiate your brand in the marketplace and create a positive customer experience to encourage lasting relationships. Developing a compelling brand identity for your website and business is critical. Remember that identity can't be static — it should evolve and grow with the company.
To implement these design tips for branding, hire a professional web design agency to build your website. This way, you can ensure that your website effectively represents your brand identity and image. You will also save time and have peace of mind knowing that you are getting the best possible return on your investment.