Many entrepreneurs are still yet to come to terms of what advantage social media is offering to their businesses. Some of them think that social media marketing is a new buzzword in business and tech industries. But those who tap on the opportunity make real gains for their businesses.
It has, however, been observed that some marketers have no idea which is the best tool and method to leverage on social media presence for the growth of their businesses. It is true that social media helps you to create brand awareness, convert more customers, create brand authority in your industry, and gain insightful information about your customers among other benefits.
To get the complete benefits of social media, you need to understand your audience and their presence on social media networks. You will get all the information you want to grow your brand by using the social media demographics that matter to your business model.
Influencer marketing, a strategy that involves partnering with influential social media users is becoming an encouraging path ahead.
This post describes how you can use social media demographics to engage your audience in the right way and on the right networks to increase conversions and customer retention. That means you will learn how to drive your brand's online presence.
Here are the statistics that matter to business marketers who want to improve their business performance using social media marketing tools.
1. About 7/10 of US Adults Use Social Media
The Pew Research Center unveils that around 70% of all people aged 18 and above are actively using at least one social media network. The statistics include all the population, not only internet users. The information goes on further to indicate that the usage among young adults is higher than that of the aged. There is a 90% usage by people between 18-29 years compared to 40% of people above 65 years.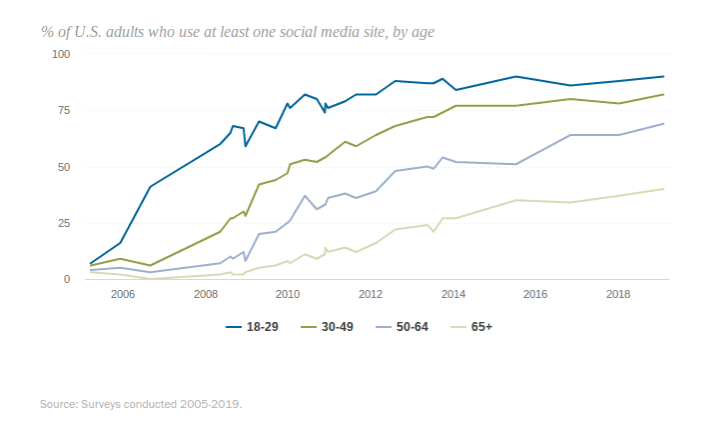 Image credit: Pew Research
It is, therefore, evident that using social media is a sure way of reaching more people with your brand when you compare it with other forms of marketing. All you have to do is to position yourself right and know who you serve in your business industry – and you will achieve the results.
2. YouTube Dominates in Social Media Usage
For a long period of time, Facebook has been taking lead in social networks. But the statistics have been ignoring YouTube as part of social media networks. Since last year, the Pew Research Center has collected data that includes YouTube in their research. They have found out that there are 73% of US adults who use YouTube compared to 69% using Facebook.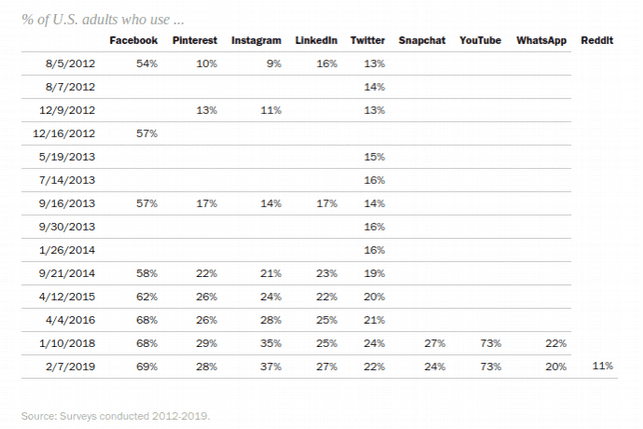 Image credit: Pew Research
If you are a serious marketer looking to grow your brand online, then YouTube should be among your top target social networks to reach your audience. Consider that YouTube advertisements follow Google's cookie policy to show relevant ads to users. Even when the viewers are not logged in, they will receive targeted ads that can generate conversions for your brand.
3. 96% of Do NOT Respond on Time
It is quite devastating that a whole of 96% of brands using social media do not listen to their followers or prospects. An analysis conducted on Twitter shows that only 4% of all brand mentions get responses within the expected timeframe of 15 minutes. You can as well say that only 4% of your competitors are actively following what is going on, on their business pages.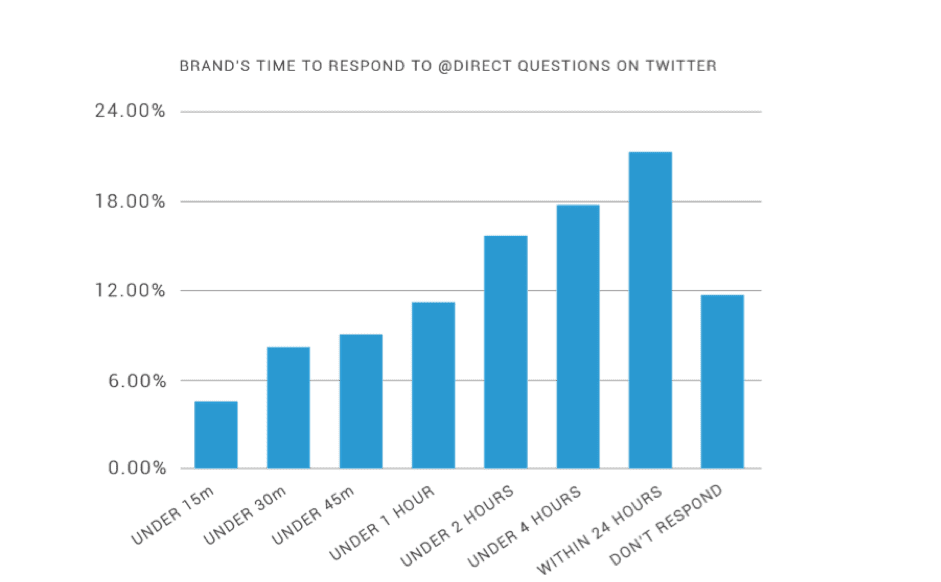 Image credit: Brandwatch
The research was conducted during the working hours – adjusted to meet timezone differences. But many businesses seem to entirely ignore their brand mentions on Twitter. Others take as long as five days to respond to their customers.
A delay in responding to customer questions or complaints on social media can impact the customer's decision negatively. You will have to expect that they will move to a competitor who will respond to them fast and provide adequate customer services on their network channels.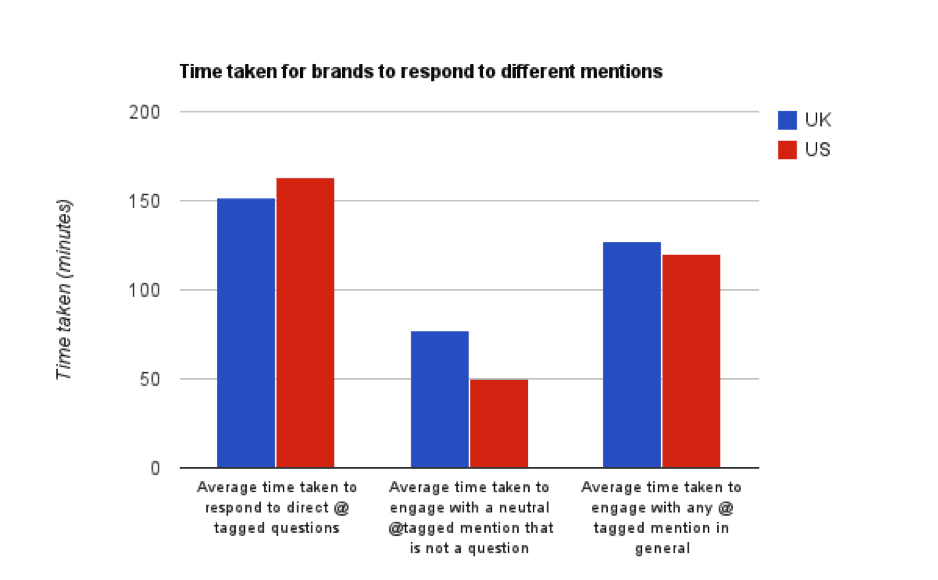 Image credit: Brandwatch
To better make use of your social media accounts in favor of your business, stay active and have enough information to give the requested feedback when customers drop a comment or question regarding your business.
4. Video Content is Valuable on Facebook
According to internal Facebook data collected in December 2015, Facebook users consume more than 100 million hours of videos per day. Instagram video consumption is also on a high increase rate, by then reporting a 40% increase in a period of six months.
However, in a more recent study (conducted in 2018), it is now evident that Facebook beats YouTube for serving its viewers with video content. 47% of people who watch video online get their content on Facebook compared to 41% who get it from YouTube. And 71% of the video consumers have reported that the video ads they see on Facebook are relevant to their interests.
Image credit: Martechseries
Many marketers do not consider video content as a form of marketing on social media, including Facebook advertisements. Facebook's advertising channel, audience network, etc. allows you to show your video content to people who are interested in your business industry even on websites and apps outside of Facebook.
The Facebook audience network helps you to increase the reach to people who have not logged on to their accounts. It also makes it easier because there is too much content published on Facebook pages than the users can consume.
To get the best out of your video content on Facebook, use online learning software to create amazing content and use them with Facebook ads.
5. 91% of Social Media Users Access Them on Mobile Devices
In 2017, Hootsuite reported that the use of social media is on the rise among mobile users. By then, 91% of all social media users access their favorite sites from their mobile devices. According to another report, 80% of the total time users spend on social media happens on mobile devices.
There is a significant rise in mobile penetration across the globe. More people are now able to access the internet and social media with mobile data in remote areas where cable internet is yet to reach. This is one reason why social media users are mostly on mobile.
Another explanation is the availability of mobile apps for various social media platforms. Opening your social account is a tap away and you are already logged in. It beats the hassle of opening a web browser, typing the URL, entering your credentials, and waiting for load time.
With this information in mind, you understand the importance of targeting mobile device users when you are representing your brand online. You, therefore, want to create content optimized for mobile devices when creating campaigns or sharing information on social media. Facebook advertising allows you to choose mobile display ads to optimize your ad for hand-held devices.
Conclusion
It is easy to maintain an online presence and grow your brand with social media. Whether you want to share relevant information or to advertise your business, social media gives you an opportunity to reach your target audience to increase conversion. You only want to understand the facts around social media usage to stay relevant to your marketing goals.
What methods do you use to ensure that your online presence leads to brand growth? Is there anything you can share with our readers about social media demographics that can help them enhance their online presence?
We would love to hear what what's going in your mind. You can also share your experience with social media marketing. Use the comment form below to leave us your feedback. Any input you have is highly welcome and appreciated.