Link building is one of the most powerful ways to boost your SEO traffic.
But how do you get more backlinks? And isn't it time-consuming?
…The answer is a resounding NO!
In this article, I'll teach you 6 quick link building wins that you can use in 5 minutes or less.
Here's what you'll learn:
The quickest way to land high-quality backlinks.
How to save hours of frustration with link building?
Easy ways to land backlinks to your website.
A quick hack to grow your SEO traffic with internal links.
How to never lose a backlink again?
Let's jump straight in…
1. Testimonial Link Building
Are there any products or services you use regularly?
If so, that's a link building opportunity!
What you can do is reach out to these sites via social media or email and offer a testimonial or case study.
Just try to make sure the links you're getting are from relevant sites:
E.g. If your website is about baking cakes, you could reach out to your favorite Tupperware brand and offer them a testimonial on their site.
Here's an example of what your testimonial with a link back would look like:
And here's a few ideas on who you could contact:
Software you use
Products
Partners and suppliers you're working with
Blogs you're a big fan of
Tools that you use in your business
It only takes about 5 minutes to send an email or reach out to the website you're willing to give a testimonial to.
Who Should You Reach Out To?
So now you've decided which websites to offer a testimonial to…
What's the next step? Well, it's time to reach out!
Here are a few ways you could do that:
Contact their marketing team on LinkedIn.
Drop a message via their website's live chat.
Use the contact us feature on their site.
Find an email address for the site.
Getting to the right person is crucial here:
For example, contacting their marketing or customer service team is a quick way to get in touch.
How I Built Backlinks Using The Case Study Method?
Recently, I used this exact same technique to land a free DR 50 backlink.
How?
Here are the exact steps I took:
1. Choosing a service: I use Lemlist for my own business, so I decided to reach out to them offering a case study. But you could use any service/software you like!
2. Prospecting: In this example, the CEO of Lemlist was the best prospect to contact.
If it's a small company, reaching out to the CEO or co-founder is often the best way to get your message heard.
3. Outreach: I reached out via Facebook Messenger with a very personalized message designed to be compelling: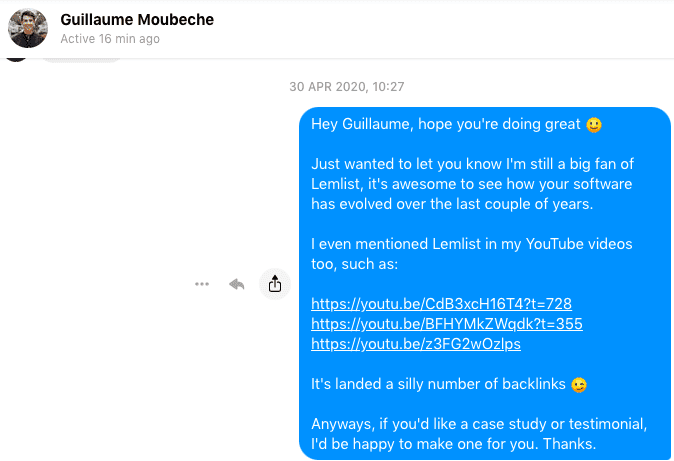 If you're offering a case study or testimonial, it's such a powerful marketing tool that most websites simply won't turn you down.
4: Content: I wrote a comprehensive actionable case study for their website, landing a backlink as a result!
When you're writing the content, make sure it's easy to read, engaging and unique.
A Quick Word Of Warning
Don't do this for every single service out there!
Obviously, if you don't use the service/product, you shouldn't offer a testimonial just for the sake of getting a backlink.
In the long run, that doesn't help your reputation.
However, testimonial link building is a very powerful strategy that when used ethically, can land you high-quality backlinks and more exposure to your brand.
2. Reach Out To The Sites You Linked To
Every time you publish an article, make a note of the other sites you've mentioned.
Then reach out to them, saying you've mentioned their site in your latest article and it might be worth a share/link back.
It only takes a couple of minutes to hit up another site's contact/social media page and drop them a message.
But if you do this every time you publish an article, the results will compound!
Why Does This Link Building Method Work?
It's based on reciprocity – one of the most powerful influencing factors.
When you provide value upfront by creating a link to their site, the site you're contacting is more likely to link back to you too.
Plus it's a great way to build relationships with other sites in your industry.
Even if the website doesn't add a link back to your content, they may share your article on social media which could result in more traffic.
Will Reciprocal Links Help Or Hurt Your Site?
In a study by Ahrefs, reciprocal links are very common and don't have a negative impact on your site, in moderation. So this is a very powerful link building technique if you use it with caution…
Moderation is the keyword here!
Excessive link exchanges can go against Google's webmaster guidelines but occasionally it's OK.
Related: 7 Trending Strategies To Skyrocket Your Ranking Through Link Building
3. Start Landing High-Quality Backlinks With HARO
What is HARO?
HARO – Help A Reporter Out – is a site where journalists can request opinions from websites like yours.
You simply reply to their adverts – and if your response fits the bill, you'll be featured on their website with a backlink.
This is easily one of the quickest wins for your website – with the biggest impact.
Simply sign up for HARO and start sending responses.
Why?
Because you can land some insanely powerful backlinks to your website in 2 minutes or less.
How To Start Building Backlinks With HARO?
Sign up to HARO here.
(It's free to do and takes about a minute.)
Then you'll start receiving daily emails from HARO with a breakdown of the publication, what they're looking for and the address to email:
Scroll through the list and find a response you're interested in.
Look for opportunities related to your industry from authoritative, high-quality sites.
Then simply email that site with a pitch.
Here's an example of a winning HARO pitch: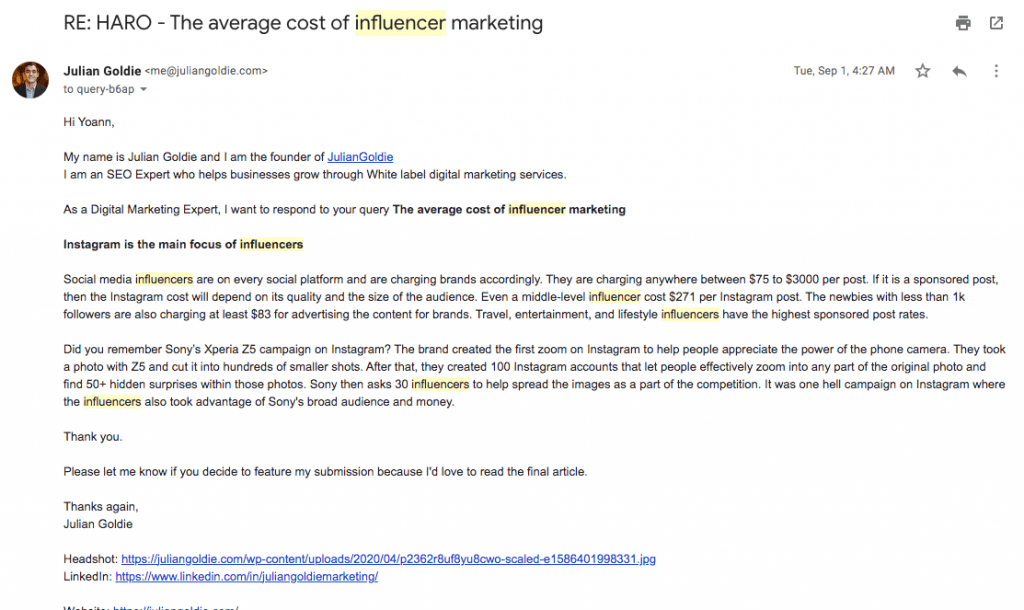 6 Winning Hacks For Link Building With HARO
HARO is like a competition:
The better your pitch, the more likely you'll land a backlink using HARO.
So how can you optimize your responses?
Here are my top tips for landing backlinks with HARO:
Write a totally unique response that stands out
Create a HARO template/canned response you can rinse and repeat to save time
Always include your website, headshot, and an overview of who you are
Don't write walls of text! Keep it short and easily readable
Include a CTA asking for an email back if your pitch is featured
Filter out low-quality sites – aim to pitch authoritative websites that'll help your backlink profile – do this by checking the "Media Outlet" in HARO's emails
Want to land HARO backlinks at scale?
Well, once you understand how HARO works and what a winning pitch looks like, it's time to outsource your link building!
Simply hire a VA and get them sending responses on a daily basis.
You can easily hire a VA using UpWork or Fiverr and it doesn't take long to create an advert.
4. Install Ahrefs Webmaster Tools For A Free Site Audit
Most websites already have Google Search Console installed.
But the problem is, it doesn't really give you much data about the links you get…
However, Ahrefs recently released their webmaster tools feature:
It gives you much more detailed data and it's free to setup.
Once done, you'll receive a site audit with some useful details of your website.
How To Setup Ahrefs Webmaster Tools?
Sign up for a free account.
Verify your website: You can do this by connecting your Google Search Console account or adding it manually.
From there, you can set up weekly audits.
Once you've done, you'll get some handy features including:
A breakdown of your organic traffic
Any technical tweaks required for your page
In-depth data on your backlink profile and how many links you have
5. Never Lose A Backlink Again
Unfortunately, even when you're building backlinks – some of these links will drop off.
Sometimes it's because:
The page was taken down.
Your link was no longer relevant
The webmaster decided to link to someone else
Whatever the reason, not all backlinks are permanent:
And a few links will get deleted along the way.
So how can you fix this and make sure all the work you've put into link building wasn't wasted?
You need to check which backlinks are lost – and then reach out to the site asking (politely) for the link to be re-added.
Now that you have access to Ahrefs (see step 4), keeping track of your lost backlinks is easy.
Basically, this works in 4 simple steps:
Monitor your backlinks in their Site Explorer.
See which links have dropped off.
Note down the sites you've lost links from.
Reach out to these sites and ask for the link to be re-added.
I'd recommend making this a monthly task for your team.
If you can keep on top of the links you lose then you have a much higher chance of them being re-added.
6. Automate Your Internal Link Building
Internal links can be just as important as off-page backlinks.
Why?
They help:
Spread authority to your site
Signal to Google your most important pages
Help rank your money pages
But with potentially hundreds of internal links on your site, it all gets a bit messy.
So what's the best way to improve your site's internal link structure?
There's 1 free, quick way to add hundreds of relevant internal links to your site.
All you need to do is install a plugin…
Let's say you're using WordPress:
Go to your WordPress admin section.
Click Plugins from the menu > Click 'Add New':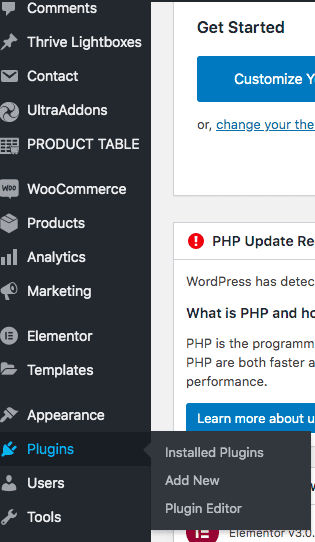 From here, type "featured post widget" into the keywords section and install/activate the "Recent Posts Widget With Thumbnails" plugin:
And voila!
At the bottom of each of your posts, you'll instantly have relevant internal links with thumbnails to each of your related articles.
It'll look something like this: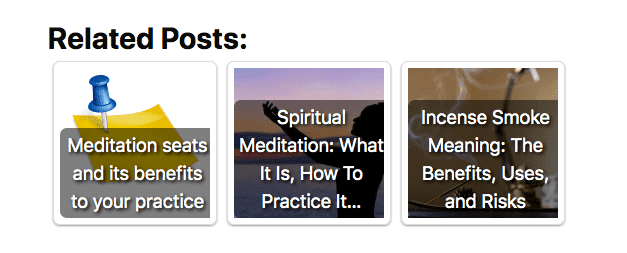 Now it's important to note:
You shouldn't rely on this link building method for all your internal links.
And it's still crucial to do part of the work manually so that you don't miss out on any important pages.
But if you want to get 80% of the results with 20% of the work, then the "Recent Posts" widget is perfect for you.
Which Link Building Hacks Will You Use?
So there you have it, 6 quick link building wins that you can easily do in 5 minutes or less.
With a strong link building strategy, your website has a much higher chance of ranking on Google.
And as you've seen in this guide, it doesn't take long to implement.
So which link building hack will you use? Let me know in the comments section below!