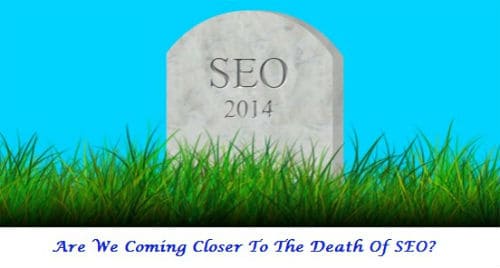 What do you expect when you search something in Google?
Are you looking for a website that deploys every kind of SEO information to be on the top of the list? Or a website that has relevant, trustworthy and authoritative content?
Most likely you might choose the second option and it seems Google will choose the same option as well. If the website that ranks high happens to represent the converse of the ideal results of good SEO, that's alright with Google. They don't make money through your optimized website and they are worried that the users might get disappointed with their search results in case the only links displayed above the fold are not the ones with the best content but they are the websites who deploy a combination of SEO and AdWords.
When Google stopped providing information about keyword popularity in 2013, this must have served as a grave shot across the spectrum of SEO. This move of Google signaled that Google wanted to put a restriction on SEO. This was because they had determined that keyword popularity was rendering results in a way that was not helpful for the users.
In the earlier days, SEO was all about stuffing your meta tags with the top most keywords. This became more complicated as Google continued to refine the search algorithm.
The current necessity of SEO, is the 'quality content', no stuffing of keywords, domain age, less volume of duplicate content, a perfect site-map and other abstract factors. Frankly speaking, it has become more about building a great website with great and informative content. The forged / false inbound links are not supposed to have a negative effect on the online standing of the website anymore; although at times this can go unnoticed if it is not detected.
SEO is a huge industry. SEO is an industry that is full of promises. Many SEO experts continue to insist that they can fool the Google algorithm for getting your website higher in the rankings irrespective of its current position. However, the waters of SEO remain to be murky and it is difficult to ascertain the success of SEO in any meaningful ways.
Before you design any SEO campaign, you need to think what kind of business advantages you are looking at through search engine results?
SEO is not functionally dead; however it has become an unclear concept over time. Google does not want the SEO industry to play games with the rankings.
For the website owners and SEO experts, it is important to keep in mind that certain SEO principles should not be ignored. The standard SEO procedures should be followed for maintaining the website hygiene. A well-organized and content-rich website is always good. However, for increasing the possibilities of your website getting ranked on higher positions, you need to know the latest rules set out by Google for the websites. If you keep going with the same old SEO techniques then you will end up nowhere!
The main reason why Google keeps changing the algorithms which also looks like it tries to stamp out SEO is that it does not want SEO to damp the quality of search results for the users. Google is mainly interested in the user and yes SEO also reduces the value of a paid AdWord links. Google AdWords is a part of SEO or you can call it SEM (search engine marketing) in real terms. Through the Google AdWords platform, you can optimize your website's performance by bidding on Google keywords.
SEO is surely not going to get easier with time. This is because Google's algorithms are always one step ahead of the marketers.
This is the time when you cannot depend on SEO alone for securing a good ranking on Google. Build a good website and market it with the best knowledge you have. Unless you do something different or influential, the plain vanilla flavored SEO is not going to get you any results!