The feeling of owning something is indeed great, isn't it? Be it any small thing. Ever imagined having your own server? Yes, that is possible with dedicated hosting.
If you have a website attracting high traffic and your current hosting plan lags your website requirements, you can have a server of your own. You can owe a server and manage it the way you want and host as many websites as you want! "A dedicated server is a key to many hosting-related issues" is very genuine.
Let us see what it is!
What is Dedicated Server?
A dedicated server is a server type that is remote and reserved for a single person, organization, website, or application. A web hosting, cloud, or managed service provider deploys, hosts, and manages the dedicated server.
A dedicated server can range from a dedicated server to inter-server communications. A single dedicated server is generally the best option for hosting a high-traffic, high-demand website/ application or any high-volume, high-resource task.
In simple terms, a dedicated server is exclusive to one customer, service, or application and is not shared with any other customer, service, or application.
A dedicated server functions similarly to an in-house server, but it is owned, operated, and managed by the service provider. The user/customer connects to the dedicated server remotely via the Internet to perform a set of server-based services.
A dedicated server can be employed to host and provide specialized services.
What is Dedicated Server Hosting?
Dedicated hosting/ dedicated server hosting refers to web hosting packages that offer a dedicated server with reliable resources to a single client. Dedicated hosting plans are ideal for websites (also WordPress sites) with a high traffic volume. Many web hosting companies provide dedicated hosting plans in addition to other hosting types.
Dedicated hosting plans are best for large organizations or websites with high hit rates or views. Clients have complete control over the server, allowing them to modify it to their specific requirements. The dedicated plans are also available in managed and unmanaged types, with the hosting companies operating the server for the client in the event of a problem. In general, dedicated managed servers are more expensive. Pricing is influenced by the number of resources required, such as bandwidth, storage space, and RAM, among other factors. Dedicated server cost also includes the requirement of software to run the server.
Types of Dedicated Servers
Individuals, startups, developers, and small to medium-sized businesses requiring high reliability and performance than shared or VPS web hosting can benefit from cheap dedicated servers. A low-cost dedicated server costs as little as $99 per month. Some server providers offer low monthly prices on a month-to-month or annual basis.
Standard Dedicated Servers
If you believe your company requires an exceptional and high-quality hosting plan, a standard dedicated server may be the best option. It provides high-quality services to small and medium-sized businesses. A standard server may be the best option for better performance and dedicated resources when launching your new site.
Enterprise Dedicated Servers
When large and small businesses decide to go with web hosting, an enterprise dedicated server may be the best option. It is not only best for them, but small and medium-sized businesses can also use it because of its business-specific features. Top manufacturing companies benefit from its most recent version, which is currently in use.
Enterprise dedicated servers are designed specifically for businesses that require high performance and storage. This server's properties are well suited to the corporate requirements of various global enterprises.
High-Performance Dedicated Servers
High-performance dedicated servers are ideal for scientific computation and big data analytics. Dedicated servers in this category include everything from GPU dedicated servers to standard high-performance servers.
Artificial intelligence (AI) and machine learning require high-performance dedicated servers (ML). High-performance dedicated server hosting includes GPU hardware specially configured by top manufacturers.
Unmetered Dedicated Servers
Unmetered dedicated servers provide a hosting solution with no monthly bandwidth limits. This way, you can avoid paying for bandwidth overages.
The unmetered dedicated server connects to the network at a fixed port speed, and you have complete control over how much bandwidth you use. These servers are extremely useful for users who anticipate high traffic volumes.
Fully-managed Dedicated Servers
Your web hosting service provider manages your dedicated server. The dedicated servers are configured and managed by experienced engineers hired by the hosting provider. These servers are best suited for businesses that do not want to deal with security, hardware setup, or regular maintenance.
Through real-time traffic monitoring, managed dedicated servers typically provide the highest level of performance and security.
Dedicated servers are also used for various implementations like email hosting, website hosting, gaming, trading, etc.
Know the Best Dedicated Server for Your Websites
If you have high traffic website that cannot be managed by the shared or VPS servers, you should go with dedicated server hosting. Also, if your business requires sending enormous emails, you can use a dedicated email server.
One can have a gaming dedicated server for launching gaming apps. A dedicated gaming server helps to ensure a smooth and enjoyable gaming experience free of lag, allowing you to perform at your peak.
If you have a small or large-scale business, you can host your website on an enterprise dedicated server. This server will help you store and manage the data as per your requirement.
If you are dealing with AI or ML applications getting a high-performance dedicated server is the best choice to make.
Benefits of Dedicated Server Hosting
Highest Uptime
In a world where convenience is everything and consumers aren't used to waiting, it's critical to ensure that a website is always operational; downtime could lead to customers switching to competitors.
Dedicated server hosting provides high performance and stability, ensuring that websites and other business functions are operational nearly 100% of the time (usually upwards of 99%).
Server Customization
A dedicated server provides a level of freedom and control that other hosting services do not. Because the server is dedicated to one customer and there are no other customers, the server can be customized to that customer's specific needs. Customization ensures that they can choose and pay for the features they need.
Highest Security
Although shared hosting is the most affordable option, it is not 100% secure platform as many users share the same server and its resources. Websites on the same server may get affected if one of the websites is exposed to viruses, flaws, hackers, or blacklisting. VPS hosting offers a higher level of security than shared hosting. In some cases, viruses can make all of the server's websites vulnerable. The most secure hosting option is dedicated hosting. The chance of being attacked is reduced significantly.
Additionally, clients who use a dedicated platform can deploy security measures, such as anti-virus and firewall configurations tailored to their own functions. Clients can also avoid security vulnerabilities introduced by neighboring clients.
Furthermore, dedicated servers housed in data centers can benefit from physical security measures such as biometric authentication, security guards, and mantraps.
Scalability
Providers allow you to change the hardware of your dedicated server when needed. You can request more processing power, storage space, or bandwidth, and the vendor will configure the server to meet your new needs.
A dedicated server allows you to scale up and down based on your current needs. When you request a setup update, the IT team needs time to procure parts, build the configuration, and set it up. Some custom configurations may take several hours to deploy if you have an on-premises server.
To get the most out of this dedicated server benefit, you must carefully plan your scaling plans. Instead of adding and removing components on a regular basis, which causes unnecessary downtime, align server changes with your business plan.
Managed Services
Most providers offer managed hosting services if you decide to rent a dedicated server. Plans that include server management vary depending on the vendor, but most are prepared to handle:
Setup and configuration of devices
Maintenance in general
Responsibilities for backup and recovery
Monitoring the server
Software updates
Fast Website Load Speed
Elements load faster when there are more resources available. Whatever software you host on a dedicated server will be faster than in a shared or VPS hosting environment.
Website speed is one of the key SEO factors Google considers when determining search engine ranking, so having a fast website will help your company rank higher in search results. A dedicated server is the most effective way for a complex website to achieve these speeds.
You can also read: 8 Best Benefits Of Dedicated Hosting
How Does Dedicated Servers Work?
A dedicated server hosting service is one in which a web hosting provider rents out an entire server computer to a single user. This machine is not shared with any other clients, and all of its resources are at your disposal.
Depending on the server provider and dedicated server service you select, it could be a bare-metal server that you configure yourself or come pre-configured for a specific function such as web hosting, gaming, database, and much more.
Why Do You Need a
Ded
icated
Server?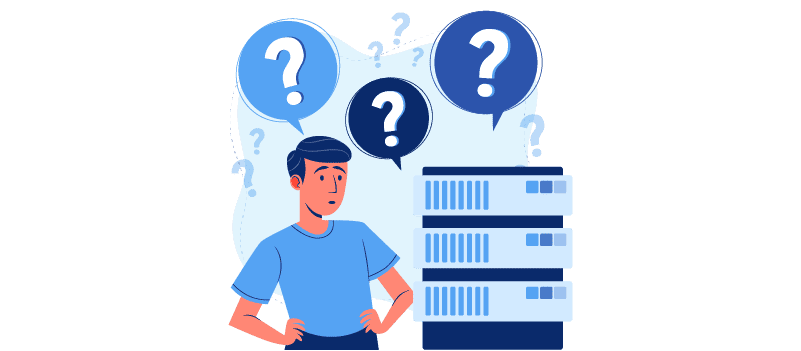 If you are looking for any of the following in the hosting service, you certainly need a dedicated server.
Future Development and Load Balancing
The growth of any business, including an online business, is essential to its success. And who doesn't want the company to expand? So, if you desire to grow your online business, you'll need a dedicated server. Take your time and plan ahead of time to ensure no hiccups when making the transition. However, don't make the switch in haste, as this can be disastrous.
You can begin by researching the various dedicated servers available. Aside from planning for future growth, also think about load balancing. You can efficiently distribute your workload on the dedicated server by using load balancing.
Security is an essential aspect of any online business's safety, especially if it is an eCommerce business or collects sensitive data. As the host company can protect you from any external threats, a dedicated server ensures that all of your business information is secure. Shared servers are vulnerable to various hacks, viruses, and other risks that allow anyone to breach your system.
A dedicated hosting company makes sure that you receive adequate information about any security updates performed on your website.
While you will continue to be in charge of your server's security, your hosting company will have several providers who will assist you in managing your dedicated servers.
Dedicated server providers provide their clients with an exclusive platform that does not share any resources. You get your own dedicated server. When compared to shared servers or cloud-based providers, exclusivity results in faster applications and better performance. While cloud-based providers provide more storage for businesses, this does not imply that they are more efficient.
You can effectively and organically grow your business with a better-performing website. You also don't have to be concerned about search engines like Google failing to rank your website. The best part about better performance means that more people can get to learn more about your business.
You May Also Know!!!
When can I upgrade to dedicated server hosting?
Managing Multiple Websites
It may be advantageous to consolidate your sites onto a single dedicated server if you have multiple shared properties.
Website Performance Issues
If the performance of your website has been deteriorating, it may be time to upgrade to a dedicated server. If your visitors are getting a server error page or have to wait a long time for your site to load, you may benefit from switching to a dedicated server.
There is an increase in overall traffic
When your website's traffic is steadily increasing, it may be a good idea to switch to a dedicated host before it becomes a problem. Don't let a poor server selection limit your company's potential.
Can I switch to dedicated servers from shared hosting plans?
If your budget allows it, you should choose a server with as much RAM as possible. Dedicated hosting plans will provide you with a buffer for operating system processes and future site growth.
Is dedicated server hosting better than VPS hosting?
Dedicated hosting obviously provides better performance, resources, and security than VPS hosting, but all this comes at a cost. VPS hosting still has enough capacity for the vast majority of websites and is far more affordable for the vast majority of people.
What is the difference between bare metal and a dedicated server?
Dedicated hosts come with pre-installed virtualization software (Hypervisor), whereas bare metal servers do not. Customers who want to use their own hypervisor or applications that need to run in non-virtualized environments should use bare-metal servers.
You can have a dedicated server for a number of reasons mentioned in the blog. Dedicated hosting incurs a cost but offers the highest security, uptime, reliability, and scalability proving to be the best choice for high traffic, enterprise-level business websites.