The most common question that we get to hear from at least one of our friends is, "How about a start-up plan?"
We always have numerous plans in our minds to start a business. The ideas differ according to the likes and dislikes of an individual. Someone good at writing or drawing may think of inaugurating a graffiti outlet, whereas someone interested in outfits may think of growing a designer's outlet. In both cases, the investment amount is certainly going to be ample and may cause distress if the ideas don't work.
What is the way out when you want to start a business with less investment and outgrow your business rapidly without domain know-how?
The answer to this question is 'Absolutely Yes!' you can certainly start a business with less investment and less know-how about the niche.
Breaking the suspense, the business you can start is as a reseller host.
Reseller hosting is the best way to start a business as a web host with more limited knowledge of web hosting
This blog has keys to:
Understanding reseller hosting in simple terms is much like buying commodities or services in bulk at a cheaper cost and reselling in chunks taking out the profit margin.
1) What is Reseller Hosting?
Reseller hosting is a type of web hosting where the clients buy web hosting plans in bulk from the web hosting service provider and resell the web hosting plan by dividing it into chunks.
In reseller hosting, the web hosting company providing the reseller hosting plan is called the merchant company. You being the reseller, are called the reseller host.
Watch this video to understand What is Reseller Hosting?
2) Advantages of Reseller Hosting
I) No Hosting Know-How Required
You do not need to know the web hosting technicalities before starting a reseller business. The merchant company furnishes technical support, server and website security, automatic back-up, and other high-end features with the reseller plan.
As your web hosting service provider provides you all the technical and non-technical services, you need not be concerned about it.
II) Focus on Business
As your merchant company is taking care of the backend and the server, you can completely focus on your business. You can spare no effort in developing your reseller business.
III) Brand Building
Many web hosting service providers provide a white-labeled facility with the reseller plan. The white-labeled feature makes you stand upfront without your client being aware of who furnishes them the web hosting plans.
IV) Affordability
Starting your business as a reseller is always cheap than starting any other business. You neither need to buy server infrastructures, software, types of equipment nor need you to maintain it.
V) Resource Scalability
While you grow as a reseller host, you certainly need additional resources. The reseller hosting provides you scalability feature, enabling you to add extra server resources and storage space.
VI) Additional Features
You get additional features like a powerful server, free SSL certificates, unlimited website hosting, control panels, etc. You also get 24-7 expert support from many web hosting service providers.
3) How does Reseller Hosting Works?
I) Research about the hosting company.
II) Select the most feasible hosting company.
III) Decide & buy the reseller package meeting your business goals and requirements.
IV) Create hosting packages under your brand name.
V) Decide the cost for each plan.
VI) Know your customers.
VII) Showcase the created plan with cost on your website.
VIII) Market the plans through an online platform.
IX) Sell hosting packages to your clients.
X) Earn profit.
4) How to Start a Reseller Business?
It is essential to have your website reach the targeted audience before starting your business as a reseller.
While you buy a reseller plan, you get a control panel that lets you manage, set up, and operate the back-end of websites, emails, and domain management for your business and your clients.
If you do not have expertise in setting up, managing domains, your web hosting service partner will assuredly deal with everything.
5) How to Make Money Using Reseller Hosting?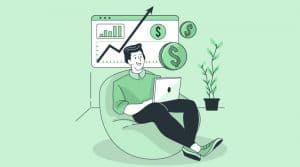 You can incur money from selling SSL certificates, domain registration, website migration, technical service, etc. You earn profit by selling the plan making a profit to your business and is affordable to the clients.
6) What is included in Reseller Hosting Plan?
You get a reseller hosting plan for Windows and Linux OS.
The resources you get in reseller hosting are:
• cPanel, Plesk Accounts
• SSD Disk Space
• Unlimited Domains Hosting
• Bandwidth
• SSL Certificate
• cPanel + WHM
• Softaculous
• MySQL DB's
• Email Accounts
• Plesk Onyx 17.x
• 1-Click App Installer
• Windows Server 2016
The capacity of the resources in reseller hosting changes according to the web hosting service providers.
7) How to Become MilesWeb's Reseller Host?
To become the reseller host of MilesWeb, simply visit the website www.milesweb.co.in.
I. Click on the Reseller menu bar.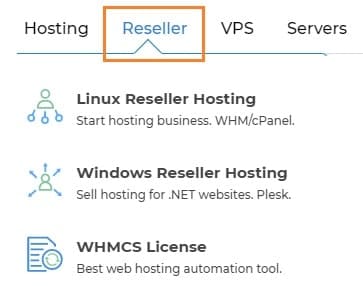 II. Select one amongst Linux Reseller Hosting and Windows Reseller Hosting.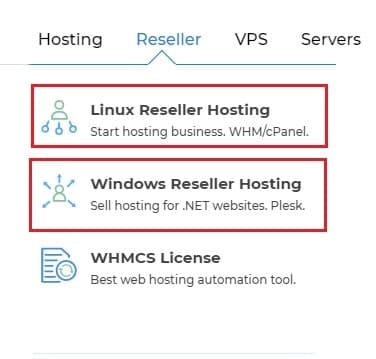 III. Check a plan suitable for your business goals.
IV. Add the selected plan to the cart by clicking on Add to Cart button.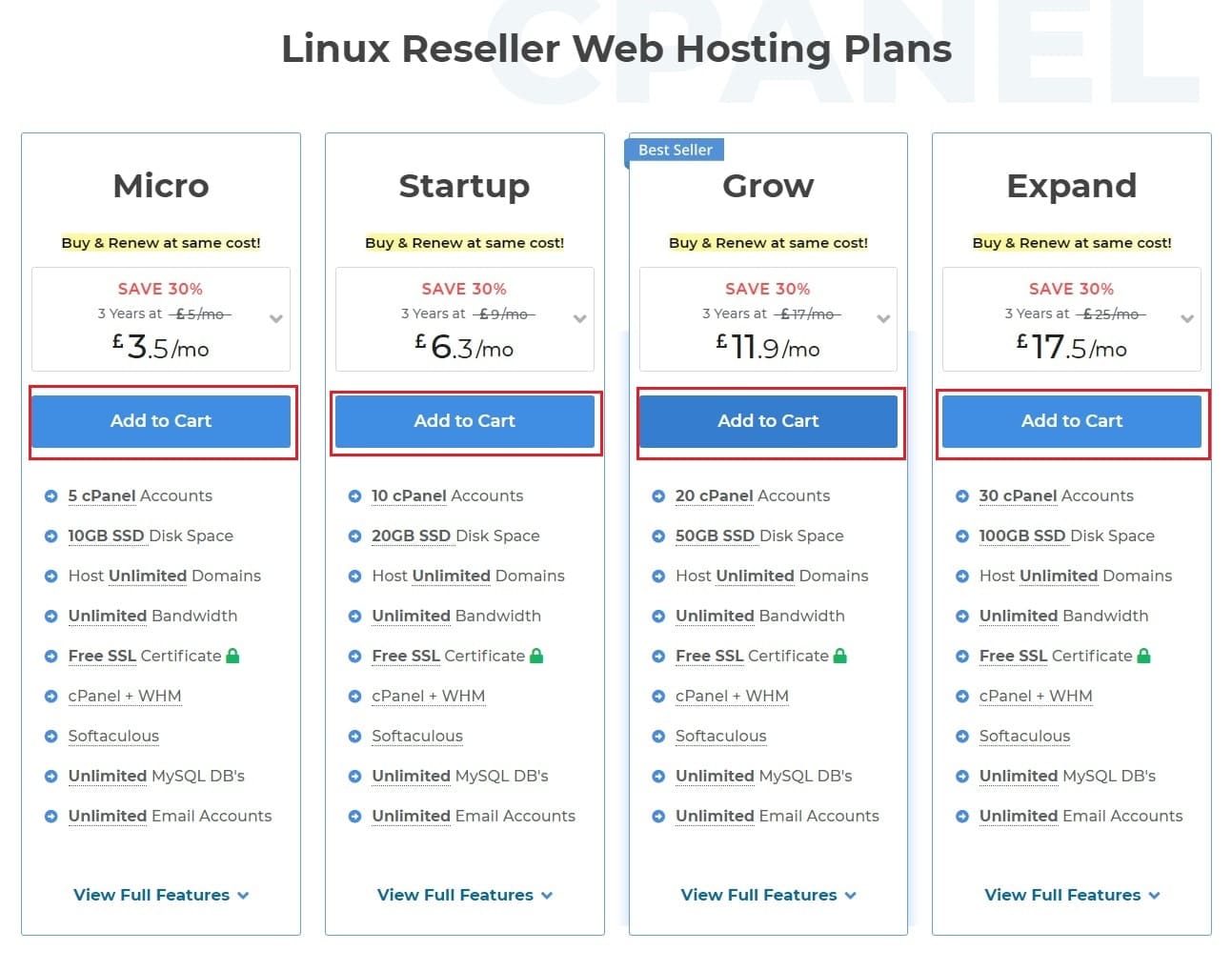 V. Sign up by filling up the Sign Up form if you have not signed up before.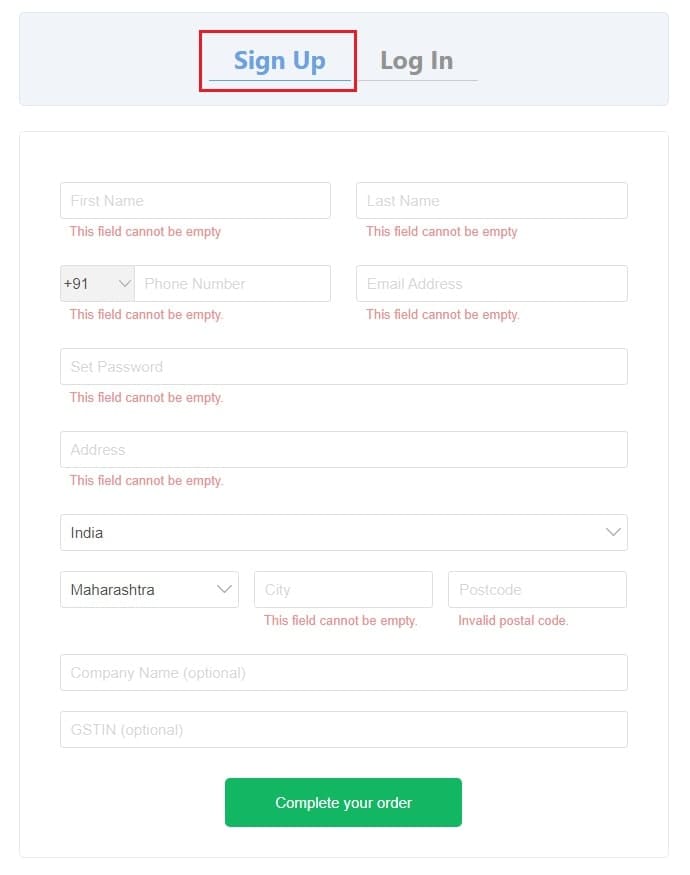 VI. If you already have an account with MilesWeb just Log In to complete your order.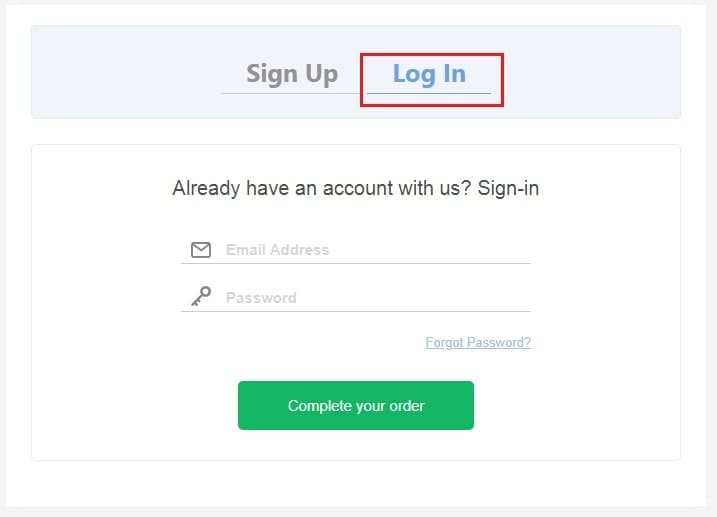 VII. Select the billing cycle from the three options.

VIII. Complete your order by making the payment. And get ready to be the best web host!
8) FAQs about Reseller Hosting
I) Am I reselling under my brand name?
Yes, you ultimately resell under your brand name as most of the web hosting service providers provide the white-labeled feature. Make sure the service provider is providing 100% white-labeled reseller hosting.
II) Do I need to have a web hosting Know-how?
No, you certainly need not know about web hosting as all the aspects are handled by the merchant company. The merchant company manages your and your client's websites and sever space efficiently.
III) How do I choose the most reliable web hosting partner?
The most reliable web hosting partner is the one providing you SSD Storage, Web Host Manager (WHM), cPanel, or Plesk Control Panel, One-Click Installer, Free Website Builder, Datacenter Choice, Malware Scan & Protection, Email Service, Free Migration, Free SSL Certificate, 24*7 expert support, money-back guarantee, and exceptional uptime.
IV) Can I upgrade the plan if the business expands?
Yes, you can upgrade the plan at any given time as your business expands.
To Conclude:
Reseller hosting is one of the most cost-effective ways to get your company off the ground. It's the best hosting type because it is flexible, reliable, and secure. The best choice is to purchase a reseller hosting plan from a company that offers managed web hosting services at the most affordable valuation and the best client support.