At present, there are about 326.4 million domains registered and everyone wants to come up with something unique, trendy and most importantly related to their business. Domain expresses your online business and gives complete freedom to its owner to get known to everyone on/off digital platforms.
As .Com is used universally, most of the domain names under this extension have already been used. But what if someone wants to register a domain and it's already registered? The only solution to this is to buy it from the domain holder as per his price. If you desperately want that particular domain, you may end up paying the asked cost. Do you feel it is worth? Don't you want to try the other method or next solution? Thus, this article explains why .XYZ domain is trending.
.XYZ
.xyz was in ICANN's New generic top-level domain (gTLD) Program as a top-level domain name. In 2014, it became available to the general public and the registries for the domain are CentralNic.
Related: Is Trademark important for your brand or domain?
Why Choose.XYZ Domain?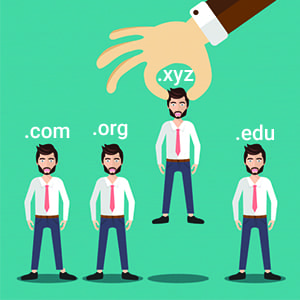 .XYZ is a solution to the domain scarcity problem. With the lack of .com domain space, everyone started looking out for other option that can help them to get a short, simple and easy to understand the domain. When we consider other extensions like .edu, .org, etc. we know that these extensions specify specific sectors like education, government,etc. respectively. So what can be done for the commercial business? Thus, .XYZ came into existence.
.XYZ determines the self-determination, affordability and also relates to the future that is resonant with Generation Y and Z of which most of us users are. XYZ can be anything that you want it to be as it is customizable domain extension. It provides a good platform to people all over the world to develop a memorable and meaningful online presence, regardless of their industry and interest.
Related: Why Should You Register Multiple Domain Name Extensions?
According to a study, 99% of all the domain registrars today search the result for their favorite domain in "domain taken" page. And they also claim that sometimes their clients get frustrated because registrar isn't able to find the desired domain. So, to compensate with the situation they take another way by incorporating numbers and dashes in the domain name. But every time it will not be good and feasible to the client. So, .XYZ came as a lifesaver of many digital businesses by allowing them to choose their favorite domain without compromising.
Why .XYZ Is A Hit?
1. It is easy to remember.
2. It works for any market.
3. In .XYZ domain, the end of the alphabet is – end of a domain name.
4. It can cross the language barrier around the world.
5. It is also inexpensive.
6. It is gaining popularity.
Related: Domain Extensions That You Can Consider For Your Startup
Will .XYZ Domain Work For My Business?
Yes, it definitely will. In whatever business you are a .xyz is a perfect fit. There is a high chance for domain resellers to select the .xyz domain and sell in the growing online market. Go ahead and register your .xyz domain now.