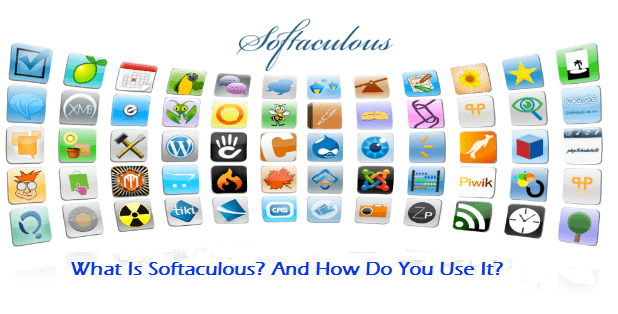 Softaculous is a one click application installer. It automates the installation of web applications to a website with predefined scripts. All installations are launched through the website admin area. Softaculous is run within the cPanel control panel and also through other website control programs like H-Spehere, DirectAdmin, Plesk and Interworx.
This is what a Softaculous interface looks like: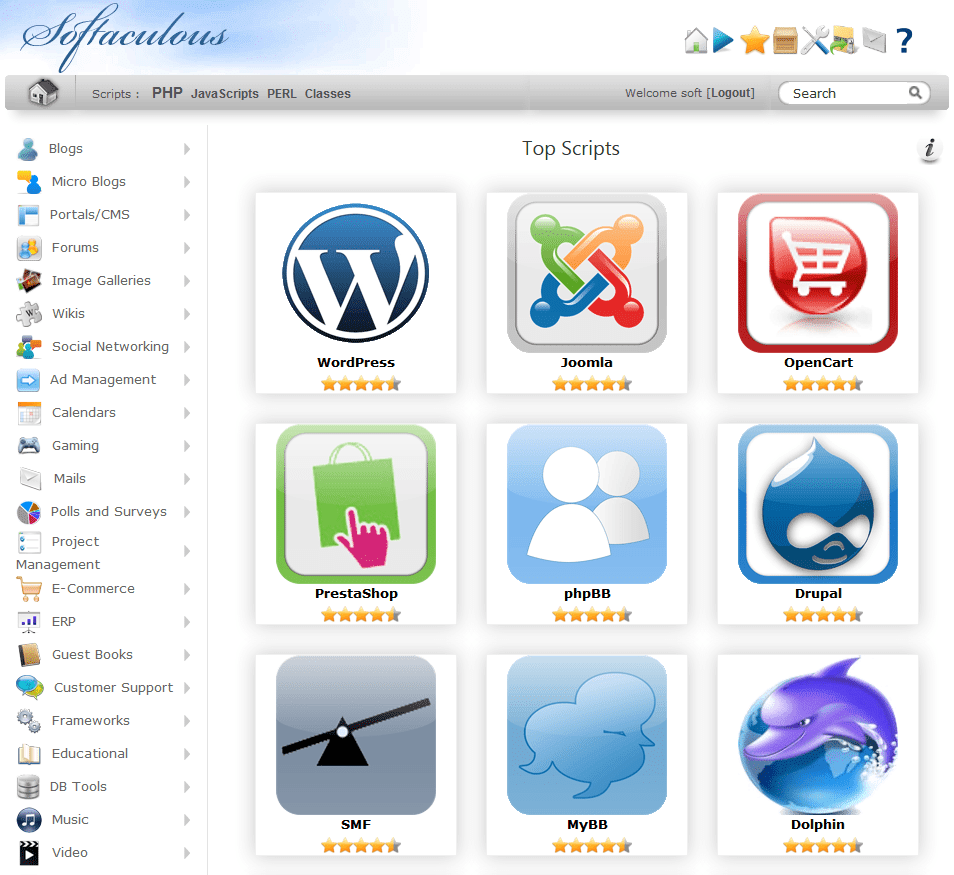 Through Softaculous you can equip your website with a variety of web applications like forums, blogs, eCommerce shopping carts, photo galleries and much more. Softaculous was established in 2009 and since then it became extremely popular in the web hosting industry due to the wide range of benefits it offers to the users.
Softaculous installation scripts comprise of a wide range of web applications. Softaculous categories include blogging, ad management, CRM, content management, customer support, eCommerce, ERP and more. At present, 325 Softaculous scripts are available.
The installation process of any application through Softaculous is designed to be just one click installation after entering all the necessary information. Applications can be downloaded through the install tab of the respective application.
Softaculous automatically organizes the database configuration, web server files, user permissions and installation.
First let's have a look at the main highlights of Softaculous that determine its popularity:
Easy to use
One click installation of applications
Over 300 scripts
Scripts are updated regularly
User friendly interface that is ideal for beginners
All installation settings can be modified through user interface
Backup and restore tool
Demo scripts available before you install them on the server
Great technical support and community forums
Getting Started!
'You can install any application through Softaculous with just a click!'
Does that mean installing Softaculous is also that easy?
Well not really, but Softaculous has strived hard in order to make its installation relatively straightforward.
If you are installing Softaculous by yourself, basic knowledge of Linux system administration will be helpful. With the Linux platform, installation of Softaculous can be as simple as entering three one line commands.
On the other hand, if Softaculous is provided by your web hosting company, you don't have to worry about installation.
How To Use Softaculous For Installing Applications?
In order to start installing web applications through Softaculous, login to Softaculous through cPanel first. You will see a list of applications on the left-hand side of the screen, select one of them.
Softaculous has a policy of updating the applications so that the latest stable versions are reflected. User options in Softaculous enable the user to change the language, change the screen display of side menus and redefine the default time zone.
Many applications are associated with scripts created in the standard PHP language. Softaculous also offers Pearl, JavaScript and PHP class functionality for the technically sound people.
Let Others Know What You Think!
Softaculous goes beyond the installation of web applications:
It provides demo screens 'See the Demo' of various applications so that users can get an insight on what the web applications look like.
It enables the users to rate and review the applications and the users can also provide additional information to others which will help them chose the appropriate application.
If you would like to work with various web applications, then you must have Softaculous as it makes life easier! The one click install option saves a lot of time and effort spent on integrating the application in your website.