Don't worry if you can't figure out which niche to choose. If you are just getting started with a blog, such queries are common. Well, what matters the most is how dedicated are you in planning its success.
How to find your blogging niche is an easy question. But how far you will be taking this ahead is an ultimate query. A lot of people in excitement start a blog, write it for days and get bored. Some people completely stop looking after them. Then suddenly, one day, they remember they have a blog and expect a sudden growth. 
So if you are firm with your decision about starting a successful blog, only then read further. About the niche, we will sort it out together. Additionally, I will also list down some steps and niche ideas that you can consider. 
As you are well aware that you want to make a career in blogging, you are unsure which theme to choose. Right? Well, that is not something new. We are just loaded with so many ideas that we can't figure out which one would be the best.
I have specially curated this article to give you an idea about how to find your blogging niche. Although you will find it a little grinding, it will be worth your time. 
How to Find Your Blogging Niche
Choosing a niche for the blog is a demanding part. It sounds heavier than actually writing blogs. But once you decide on the best niche for blogging, that will help you attract readers, success, and wealth. 
Sometimes we have too many ideas. We know that we can write on this topic as well and on that topic as well. However, we get stuck because, obviously, we cannot just choose a general genre. 
General means a vast audience. It is not necessary that the reader who is interested in your current blog will like the next blog topic. That is why a specific theme idea is essential. We must attract particular traffic that is likely to be interested in all blogs. 
For instance, you chose technology as your niche. Do you think you can take it ahead and make it a successful blog and also make money from it? Think about it!
In my opinion, technology is again a vast topic. It has varied audiences. If you write on all technology topics, it will become generic, and the traffic will divide. On the other hand, if you choose a particular field under technology, you will have one specific audience. That audience will help you grow. 
This was just an analogy to make you understand how niches work. Always go for a theme/field where the audience doesn't get divided into too many sub-niches. 
There are many ways to find a niche for blogging. Another one is to list down all the things and ideas that are coming into your mind.
Let's do an activity. Take a paper and pen or simply, open notes on your phone. Now, look around your place. Analyse your surroundings. Check your likings and interests. Accordingly, write down the first thing that comes into your mind. Use that first word to come up with another word. See what does it relate to or what word seeks your attention after that. And keep doing that for at least five minutes. 
For instance, here's my list. 
I can see a browser right now so, let's go for the word "Internet".

Websites

Web hosting

Reseller hosting

Affiliate marketing

Social media marketing, etc.
As an example, you can see I just made a list of all that came to my mind. Your list could be different and more detailed. 
Now, what you can do is go through the list and think if there's a niche in it that you can use for the long term. If we see my list, I can see a web hosting which is a particular niche under technology. I can write lots of blogs on web hosting services, but can I write them for years? 
That is another concern. Any niche you choose, you must know that it doesn't de-interest you after a while. Your domain will define your niche. So if you get bored after a year, it will be a mess. Then comes wealth. Will this field make me money? I can say that I can become an affiliate of the best web hosting company, and write on their products and earn from the sales. 
Plus, AdSense lets you monetize your blogs. So invest a good time in analyzing which niche will benefit you for life. 
Checklist –
Go for a specific niche

Do not have sub-niches under it

Analyze whether it can make you money

See if the niche interests you, and you will continue to like it for years

Why does this niche interest you?

Can you define the audience for the same?

Plus, do you think you can attract readers to the theme you choose?
The last question under the checklist is another crucial topic. If your niche doesn't have a good audience, your blog will fail. However, experiments are welcome. You will learn, but a good thought before execution is like half work done. 
Related: How To Create An Influencer Blog?
If You Are Still Stuck…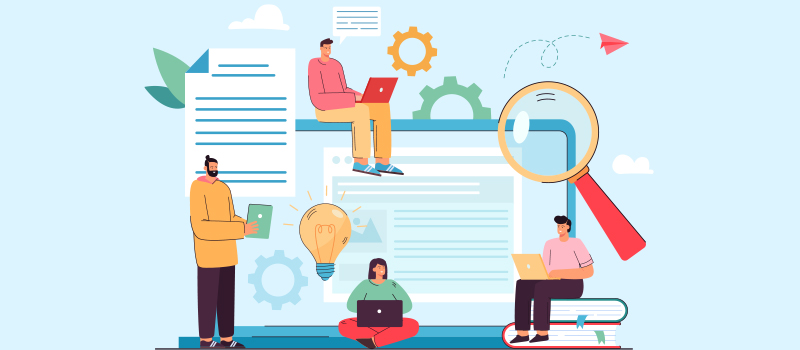 Ask yourself, what is the one thing that you love reading about on loop. The topics could be different under it, but the field remains the same, right? 
I like reading about relationships, and anything related to it interests me. Similarly, what interests you the most. How passionate are you about the same? Will you be able to provide value to your readers with that niche?
Further, always remember that the internet is like a question-answer thing. The more solution-oriented your blogs are, the more traffic you receive. If you are providing value to your audience, they are likely to return. 
In accordance with the niche, you can find a way to make money. Like, affiliate marketing is one thing, services, DIY products, etc. 
Here are 50+ Niche Blogging Ideas
LifeStyle

Technology

Psychology

Food

A review blog

Travelling

Yoga

Nutrition

Mental health

Wellness

Finance

Fashion 

Tips and tricks

Career advice/tips

SEO

Web hosting services

Reseller business

NEWS

Reader's blog

Bikes and Cars

Cooking recipes

Arts and Crafts

Gaming (products) 

All about gaming

Sports blogs

Affiliate marketing

Freelancing

Small business

Outsourcing

Digital marketing agency

Services and consultancy

CopyWriting

Sales and business strategies planner

eCommerce

Web design, development

Online courses

Study material

Subject matter solutions

Politics

Interview blog

Vlogs

Healthy eating habits

Dietary blogs

Tutorials  

Makeup Ideas

Workout tips and routine

Event management

Parenting blogs

Parenting tips, ideas, reviews

Interior design
Conclusion
Blogs are a great way to put your thoughts and opinions out. You can share anything you wish through a blog and make a career out of it. Some people really take good advantage of blogs to write, sell and engage with humans. 
If we see the analysis, blogs are a profitable business. You can choose a great theme and make money from it. I agree that it gets difficult to find the best niche for your blog, but it is not impossible. 
Plus, a successful niche will take you far in your career. 
Well, I hope now I have made 'how to find your blogging niche' simpler for you?