Is your WordPress site replaced by a big, white void screen? Don't worry! You are going to find a solution for that in this article.
Firstly, don't panic at all. The error you are facing is notoriously known as White Screen of Death (WSoD). Though the term sounds daunting, the reality is that it's not as scary as you might think.
The reason behind the occurrence of enchanted WSoD is that there is something wrong with WordPress. Some aspects of your site will be damaged or incomplete infrequently and this is what leads the white screen to appear in the first place. This primarily occurs when there's an issue with your site's PHP, the computer language on which WordPress is based.
In this article, we'll go in depth of the problem to find the reasons for the occurrence of the White Screen of Death, before learning about how to deal with it. Let's get started!
What is White Screen of Death (WSoD)?

One of the most infamous errors of WordPress is the White Screen of Death (WSoD). You might be one of the users who have encountered this error at least once as it can be caused by numerous issues. Its name, WSoD indicates that when you try to access your site, it's replaced with a plain white screen. This can occur on both – only part of your site or the complete site plus your admin dashboard, based on the core cause.
You will find plenty of issues that lead to the appearance of WSoD. Generally, when it occurs one of the aspects of your site will be broken or incomplete in some way. Plugins and themes that contain incorrect code or cause a conflict with some other part of your site are the main causes. Another reason for white screen to appear can be lack of memory or your hosting server issues.
Now, we won't be pointing fingers at you, if this error has worried and confused you. It sounds like something has caused your site to vanish. However, it's not that hard to troubleshoot and get the problem resolved. Here we will learn about five troubleshooting techniques you can try to get your website back.
5 Techniques to Troubleshoot the WordPress White Screen of Death
WSoD displays a simple blank page which can be difficult to identify the principal cause. But, if you use the below techniques, you will be able to resolve the error quickly and effortlessly. The techniques are mentioned in the order from the most to least common principal issues:
1. Test Your Plugins
Do you remember the activity you performed on your site recently, prior to it going blank? You might have recently activated, modified, or updated a plugin. Plugins are the key reason behind the WSoD error, so if you have made changes to one newly, you should immediately deactivate it. In case after reloading your site, everything is back to normal, you have found the source of your problem. Your next step would be to contact the plugin's developer, or log a ticket in its support forum for further assistance.
However, it's not always that easy. If you haven't added a new plugin recently, it can be that one of your existing plugins is causing compatibility issues giving a WSoD. How to ensure if this is the case, and find which is the plugin?
One of the easiest solutions is to disable all of your plugins. By doing this you will be able to know whether the plugins are an issue or not, after reloading your site. You can again activate them and move on to the next step in the troubleshooting process.
For deactivating all your plugins at the same time, go to the Plugins screen in your WordPress dashboard and click on the Deactivate option in the Bulk Actions drop-down menu.
If you aren't able to access the admin interface, you can take the help of SFTP client or your host's file manager. Just connect your site with your SFTP credentials and then find the folder called wp_content/plugins.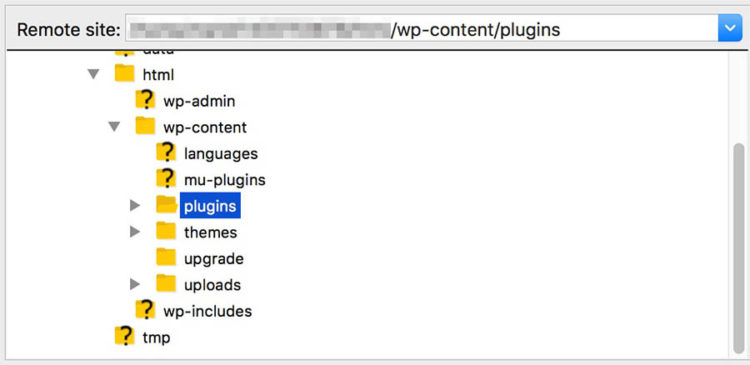 All your plugins will automatically get disabled, if you rename this folder to something else, such as plugins_test (as WordPress won't be able to find them). For reactivating them, just change the folder name back to plugins.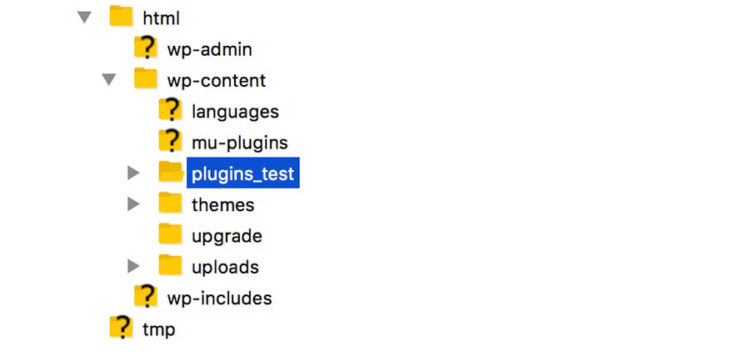 In case your site works normally after deactivating your plugins, it means one of the plugins is causing the problem.
So, re-enable them one-by-one and test the site after you activate each one. In this way, you will able to detect the plugin which is faulty as your site will go down as soon as you enable it. After this, deactivate the faulty plugin and contact the developers for further support.
In case you want to use SFTP to resolve your issue, create a new folder and name it as plugins. With this, it will become your site's plugin directory. Next move each plugin from plugins_test to this folder for reactivating them.
Transfer each plugin one-by-one, test your site to check its working and repeat the process till you locate the faulty plugin. Don't forget to move all the working plugins into the plugins folder after you complete your search for the faulty plugin.
2. Investigate Your Theme
Similar to plugins, themes too can contain outdated or incorrect code. There might be themes which are improperly coded, or cause a conflict with one or more of your plugins. The problem also may be with installing or updating the theme that has left it incomplete. Lastly, if you've made changes to the theme's functions.php file, it can also cause an error.
Thankfully, it is simple to check if your theme is causing the WSoD. This can be done by disabling it and reverting to a generic theme instead. If you can access the admin dashboard, go to Appearance > Themes. Just move to one of the default WordPress themes, such as Twenty Seventeen, and click Activate.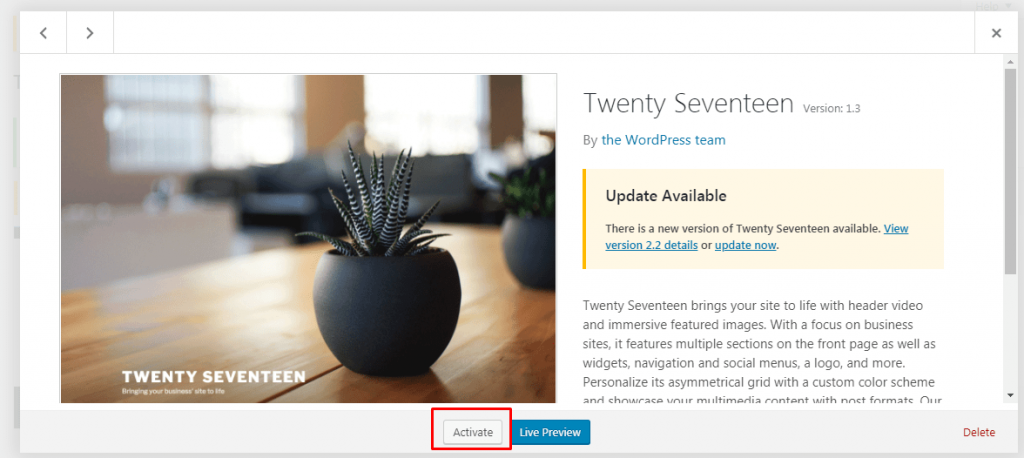 If you are unable to access the admin dashboard, use SFTP to troubleshoot this problem. Double-click the wp_content/themes folder and rename it for the theme you are currently using.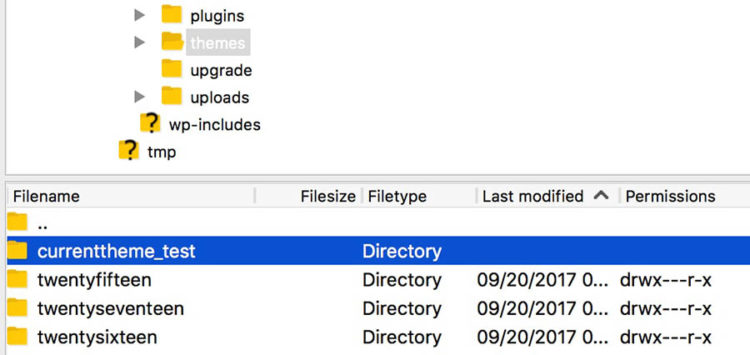 After this, WordPress will deactivate your theme, and automatically apply the default theme instead. Now check your site to see if the WSoD is resolved.
If your issue gets fixed, you have found the theme that lead to this error. In case you have recently made changes to the theme, try deleting it and reinstalling the original version. If this does not help, refer to the theme's official documentation or contact the developer for more assistance.
3. Check Your Memory Limit
If there is an occasional occurrence of WSoD or it appears only on some parts of your site, it indicates that your site has crossed its maximum memory limit. This refers to PHP memory, the amount of memory assigned to the PHP on which WordPress runs. Basically, the by default limit is set to 64MB  but sometimes you require more.
To get this resolved, it is required to assign more memory to your installation. This can be done in various ways depending on your specific setup and host, but let's check some of the most common methods.
You can increase your site's PHP memory, by editing a file on your server. For certain hosts, such as MilesWeb that is the php.ini file. If this file isn't available on your site, you can create it using SFTP or Secure Shell Access (SSH). If you already have this file, you can access and edit it immediately (also using SFTP or SSH).
Just add the following line anywhere in the file:
memory_limit = 10M
Here the number is the amount of MB you want to allocate to the PHP memory. It is recommended to increase the memory limit by 10MB each time, and see if that clears the issue.
You can increase the memory limit by small amounts, and test the site each time you update the file. If your complete site comes back online, the problem is resolved!
But you can increase the memory limit with the above amount only. You are not allowed to exceed the maximum limit that your site and installation will have set, so at a certain point you simply can't keep on striking up the limit. If this does happen and you find that increasing the memory limit isn't fixing the problem, you can consider upgrading your current plan. If you are using shared hosting and receiving high traffic then it will no longer support your site. So check your host's upgrade options to see, if any one matches your requirements.
Related: How To Increase PHP Memory Limit Using htaccess?
4. Use the WordPress Debug Mode
If you haven't found the solution yet, you should play differently then. You will need to use the WordPress debug mode, a tool that is built in all installations of WordPress. By default, it is kept turned off as it's strictly used for testing purposes but it can be activated at any time.
When you activate the debug mode, an error log of everything that happens will be created when your site tries to load. It is possible to display this information directly on the page, if you want. It's recommended to perform this activity on your testing website as the information gathered by the debug mode can be susceptible. For example, it might contain personal information, or mention the security flaws.
Edit your site's wp-config.php file in order to activate the debug mode. This file on your website is highly important, as it includes all your database information (along with your passwords). Therefore, refer to the official documentation prior to editing it.
After you're set to start debugging, access your wp-config.php file via SFTP, SSH, or your host's file manager. Find the following line in the file's code:
define

(

'WP_DEBUG'

,

false

)

;
As mentioned above, this is set to 'false' by default. You simply need to change it to the following:
define

(

'WP_DEBUG'

,

true

)

;
When you save the file, the debug mode will be activated. But how do you see the log it creates? You can display the debugging error log using one of two methods. In the first method you need to generate a log file by adding the below line to wp-config.php:
define

(

'WP_DEBUG_LOG'

,

true

)

;
With this, a file called debug.log in the /wp-content/ directory will be generated. You can open and read this file, using most standard text editors, such as TextEdit or Notepad.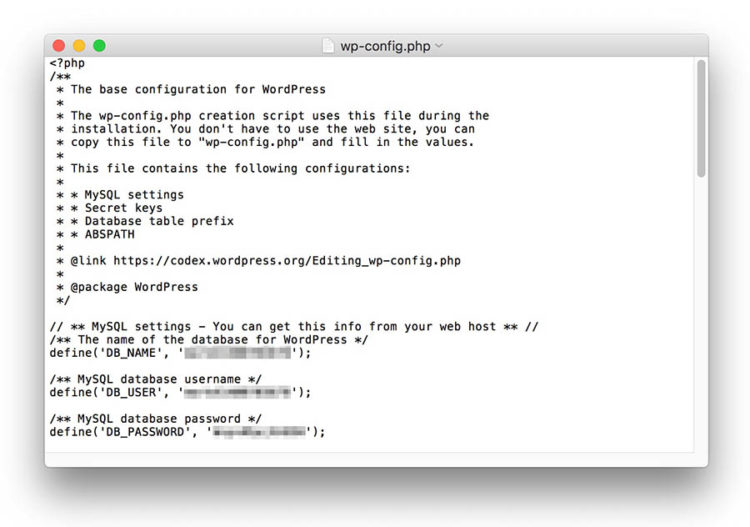 You could also choose to display the error messages directly on the page. Just add the below code to wp-config.php:
define

(

'WP_DEBUG_DISPLAY'

,

true

)

;
Next check the HTML of your site to view the error log. This is because you will get an idea of what might be causing the WSoD to appear in the first place. If you're fortunate enough, the error log should display clearly the exact file that is causing the problem. For example, you may see an error as below:
Parse

error

:

syntax

error

,

unexpected

$

end

in

/

home

/

name

/

public_html

/

wordpress

/

wp

-

content

/

themes

/

your_theme

/

functions

.

php

on

line

231
Here, you can see that the problem lies is located in the functions.php file, specifically on the line numbered 231. Open up the functions file, check the noted line, and find what could have caused the syntax error. After correcting the problem, save the file and then check your site again.
In case, the error messages that are less straightforward, you can search them into Google or another search engine to get more information. You will come across a truly unique problem very rarely, so somebody might have already faced — and solved — your specific issue before. You can also take the help of the WordPress Codex and support forums.
After finishing the use of the debug mode, remember to disable it. For this, edit the wp-config.php file, and change the WP_DEBUG line back to false. If you mistakenly leave this mode activated, it can lead to huge problems and security issues, so ensure to always close it down after you complete troubleshooting.
5. Check Uncommon Errors
Didn't get a solution till now? You can take our sympathy. So, keep your hopes up!
We are now going to cover some of the more uncommon issues that give rise to WSoD. These can rarely occur but are new and so it's important to know them after trying the above solutions.
See If Your Server Is Down
Your site might face such an issue, if your host server is facing problems. Your server might go down completely, hence, check other sites hosted on the same server. It can be that some of the server elements won't function properly or are down for maintenance. You can check this by reviewing your host's service status.
Though your server appears to be fine and the host isn't experiencing issues, you should still contact their support staff. Your site may be experiencing troubles as a result of the server, though other sites are working correctly. Therefore, you may ask for help from them.
Check Your Caching Solution
In WordPress, implementing a caching solution is the best way of increasing your site's speed. But, since it saves old versions of files, outdated content can lead to issues.
For this you can purge the cache as it clears all the unnecessary stored data from your site. After doing that, check your site again to see if the problem is fixed. If the problem persists, you can contact the developers behind your caching solution to check the reason for WSoD's incidence, or contact your host's support team.
Investigate Your Site for Corrupted Files
WordPress' core files getting corrupted, happens rarely but it can happen. For example, you might get an error when you install a new version of WordPress, leaving one or more of the files to be incomplete. In this case, you'll generally see something in the error log created by the debug mode, but not always. If you believe that there's an issue with core files of your site, you can get assistance from your host and fix the problem.
The WSoD Still Persists? Here's a Solution
After performing all the above activities, still the WSoD remains then it's time to make use of some last alternative solutions. Though, before you do anything else, you should first seek help from your host's support team, if you haven't contacted them yet. You will surely get a solution from them in many cases.
If you have recently taken the backup of your site while it was working, you have created a lot of trouble for you.
With a backup, you can simply restore the prior version of your site which should reset all the changes which lead the WSoD. The way you restore your site will actually depend on your particular backup solution, host, and installation.
If you are in doubt, you can refer the official documentation and support services.
If there isn't a backup available and your hosting provider is unable to help, you will need to install the site from the start. This isn't the correct process but it is the only solution that will bring your site back to normal. Though the process takes time, it's important to follow it for ensuring that there aren't any new errors along the way. After this, your site should be running normally.
WSoD Cheat Sheet
It's not a fun task to deal with a malfunctioning website. But, it shouldn't be a disaster too. When you properly troubleshoot the WSoD, you should be able to discover the problem and resolve it quickly.
We have already discussed several troubleshooting methods for finding the cause of the WSoD and fixing it. Let's check the cheat sheet:
1. Deactivate your plugins. It is because they're the most common cause so it's better to test them first.
2. Try replacing your current theme with the default WordPress theme.
3. See if your memory limit is enough for your current website traffic and increase it if possible.
4. Using the WordPress debug mode, view your error log and look for the root cause.
5. If everything fails, check if the server is down, there are issues with your caching solution, or there are any corrupted files. You can also restore a backup of your site or contact your web host for help.
So, you have now got an idea about WSoD and hope you will be able to troubleshoot it with the above techniques if it does occur.