WordPress website works extremely well but it cannot keep track of everything. You need to be cautious. There are several things that you should do on a regular basis for the smooth operation of your website.
If you neglect this, your site will be slower, will be subject to unauthorized access attempts, and even lose the connection and drops in the ranking of search engines.
How to avoid it?
It is necessary to develop a plan for the regular maintenance! It does not take a lot of time if you do it regularly.
Here's what you should do:
Keep multiple backups of your WordPress website
The basic rule is the maintenance of the last backup version of your site. Starting from breaking and to the problems with the server – backup can save your website. And you will not need to worry about the safety of your data.
You can make the backup process automatic.
Follow the rule 3-2-1: Make a backup of your site 3, 2 of which will be local (on different drives) and an offsite 1 (for example, on some server). It's like insurance, if something happens, you will be having a backup.
How to configure a backup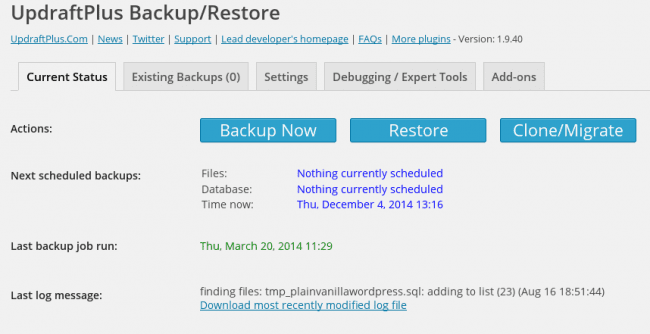 There are many plugins that make backups in WordPress. Here are two of our favorites:
UpdraftPlus: It allows you to make backups as per schedule and automatically download them or store them in the cloud.
BackupBuddy: It makes backups automatically and store them off-site, and restores your WordPress website.
When you should take backups
You should take backups of your website each day. After you make so many changes, and you do not want to lose the data. And do not forget to always make multiple copies, just in case.
Update WordPress Core for its Security
If for some reason you turned off automatic updates, it is necessary to follow the release of new versions of their own.
56% of compromised WordPress sites are using an outdated version of the WordPress software. Therefore, do not forget to update your site.
Updating and Deleting Old Plugins
We know how easy it is to install countless plugins, and then forget about them (okay, slight exaggeration). But it's very dangerous to keep old versions of plugins, which you do not use. It can attract hackers.
In addition, plugins can cause compatibility issues with other parts of your site, if you do not regularly carry out maintenance.
If you do not use the plugin, remove it, and not just deactivate.
If for a long time an update for a plugin did not come out, try to find a plugin with the same features, but more frequent updates. This will protect your website and increase compatibility.
You can always check when the plugin was last updated. To do this, go to the plugins page and click «View Details» next to the plugin:

Check for broken links or 404 pages
Broken links have a negative impact on the SEO of your site and the user experience. But as your site grow their appearance is almost inevitable.
Do not worry. You can easily check your site for broken links. There are a couple of Dead Link Checker tools that can automatically scan your site and find all broken links. The best one Google Webmaster Tools.
Cleaning the WordPress database
Over time, your WordPress database can become cluttered because of altered records and other unnecessary information. Periodically, you need to do the cleaning of the database. Especially if you are managing a large site.
Here are a few plugins that can help you:
WP-Optimize: A plugin that will clean your database with a single click of the mouse.
Another good option is WP Sweep, but we prefer the WP Optimize.
No need to clean the database every day but try to do it at least once a month.
Update old content to increase traffic
No matter how accurate your content was when you published it. It can become irrelevant over time.
Updating the old posts or entries will not only make the information accurate and improve your SEO, but it will also attract more visitors. Here's what you need to do:
Use statistics to find the old posts with a good traffic
Add up to date information to them, but do not change the URLs of the articles
Again publish these articles under the new publication date (it will attract more visitors)
Cleaning the comments section
We hope that you use spam filters for your comments section. But no matter how good your spam filter is, it anyway misses some spam comments, as usual, vice versa may be perceived as spam. Try to view lists of comments every day.
A good idea would also be to approve the comments that are relevant and counts worth, which in turn can help you increase traffic to the site. It takes very little time, so we encourage you to review the comments section on a daily basis.
Check the speed of the page
Check the speed of the web pages and make sure that nothing affects the loading speed of your website. Keep the test result and watch for changes. If you notice any problem with a planned inspection, you can dig deeper and find the cause.
Pingdom – Pingdom measurement tool page speed provides you with data to compare
PageSpeed Insights from Google also provide you with data to compare
Verification forms for problems
It would be terrible if someone wants to contact you, but cannot. This happens more often than you think. After installing the easy forms, you forget about them and think that nothing can happen to them.
This is not true.
Each month, you should check the important forms for problems with the forms themselves and their services. Make sure you have not missed anything.
Conclusion
Basic maintenance of WordPress does not take much time, but it definitely improves the performance of your site, its safety, and attendance. A small amount of time spent today will prevent problems tomorrow. These tips do not cover all the details but give you an idea where to begin.
Looking for WordPress Blog Hosting? Look no further than MilesWeb Hosting!!