We live in an increasingly knowledge-driven economy.
With more and more information available at the fingertips of people, it's natural that they now want to be educated about more subjects and things than they ever before!
In fact, it wouldn't be wrong to say that the businesses of the future will not sell products – they'll sell knowledge.
No surprise that the number of e-Learning websites and tutors has increased exponentially in the last few years!
So, if you too want to create an e-Learning business, you're on the right track.
However, the next choice that you have to make is that of choosing your own platform to build your business.
WordPress can be an ideal solution for the purpose, and in the next section we'll see why.
Advantages of Choosing a WordPress-based LMS
There are a number of advantages you get when you decide to build your e-Learning business with help of a WordPress based LMS instead of a platform like Udemy or Coursera.
Here are a few of them:
You remain in control of your business: Your content remains hosted on your site, and you're responsible on your own for its security, popularity, branding, marketing and everything.
You can set your own prices: On other platforms prices are set as per their terms and conditions, and you also share a part of your earnings with them. Nothing like that when you post your course content on your own e-Learning site – every single penny that you earn goes to your account.
You set the rules of your business yourself: Nobody can change the terms and conditions that affect your earnings in a unilateral manner.
Less competition, more independence: On other platforms there may be dozens of instructors teaching the same thing as you. If you create your own site, it's just you and a few others who appear on the front pages of Google for your keywords.
These are a few of the many advantages in choosing WordPress and a WordPress-based LMS to create your e-Learning site. With that in mind, now let's take a look at 6 popular LMS plugins available for this platform.
The 6 Most Popular LMS Plugins for WordPress
Though there are over a dozen LMS plugins available for WordPress, these 6 plugins have emerged as the most popular ones because of their features and scalability.
Below are the 6 best WordPress LMS plugins shortly explained:
#1. LearnDash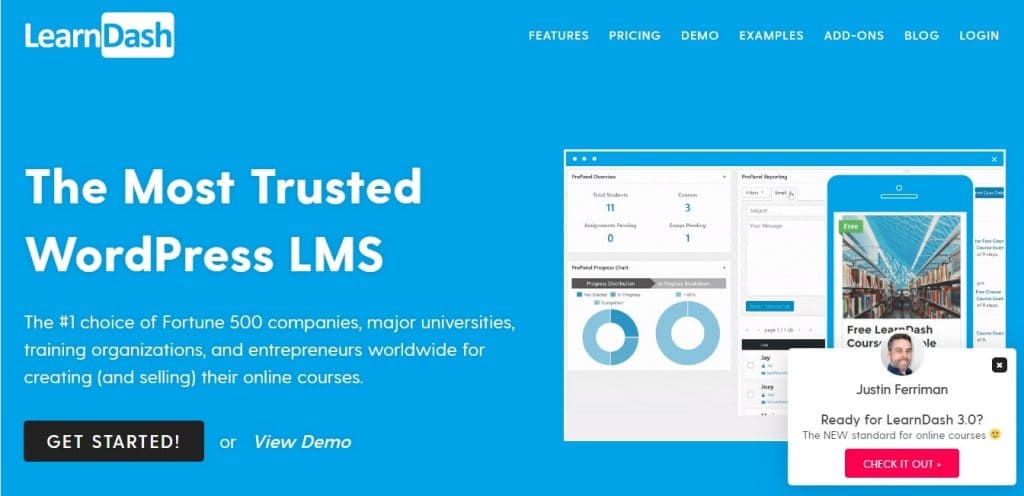 LearnDash is unarguably the most popular choice among various LMS plugins available for WordPress.
In a short span of 7 years it has managed to emerge as the most popular LMS plugin in WordPress ecosystem. It has been used not only by individual trainers and coaches but also by corporates and universities for their e-Learning sites.
The significant features of LearnDash are as below:
Easy to set up: You can set up your e-Learning site easily with help of this plugin, and there's plenty of help available online in the form of forum discussions, articles and a robust support team if you get stuck somewhere.
No shortage of themes: There are hundreds of LearnDash compatible themes 1`available in the WordPress marketplace; which can make the whole setup of your site easier. And even if your theme of choice is not among them, the way in which LearnDash has been developed makes it work smoothly with any modern theme.
Nifty add-ons and extensions: 100+ free as well as premium add-ons to add any feature you may want to add to your e-Learning site.
Great student management features: Those include Group management, assignment management, grading, reward points, user profiles that can be managed from the front-end, etc.
Solid monetization features: Those include compatibility with all popular shopping cart solutions (i.e. WooCommerce, EasyDigitalDownloads, iThemes Exchange etc.), course licensing, subscription-based pricing, one-time payment based pricing, ability to sell courses in bundles and membership options.
LearnDash also has a large community of developers and users who are always willing to help out each other. What it means is that whenever you need some help with your e-Learning site, there will be no shortage of helping hands.
Overall, we can say that LearnDash is unarguably the most scalable and versatile LMS option available in the market of WordPress plugins.
#2. LifterLMS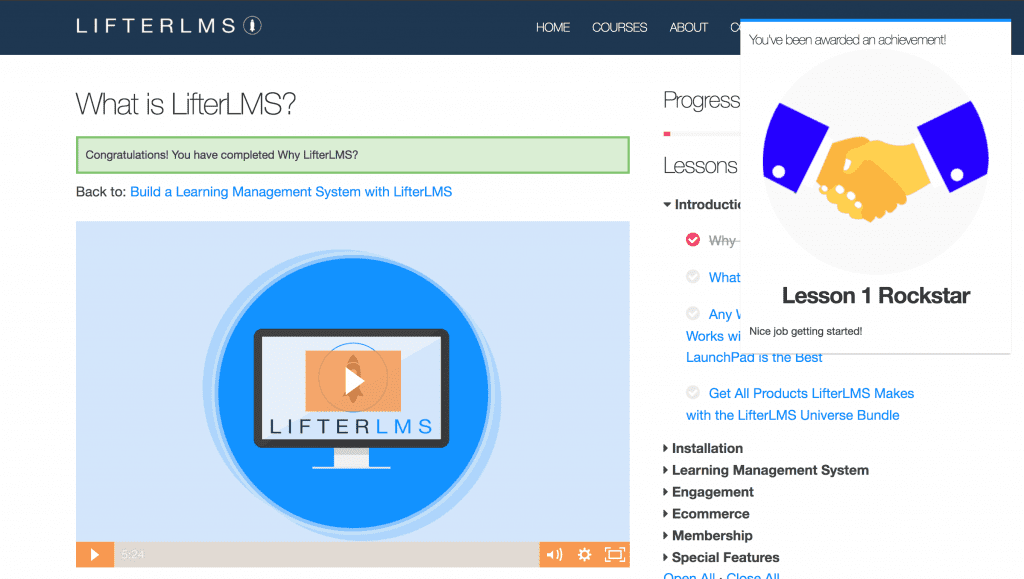 LifterLMS is a free LMS built for WordPress. However, the free thing about it is more theoretical than practical, because the way it has been built means that you'll have to spend money on its extensions before you can go live with your e-Learning site.
The core LifterLMS plugin itself is not enough to set up an e-Learning site – you'll need at least a shopping cart and a payment gateway extension to work with it.
As far as features are concerned, here they are:
All popular monetization features, including ability to add subscriptions, membership plans, recurring payments, bulk sales and course bundles.
Works well with most modern WordPress themes. However, the number of themes developed while keeping its integration in mind is much less in comparison to LearnDash. So, while it may work well with the theme you choose for your site, you may not find too many themes that are designed for integration with its features, thus making the job of setting up your site a little trickier.
Fairly large library of 52 add-ons that can be used to add any of the popular features that are found in e-Learning sites. However, it's nowhere close to the huge library of extensions in LearnDash.
Proper student management features like bulk enrollment, access management, detailed student reports, gradebook, email notifications, award badges, and much more.
Finally, the support quality of LifterLMS is great despite its free status. You won't be left looking for solutions on your own in case something goes wrong.
#3. WP Courseware
WP Courseware has been used by more than 21,800 instructors to sell courses on their websites. Now, that kind of success can't be achieved if a product is not amazing!
This makes WP Courseware another popular LMS plugin in the WordPress ecosystem, with some of the best features integrated in the most promising manner. These include:
Stripe and PayPal integration to accept payments. You can choose any payment model of your choice – subscription, one-time payment, course bundles and even payment in installments.
Simple user interface and experience. They even allow you to check out a demo installation of their plugin before you purchase it to create your own site. You just need to register on their demo site, and they set up a sandbox installation for you that you can check out to analyze all features of the plugin before purchasing it.
All popular student management features like drip delivery of content (gradual release of content automatically based on when a user signed up), quizzes and surveys, certificates that you can easily generate and distribute to your students once they complete a course, automated quiz grading and much more.
Works well with most of the modern WordPress themes; though none of the popular themes market themselves as compatible with this plugin, which means that its compatibility might not have been tested with a lot of themes.
Detailed documentation and training material available to help you set up your site easily.
WP Courseware is a premium LMS plugin in the WordPress ecosystem.
#4. Sensei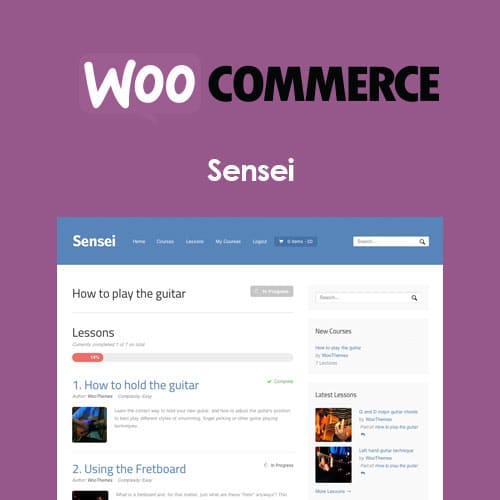 Sensei is a particularly special LMS because it has been developed by the same company that has developed WordPress and now owns WooCommerce.
As a result, it integrates amazingly well with both WordPress as well as WooCommerce.
Here are some of its key features:
Integrates with WooCommerce Paid Courses extension and helps you sell your courses. Sell courses based on a one-time fee model or subscription-based pricing model.
Dozens of compatible themes, and works well with other modern themes too that are compatible with WooCommerce.
Quizzes, surveys, grading, course analytics and other common features required for student management
Easy to use – anyone familiar with WordPress won't find it difficult to use. And since WordPress is highly popular, your students too can find it easy to register and manage their accounts.
However, being developed by the company behind WordPress doesn't mean that all is great about it. If that would be the case then it would have been in the place of LearnDash.
A major limitation with it is the number of extensions available. There are only 7 extensions available for Sensei, some of which add the features that are available as part of core functionality in other LMS plugins.
Besides, there is a huge learning curve associated with Sensei, it can be difficult to use to from the get-go, unless you have some knowledge of coding.
#5. LearnPress
By now we've discussed two paid, and two free WordPress LMS plugins in this article. Now let's take a look at LearnPress.
With more than 90,000 active installations, LearnPress is the most popular free WordPress LMS available in the market. It's also the second most popular LMS in the whole WordPress ecosystem after LearnDash.
Why so? Well, just take a look at its features and you'll realize why:
Integrates with all popular payment gateways – PayPal, Stripe, 2Checkout, Authorize.net, whatever. And of course, it also integrates with WooCommerce, but that functionality is a part of its Pro bundle.
Empowers you to sell courses on a one-time fee model. Subscription-based and membership-based pricing models also available in the Pro bundle.
26 different extensions that can be used to extend its functionality with various common features.
The setup may be a little tricky, but detailed documentation, tutorials and a vibrant community available to help you set up your site easily.
Dozens of compatible themes; many of which have been developed by the developer of core plugin itself. Works well with the majority of other well-coded themes too.
As we explained in the beginning, the core plugin is free.
However, its Pro bundle which comes with additional features explained above at a premium price. That price tag is the cost of add-ons that come bundled with the plugin to enable the extra features. The pricing of core plugin remains free even in the Pro bundle.
#6. Namaste! LMS
Namaste! LMS is among the less popular LMS plugins available for WordPress as it has only 1000+ active installations, but that doesn't mean it's not feature rich enough to create your e-Learning site.
Another special thing about it is that it's the only freemium LMS option in our list, which means that there's both a free as well as a premium variant of the plugin.
As far as features are concerned, here they are:
Automated as well as manual review-based student enrollment. Analyze student progress based on various parameters like passing an exam, completion of an assignment or even manual approval. You can also share the responsibility of student management among your team members (Pro feature).
PayPal and Stripe integration for payments. A unique "School" account type that schools can create on your site to purchase your courses in bulk. Membership functionality can also be enabled with help of a free plugin.
WooCommerce can also be integrated with help of a Bridge add-on in the Pro version.
The developers have also developed a Namaste! Theme that integrates seamlessly with it. The theme comes at a certain price, and it works smoothly with the plugin. However, we can't say how well this plugin integrates with other WordPress themes.
5 extensions developed by the company to add various features like membership based pricing, gamification, and a bridge to connect with other plugins.
The best part is that you can try it before buying the Pro version.
They've created a demo sandbox to which you can login and play around, gauging various aspects of its functionality.
Overall, it can be a good choice depending on how feature rich you want your e-Learning site to be.
Wrapping up
Selecting the right platform and right LMS for your e-Learning site is a crucial step in the success of your business. If you mess it up, not only will you encounter a number of problems in the initial development stage of your site but also you can face problems in scaling your business as the number of learners and instructors increases on your site.
Therefore, we would advise you to choose an LMS from our list given here that comes with a rich library of extensions, is compatible with a large number of themes and easy to set up with professional quality support.
Also, you should take help of professional website developers to build your eLearning site, because the quality, professional feel and smooth user experience are important aspects of any e-Learning site.
Starting with any of these LMSs will give you a solid foundation for your eLearning site.
So go ahead, get building!