Photos thieves! How can we stop these people? Do not upload images to the Internet and keep them locked in a safe? Unfortunately, this is not very practical.
So what can you do more? Add a watermark to your image, and even if someone is using it without your permission, people will at least know where it was taken from.
Watermark – A translucent portion of the image, which is superimposed on top of the original image at the specified location:

Because they are part of the image, the thieves have to work hard to clear picture with the watermark and use it without your knowledge.
Add a watermark to the image with the help of plugins in WordPress is very easy. And now we'll show you how to do it. Let's start!
1. Easy Watermark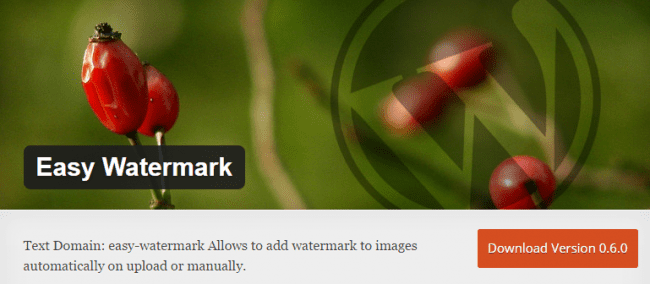 Easy Watermark – it's a completely free plugin that allows you to manually or automatically add watermarks to your images.
Features:
Automatically add a logo or text watermark
Limit the watermark according to user role
Choose watermarks location
Installation opaque watermark,
First, install Easy Watermark and go to the settings page: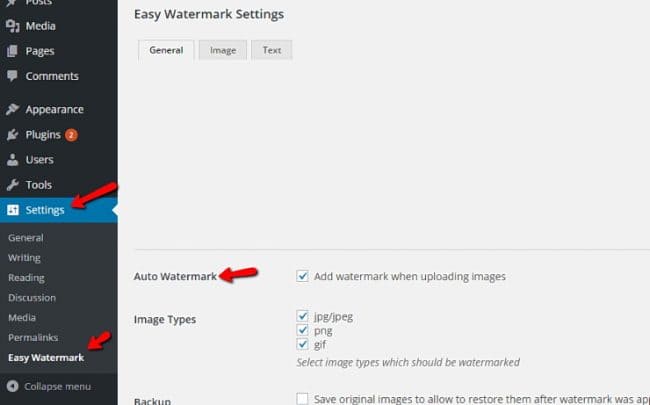 Choose whether you want the plugin to automatically add watermark. If you remove the check mark in this box, you will have to do it manually. You can also choose the type of image to which you want to put a watermark. And if you scroll below, you'll see more and roles of users who have access to it.
When you are finished with the settings, go to the next tab to select an image for watermark: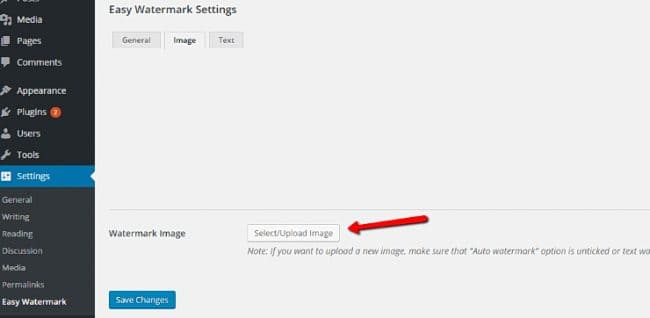 After you download the image, you can choose where to add a watermark to the image, and its degree of transparency. For a start it will have 50% transparency: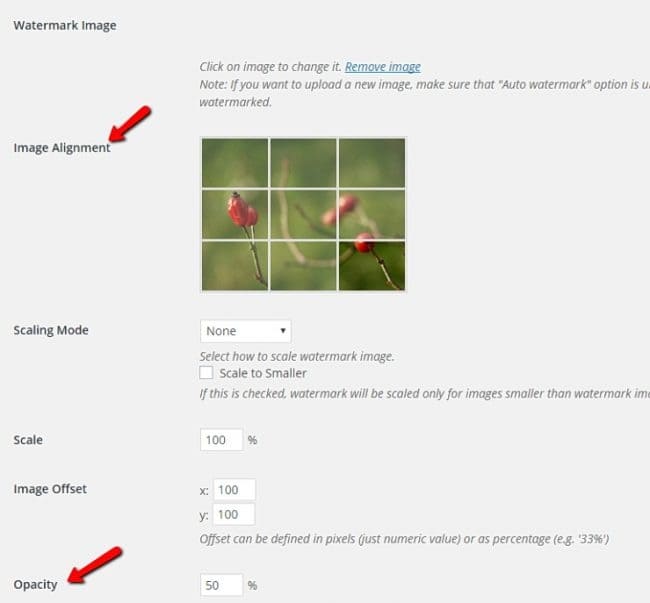 Now, if we load the image, then it will automatically add logo:

If you want to add watermarks to the old image, you can do this by using a special tool: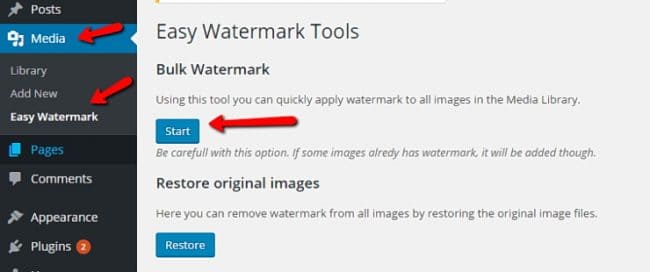 That's all you need to know about how to use Easy Watermark! You can also select text watermark. It's very simple but extremely powerful.
2. Image Watermark
Image Watermark: Another free plugin that helps you to add a watermark. Image Watermark allows you to:
Automatically add watermarks
To change the position of a watermark
To establish the degree of transparency of the watermark
Limit the watermark to certain types of files
As in Easy Watermark, you must first install the plugin and then go to the settings. On the settings page, you can select automatic or manual mode to add watermarks to your media library: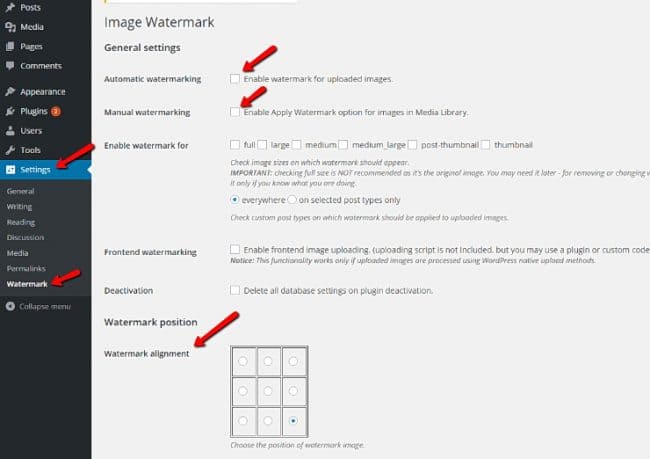 You can also select the image size and alignment to add a watermark. Remember – you need to manually check the size of some of the images, and then add a watermark.
Scroll down, you can upload a picture that you want to use as a watermark, and choose whether to scale it, depending on the image size (i.e., always keep proportions). Here you can also set the degree of transparency: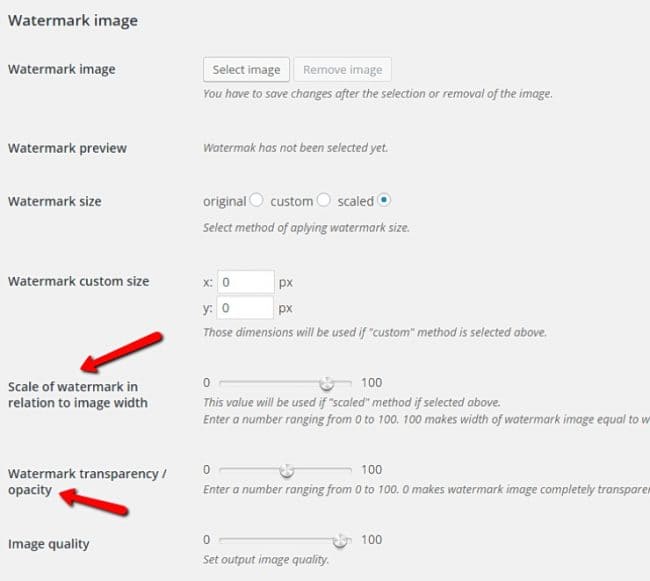 We have chosen to automatically add a watermark, and that's what got after loading the same image:

This plugin is similar to Easy Watermark. However, the default location of the watermark here works better. We had problems with the watermark position with Easy Watermark, and with this plugin all happened very simply. So, we prefer to use the Image Watermark. But both of these plugins are very good.
3. Smart Content Protector
It seems to us that the two plugins should be sufficient. But if you need more advanced features, then we will tell you about several premium plugins.
Smart Content Protector – is not just a plugin for the watermark. It is designed to protect not only your image but also the text. It will try to prevent the theft of your texts prohibiting copying. This, of course, is not a 100% protection, but still, prevents a certain number of thefts.
This plugin protects your photos, adding watermark and dragging the mouse prohibiting images.
If you are really worried about theft of your content, buy a plugin for $ 25. But if you only need a watermark, use free plugins.
4. Premium Watermark for WordPress
As the name implies, Premium Watermark for WordPress is a premium plugin. When adding the watermark, it does not affect the original image. You can add image or text watermark, select the degree of transparency and image quality.
A unique feature is that you can activate the watermark only to certain IP addresses. If you like this feature, you can purchase this plugin for $ 16.
5. WordPress Watermark Processor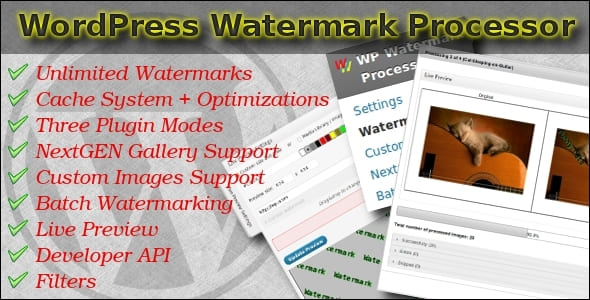 WordPress Watermark Processor is a premium plugin, with which you can make an unlimited number of watermarks. It can be text, image or image with the size range.
A useful feature here seems to use different watermarks for authors of different articles. If you need this function, then you should buy this plugin for $ 23. None of the plugin offers anything similar. The plugin is also useful to sites that are having multiple authors.
Conclusion
If you simply want to add a standard watermark to your images, select one of the two free plugins, of which we spoke. If you need an extra set of features, then consider premium plugins. Also be careful with the choice of free plugins catalog, many of them have become obsolete and have not been updated.
And remember, if you do not create a unique image, then you probably do not need a watermark.
Tell us about your experience with the use of watermarks in the comments!
Looking for WordPress Hosting? Look no further than MilesWeb Hosting!!