Do you want your pop-ups to do more?
Do you want more engagements, conversions, and sales?
Most likely, your answer is 'Yes!' Every business wants to find ways to increase traffic and drive up sales.
Using a discount wheel popup is a powerful way to make this happen.
A discount popup wheel combines gamification and pop-ups. It's a proven way to increase user interactions on your website that can help your business grow.
It works by turning a normal popup into a discount wheel game. It works better than just giving your audience something for free. People value something that they win and are most likely to use the code to buy something.
Using a discount wheel popup creates many benefits for your business.
Increase visitor engagement and customer loyalty
Delight your audience by making your website fun
Increase traffic to your site
Get more email subscribers and conversions
Boost sales
Doesn't that sound like something you really want for your site? Great! Let's take a look at the top 5 discount wheel pop-ups out there.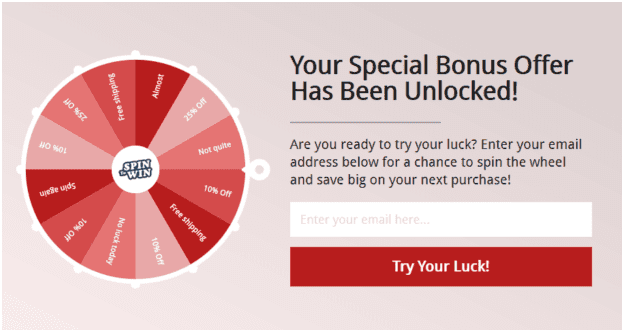 OptinMonster is the best pop-up form plugin around. It offers every type of popup you need, including discount wheel pop-ups. It combines gamification and intuitiveness to create a stunning (and easy to implement) discount wheel popup.
You don't need to know any coding to make it work for you. The heavy lifting is all done and you simply make a few changes before you launch it.
It comes in 3 gorgeous templates that have design options that you can fully customize. You can insert your logo and use your brand colors. You can change the colors of the background, the prize wedges and the call to action button.

You can offer any discount or prize you want to. It also has some preset offers and discount suggestions that you can edit.
OptinMonster works perfectly with WordPress. It also works on Shopify, Magento and other eCommerce platforms.
You can also do split testing to create the best version of a discount wheel popup. It has a great Exit-Intent® feature that shows them the popup just before they leave. If you need more, OptinMonster has it. You will find many more options in its toolkit that will help you grow your eCommerce website.
It's the best choice for creating a discount wheel popup. If you're starting a new business, check out how to create an eCommerce store.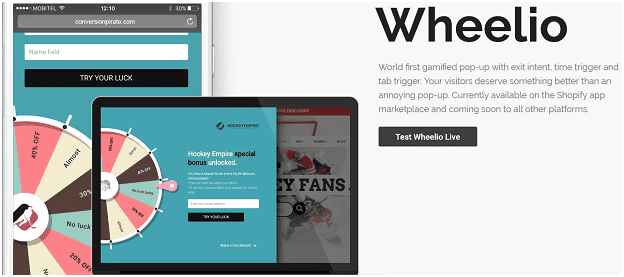 Wheelio markets itself as the first popup with gamification and multiple triggers. These triggers include 'exit-intent' detection, tab triggers and time triggers.
Wheelio helps increase the acquisition rate of emails on a website. It has gorgeous designs and many templates to choose from. Its backend editor is easy to use and you can completely customize your discount wheel popup.
Right now, Wheelio only works on Shopify. While it does promise that it will launch on other platforms, it is currently limited to Shopify. This can be limiting, if you want to switch to another platform.
Wheelio has auto-integrations with AWeber, Klavito, MailChimp, and .csv files. You can export the email optins you get automatically with email marketing services or manually using .csv files. Its newer integrations are still underway.
Wheelio also offers features like campaign management, analytics and email segmentation. Wheelio is great if you want a simple discount wheel popup that works on Shopify. While it is a brilliant popup plugin, you need to consider its constraints if you plan on expanding your business.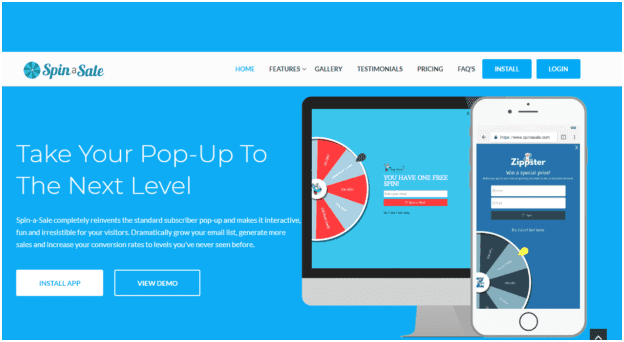 Spin-a-Sale has very attractive discount wheel popup designs. It can help you increase subscribers and sales on your website.
Spin-a-Sale allows you to specify offer prizes like free shipping, shared codes, unique codes, and product giveaways. You can also choose to have these codes apply to only specific products and collections.
It lets you control all aspects of the text on your popup so you can create your discount wheel popup in any language.
When it comes to prize settings, you can keep it fair and let the plugin choose a winner for you. You can also control the probability setting which allows you to control how frequently a prize is given out. You can make the discount wheel popup appear on any page or post as well.
Like other discount wheel popup plugins, it has triggers that work on different events. It has a delay trigger that activates after a specific time has passed. Your audience can also launch the discount wheel by clicking on a tab.
If you're looking for one of the best Shopify apps for discount wheel popups, then you want Spin-a-Sale. It integrates with MailChimp, Klaviyo and AWeber. It's also responsive to different devices.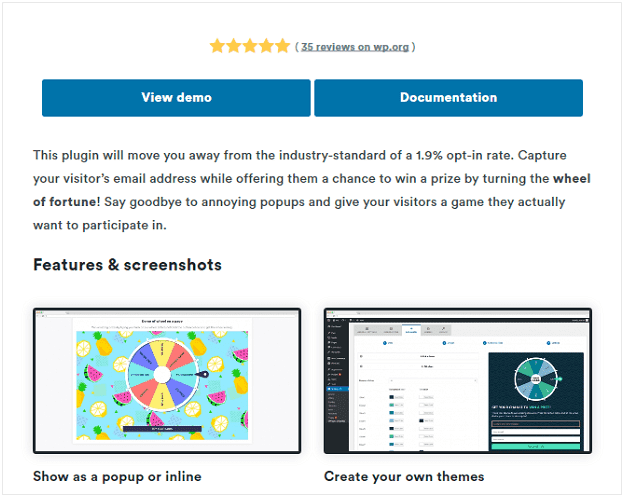 WP Optin Wheel is a discount wheel popup plugin for WordPress. It describes its popup as a 'Wheel of Fortune'. It's a great plugin that helps increase conversion rates.
You can choose to make your discount wheel popup appear inline in a post or a page. It also appears as popup using button click. It has exit-intent detection and a time trigger.
It has many beautiful predefined themes. You can also make your own theme by editing all its elements. You can edit every slice, change the background color, and upload your own logo.
It has a user-friendly form builder where you can create fields for emails. It also has drop down options for the discount wheel popup. It works with WordPress, Zapier, MailChimp, Klaviyo, Remarketly, and several other tools.
It's a good option if you want the ability to send the discount code only through email. It also has features that track optin rates which are great for eCommerce analytics.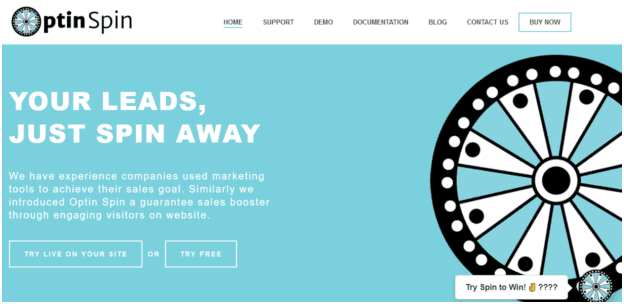 OptinSpin helps you generate leads and populate your email list. It prides itself on helping you market your product. It's a WooCommerce and WordPress plugin for discount wheel popups.
OptinSpin uses WooCommerce's coupons functionality to offer discounts and increase sales. It sends the coupon to users through email. This allows the customer to take some time to think before making a purchase.
Its design is fully customizable and looks great on all WordPress and WooCommerce themes. You can add your brand colors to the popup and include your logo. It has an intuitive back-end setup that lets you create your popup in minutes.
It integrates with:
Spinner
Remarketly
Chat Champ
Drip
Its other great features are email templates for both winners and losers. You can have unlimited slices on your discount wheel popup. You can also show it inline in a page or post.
Create excitement with discount wheel popups
A discount wheel popup is great when your usual popups are not bringing in the traffic you want. It helps you increase engagements, create leads and improve sales rates. With a discount wheel popup, you have a fun way to get your audience interested in your business.
There are many free WordPress plugins for discount wheel popups. You can also choose a premium plugin with functionalities that will help your website grow fast.
But what's the best option for any site? OptinMonster is easily the best option. You can scale it as your business grows. It has the most complete set of functionalities for website popups too. It guarantees you a gorgeous discount wheel popup that people will love interacting with.