Is the bad UX and potential data breaches keeping you up at night? And yet remarkably, ongoing projects of this nature often take the back burner for buzzwordy investments in a wide range of sectors. I've seen it time again.
Although, prioritizing the basics should take precedent, but shiny new toy syndrome wins the day. UX revolutions seem to be making its way in a hitherto of sectors including software development, healthcare, and now financial.
There has been growing discussion on the ability of traditional businesses to adapt their services to the expectations of customers born after 1990. Millennials with a different approach to managing their finances are poised to become the largest demographic group in the world by the end of the decade. So, what to do? How traditional businesses can offer services that will meet younger generation requirements in no time. Which also boils me down to the question that will the banks stay in their domain in the future, or will FinTech companies replace them?
Here's the normal graph research conducted by Userlane showing us how UX is affecting us:
Image Source: Userlane
Perhaps there has never been such a considerable generation gap. This gap is due to a significant technology boom that formed a modern generation of tech natives. The digital world has created new behavioral patterns; interaction principles influencing the values of the younger generation. Of course, you still have an army of loyal customers from previous generations, but evidently, their time is running out. Youngsters are taking more and more resources into their hands; more importantly, they are the largest group among customers buying a house for the first time.
In a layman's language, it's the millennial generation, which has both the numbers and the influence to change the way we all bank, save and invest. Their demand for financial services is growing, but they want and need very different things from what's traditionally been offered in the past. Which also means, designing of financial services must be done keeping these customer experiences in the mind. They should deliver something at the forefront of providers' efforts to remain relevant in a dramatically changing landscape.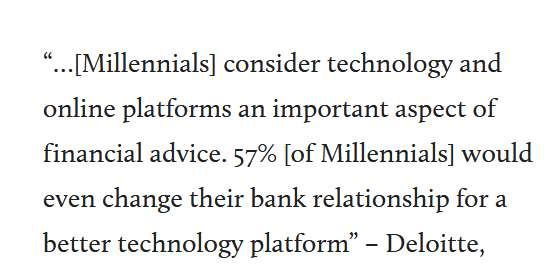 Image Source: Deloitte
Survival of businesses often depends on overcoming generational conflict and on its adaptation to the demands of the digital world. One should always see the difference between the demands of the future customer and the previous generations to create an effective business strategy and also to understand it, taking into account UX design.
Today loyalty? You'll have to earn it
A few years ago, companies used TV, magazines, billboards, and radio to inform consumers about their products and services. I feel those were the days when simple marketing was considered as a guaranteed path to any product success.
Changing the Design of Financial Services
In the present scenario, branding or prestige no longer carries trust. With a widespread humanization of financial services brands, where before they were far more formal and prestigious. With the development of digital technology, something significant has happened in the world, and the tools that have been proven for decades have stopped working. The world is making new demands on business, and banking services is no exception. To better understand these requirements, let us briefly review how the development of digital technologies has impacted the world.
Take a look at how financial website has implemented new UX for their audience for calculations: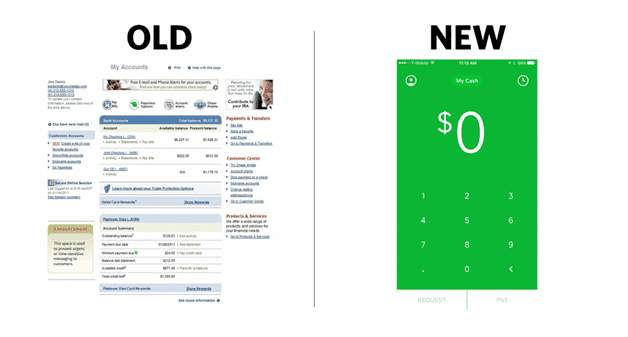 Image Source: Dtelepathy
Further below, I would like to mention a set of challenges that offer opportunities to re-imagine banking as a service.
Losing the Personal Touch
If we take a close look at the '90s, today with the help of fin-tech, these sectors have provided real benefits. It remains one of the most valued services online. Since its arrival on the scene, other forms of self-service, like phone banking and in-branch self-service kiosks, have also been introduced, offering multiple automated channels.
The primary issue is that customers often perceive this increased automation as existing mainly for the benefit of the bank, rather than as an improvement in customer service. Customers feel 'pushed' towards these automated channels and away from more traditional ones, particularly in the face of branch closures. In the background to this increased automation and decreased personal customer service is the global financial crisis, which has amplified a feeling of distrust in banks in general. Overall, this spells out the degradation of the relationship between banks and their customers.
'Big Data' Isn't Leveraged Yet!
One of the significant aspects banks are missing is leveraging big data. Since now, data has become the lifeblood of any and every business; missing such an opportunity can create a huge challenge. Banking and the financial sector is something which possesses a sizeable percentage of their customer's financial wallet and succeeds in providing a comprehensive picture of their behavior. The key thing to remember is that banks should consider how this data can best serve the customer.
Neglecting the Total Customer Journey
I have come across numerous banking organizations looking for affordable opportunities, especially in regards to the new emerging technology but fail to focus on the customer's experience. The result is channels of engagement that often contradict each other and frustrate the user.
Below is the normal customer journey that leads to conversion: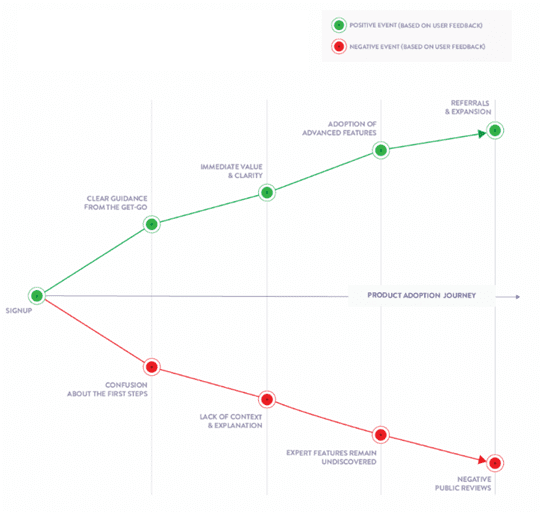 Image Source: Userlane
One must remember that banking is an effective service, and customer interactions are central to such services. And if these services are not automated, you need to appoint someone who can guide your valuable customers through the process, helping them to troubleshoot and achieve what they want. This 'soft' interaction is central to avoiding UX friction, and automated systems need to work that little bit harder to achieve the same thing.