There are many ways to go about it when it comes to web designing. One of the effortless and most convenient options is CMS. You can choose a CMS that provides you with various ready-to-use templates and plugins. This software gives you the ability to create a website with features like drag and drop. You can create a fully functional website with zero technical skills within no time.
If you are a professional web designer and want to create a website from scratch, you can consider using website designing and development tools and frameworks. It is a lengthy approach and might take a little extra effort, but the end results are more satisfactory.
Tips to Consider While Selecting a Web Designing and Development Tool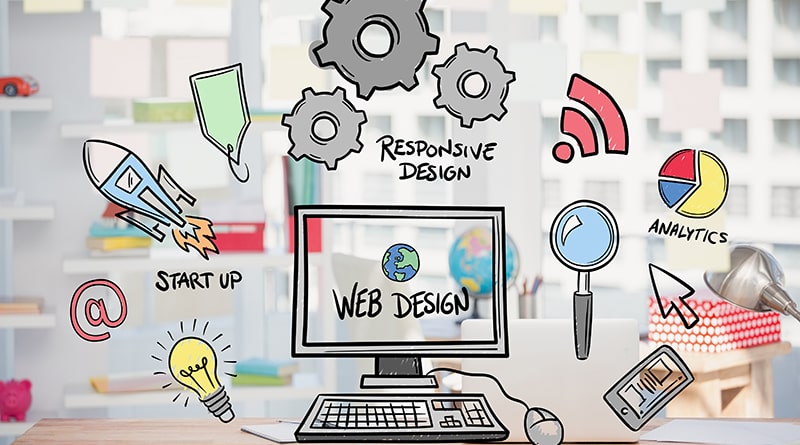 • Ease of use
If you are a beginner or are starting web designing newly, you need to have a beginner-friendly tool. Look for a tool with features like drag and drop, a customization tool and powerful yet easy editing tools.
Read: 10 Great Web Designing Tips For Large Websites
• Cost
Paying extra for a simple tool is something no one would like to do. Find out tools that give you trial periods and a money-back guarantee. With features like these, you can try using the service, and if you don't like it, you can worry less about the amount you spent.
• Design and Features
Look for tools that have an intuitive interface and are full of necessary features for your design. Your tool shouldn't give you a hard time finding new features or figuring out how the functions work.
• Compatibility
Because of their handiness and ease of use, mobile accounts for approximately half the worldwide web traffic. Your visitors may use their mobile to visit your website.
Your website should look good on both mobile and desktop devices. Hence, look for tools that allow you to create one design for all devices and adjust the website according to the layout.
• Security
Your tool must come with an SSL certificate and multi-layer security features. No matter how good your designing tool is, security must be your priority.
You need to conduct regular security checks or work with a provider who offers this service from malware and viruses to malicious apps and the threat of hackers from both the back and front end.
• Customer Support
You are bound to have some doubts, no matter how user-friendly your tool is. With the help of 24/7 customer care, you can keep working every time and get expert assistance.
• Compatibility with Multiple Browsers
Your site should be compatible with all the browsers, even the older versions. You must check the compatibility of your website with Chrome, Safari, Firefox and more.
Failing to check these may lead to a lesser customer base and affect your business.
• Reliability
The tool you use should be highly reliable. Take the help of different online rating sites. Also, ask for offline reviews from someone who has already used it.
• Short Loading Times
With all the competition present, your customers will not wait for longer times for your site to load. They will look for the next best option. While looking for a tool, this is something you need to be aware of.
• CMS (Content Management System)
If you add content to your site constantly, you need to be sure that it has CMS.
Having CMS at the backend of your website helps in the smooth working of your website.
The best engine for e-commerce sites is Magento. WordPress is a customizable CMS ideal for informational sites.
Best Website Design and Development Tools
1. InVision Studio
Price- The basic plan is free. Pro version starting at $4 per month.
Features- InVision Studio is a design prototyping and collaboration platform. It provides you with many features that help you craft an interactive interface for your website.
InVision allows you to design websites without the knowledge of coding. You just have to create your UI's, start designing, and the studio does everything else.
Pros- Its compatibility with Sketch provides developers with a unified platform.
Cons- When compared to comparable programs, the user interface is more difficult to navigate.
2. Figma
Price- The basic plan is free. Their professional plan starts at $12 per editor/month.
On choosing the professional plan, you can create unlimited projects whereas, with the free version, you get to create only one team project.
Features- With Figma, you can work with multiple designers on the same project in real-time.
The drag-and-drop editor and code snippets enable you to place design without writing the code yourself.
The in-app commenting feature at Figma allows you to collaborate easily with the other designers and allows real-time feedback.
Pros- A very simple user interface with an auto-layout feature that organizes all elements based on their functions.
Cons- Compared to other tools, the prototype feature is less interactive and more technical.
3. Canva
Price- The basic plan is free. Pro plan starts at $13 per person/month.
Difference between the free and pro plan- The free plan gives you a limited number of storage, templates and designs. The pro plan has higher storage and access to more templates.
Features-
Canva features a variety of pre-made templates for all forms of material, such as social media posts, posters, flyers, site content, cards, postcards and many more. It enables simple and inexpensive design without the need to pay a subscription fee.
Canva allows you to upload a design to your website without sacrificing quality. You can also save all your designs with your Canva account.
Pros- Its extensive library of design styles, colors, fonts, pictures, clip art and other materials makes it simple to create one-of-a-kind designs.
Cons- You cannot collaborate on a design with designers in real-time.
4. Wireframe.cc
Price- The basic plan is free. The Premium version starts at $16 per user/month.
The premium version gives you access to a private dashboard, allows revisions and has multi wireframes.
Features- Wireframe.cc is a wireframe creation software. It is a design interface that shows the site's elements and removes any unnecessary clutter.
Wireframe.cc allows you to create simple wireframes for websites and mobile applications. You can also change the page layout into different orientations, from a desktop, tablet and mobile phone. It has shareable links which allow easy collaboration between designers.
Pros- It is easy to use the site without logging in to start designing.
Cons- It lacks features and has a limited amount of tools.
5. Marvel
Price- The basic plan is free. Pro plan starts at $12 per month.
The free version gives you only one project which cannot be downloaded. With the pro version, you can unlock unlimited projects and the ability to remove the Marvel branding.
Features- Marvel allows you to develop design and interface ideas and with creating prototypes quickly. You do not need any coding to start.
You don't need to download anything to start designing since Marvel is an online collaboration tool. It allows you to integrate your designs into your project's storyboard and have people test out the prototypes and also comment on them.
Pros- You can check the design on your mobile device in real-time.
Cons: Navigating through the site is more complex compared to the other tools.
Conclusion
The above mentioned are some of the designing tools that come with a free version. You can first try them and then go for their premium versions.
When you look for a good designing tool, you should keep in mind the following features that are crucial for your website-
• Ease of use
• Cost
• Design and Features
• Compatibility
• Security
• Customer Support
• Compatibility with Multiple Browsers
• Reliability
• Short Loading Times
• CMS (Content Management System)
You certainly have great options to select a good tool for developing your website.