CDN is a quick and affordable solution to improve performance, SEO and user experience on a website. That's exactly what we'll talk about in this article.
As we can see, the amount of content that is generated today has never been generated in the history of a mankind. Open your Internet browser or favorite social network and get buried in an avalanche of the content.
The very short time, not everyone had internet access. Of course, today many still do not have, but we must agree that the number of internet users has risen exponentially.
What CDN has to do with it? Well, the more people searching, sending, downloading and accessing more internet "weighs", and the more latency, traffic, and other problems pop-ups that affect the performance of the site on the server.
CDN means Content Delivery Network and is a resource of information technology to help more global servers. Currently, you can have a company in Bengaluru and host your site in Nashik. However, we must take into account that if the traffic is spread throughout the world, the response time to requests will be different in every part of the globe.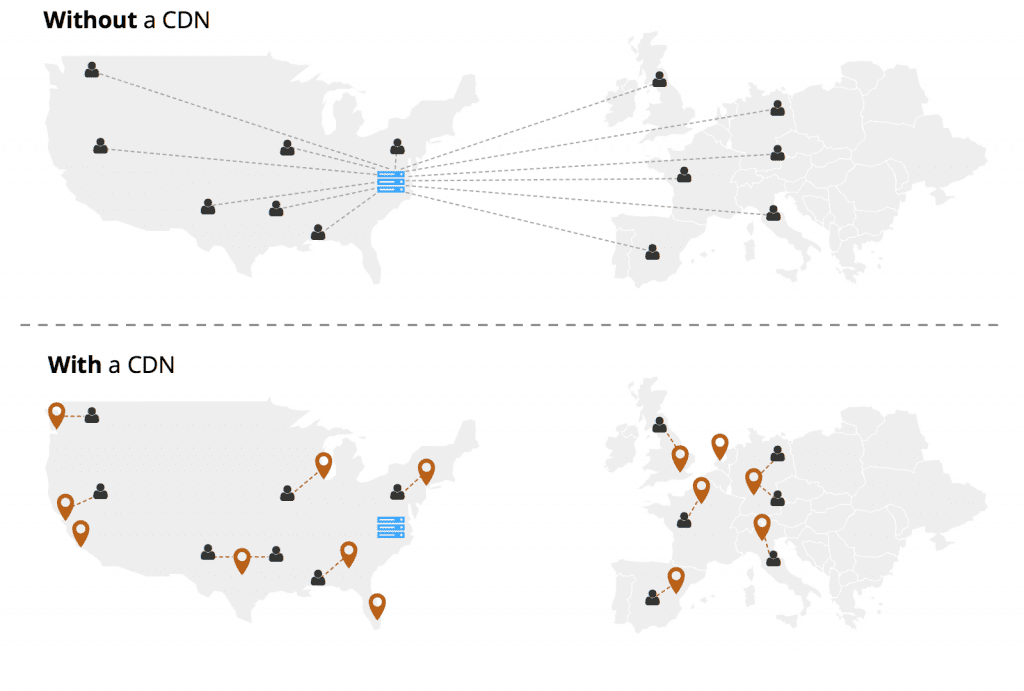 Making a good jerk analogy, it doesn't take longer to deliver pizza in the neighborhood but if the whole city is calling, can a single pizzeria deliver the pizza to everyone at a time? Then the situation becomes more complicated, especially when there are more orders.
Should your site use CDN?
I particularly believe that virtually all sites that have coverage throughout the territory national and / or international should use CDN. Too bad for most of the large Indian companies or sites that are not yet enjoying this technology.
If the site depends on increasing the number of accesses to reach new audiences, the use of this technology is essential. Once a site uses a CDN, it "kills two birds" in a matter of performance and SEO. After all, leaving the site faster improves the user experience and hence the SEO.
The truth is that even though widespread and bringing it, not all online business owners dedicate attention to technology. Today, CDN is more accessible to small and medium enterprises. The functionality of a tool is so reliable that even specialized companies offer CDN services for free.
If it's so good, why most of the website owners do not use it?
This is actually a good question. To begin with, CDN technology is relatively new. Many people who already have a site for a long time do not know or did not stop to find out more developments in the industry. Another factor may be the accessibility or price after all good service does not come at cheap costs.
The lack of technical expertise in the infrastructure area for decision makers in various companies can be one of the factors. Many business owners who need an "up" in sale do not see the CDN as a possible solution.
Conclusion
Even with a fixed cost, the investment in a CDN service can bring good growth for companies. In India, this investment is even more logical, since consumers are now in the mobile and internet services still fall short.
I hope that the text has helped you to understand CDN technology.