Email marketing services is a key if you want to retain your followers, fans or potential customers. If you have a blog or website, it is something you cannot miss.
The ability to send emails to your fans, followers and potential customers is priceless. If you want to be able to contact visitors of your site sometime after they leave your site, then you need to set up an email list or newsletter.
If you published one new post on your blog, launched one new service, or are promoting one new product,  a mailing list will be your one way to advertise so that it helps you to drive traffic to your site.
In this collection of the best email marketing services, we will help you choose a tool that you can use to build a list of subscribers that you can contact "on demand". As you will soon see, these tools can also do much more.
About Email Marketing Services

They are a range of tools that allow your website visitors to subscribe to your list and start receiving the emails that you send to them in an automated way.
Standard features also include the ability to create multiple subscriber lists, automatically deliver emails to new subscribers, create auto-reply e-mails that are sent at predetermined times, and basic report tracking. Bloggers will also appreciate the ability to generate and send newsletters that feature recently published posts automatically.
The more advanced features that you can find these email marketing services include the segmentation of their lists, drip feed ( the drip of a series of emails over time), and tracking activity that will determine which emails are read by whom. Some tools here include Customer Relationship Management (CRM) features that will help you nurture leads and turn them into customers and clients.
If you simply want to build a list of email subscribers that you can contact at the right time, or you want to automate your lead generation and workflow prospecting, there is a tool here that can meet your needs.
The Best Email Marketing Services
All the best email marketing services work well with WordPress. Some tools will include pre-built signup forms that you can add to your website, while most options work with your favorite optin email plugin.
In fact, if you want the highest conversion rates possible, when it comes to encouraging your readers to join your list, it is recommended that you use a plugin built for this purpose as Popup optin plugins.
The best time to start your email list was in the past year. But the second best time is today!  So, once you're done the reading, take action and start building your list of subscribers today by choosing the best email marketing services for your needs.
ActiveCampaign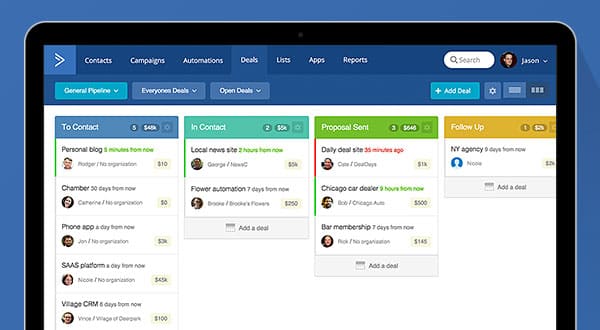 ActiveCampaign aims to help you grow your business with automation for sales. As well as allowing you to send email newsletters and campaigns to your list, ActiveCampaign also helps you to manage your contacts.
The ActiveCampaign customer relationship management (CRM) feature would be a major attraction for freelancers and agencies that are looking for a better way to manage and interact with their leads and prospects. Through the online dashboard, you can create scheduled emails for your contacts as well as take advantage of the automation features.
If you want more than just a newsletter management service, ActiveCampaign can be a good option and worth a closer look.
Main Features:
Intuitive Dashboard
Send newsletters and campaigns
Drag and drop email designer
Marketing Automation
Managing contacts and relationship tools
Creating custom sales processes
Detailed report
Over 150 app integrations and connections
Works with Bloom (A plugin from Elegant Themes)
Service Type: Paid | More information
AWeber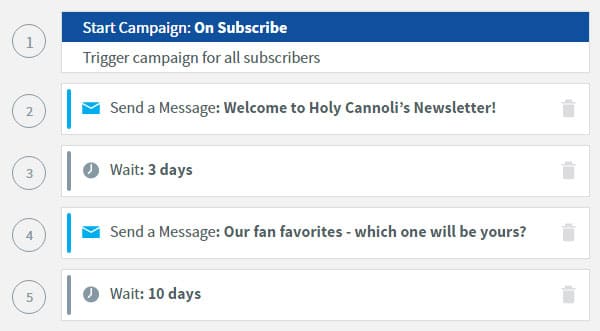 Created in 1998, AWeber is one of the most successful email marketing services.
Its newsletter management service allows you to create multiple lists of emails to store and send to different groups of subscribers. You are free to create as many automatic email streams as you need. These sequences can then be used to feed content to the subscribers, with a predefined frequency.
You can also choose to move your subscribers automatically to your next stream when the first one is finished. This level of automation allows you to be in constant contact with your list, all through multiple series of connected emails.
Main features:
Automatic sending of email sequences
Create multiple sequence campaigns and linked
Optin build builder with split test builder
Targeting your mailing list
E-mail template library
Drag and drop email designer with image library
Detailed analysis and reporting
Mobile Application
Integration with social media
WordPress RSS for weekly e-mails and newsletters
Free Trial
Service Type: Paid | More information
Campaign Monitor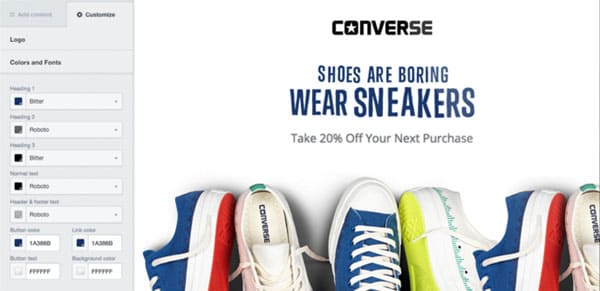 Campaign Monitor makes you stand out from the crowd, allowing you to create the most beautiful email newsletters and campaigns. Your drag and drop email builder and template collection are really pleasing to the eye. Provides a service that allows you to communicate directly with customers through easily constructed email campaigns.
Main features:
Sending automated newsletters
Drag and drop email builder
Email template library
Email engagement report
More than 250 pre-built integrations
Service Type: Paid | More information
Constant Contact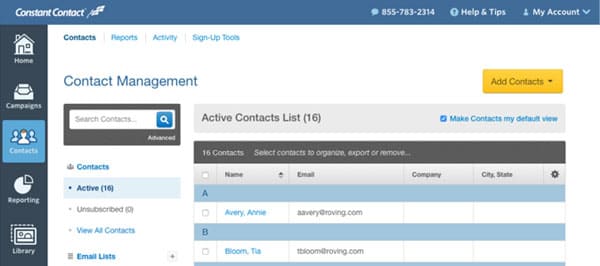 Constant Contact is an email marketing services that cover the needs of most website/blog owners. It combines a set of features with an intuitive user interface. This helps make it powerful yet easy to use newsletter management service.
Main features:
Wide email template library
Drag and drop email builder
Email management tools
Analysis and detailed monitoring
Integration with social media
Sixty days of free trial
Service Type: Paid | More information
ConvertKit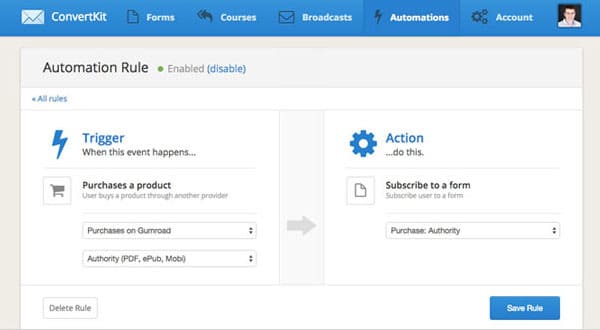 ConvertKit is one of the latest email marketing services. However, it has already become a popular internet marketing tool and bloggers are looking for a more intuitive way of managing and growing their email lists.
The Landing Page feature is particularly interesting, especially if you have a new project to promote, or if you want to connect from an external source to capture the Leads.
Main features:
Landing Page Builder with templates
Create email marketing streams
Easy overview and editing of email sequences
Automatically targeted lists
Creation of multiple forms and lead magnets
Responsive optin form builder
Workshops and tutorials online
Service Type: Paid | More information
Drip

The Drip aims to provide marketing automation for serious marketers. So if you want to use your mailing list for more than sending weekly newsletters and occasional broadcasts, Drip may be for you.
Drip is sold as a lightweight alternative to company email marketing services like Ontraport and Infusionsoft. So if you want to start using advanced triggers and list management automation, it may be the low-cost alternative you are looking for. There are plenty of useful videos on their website to explain how Drip is a step up from traditional email marketing services.
Main features:
Track the actions of your subscribers on the web
Automated movement of subscribers between lists
Visual Workflow Builder
Automated evaluation of Leads
E-commerce platform and integrated payment processing
Three free weeks (Trial) and five days of free e-mail generation of mini courses
Service Type: Paid | More information
GetResponse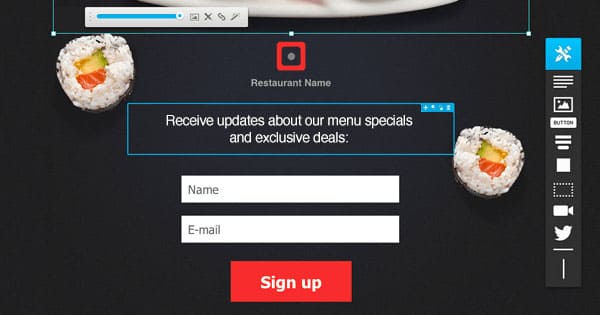 GetResponse makes it easy to create responsive designs for your broadcasts or simply choose from the built-in template library. As a part of its automation capabilities, you can send welcome messages to new subscribers and use a variety of triggers to enable follow-up emails.
GetResponse includes a landing page builder and a webinar solution. So if you want to be more creative for lead generation and go beyond the simple ways of optin email, this is one of the very interesting email marketing services.
Main features:
Selection of e-mail templates
Landing Pages builder and templates
Webinar hosting solution
RSS / blog post to email newsletters
Automation and triggering features
Test Tools A / B
Detailed analysis
Service Type: Paid | More information
HubSpot

HubSpot goes far beyond what is offered in the market of traditional email marketing services. So if you want access to features that will help you get more traffic, nurture your connections more effectively, and automate your communications by email, you should take a closer look at this service.
HubSpot is not cheap. However, if you have a small agency, or really want to upgrade your freelance business, then the marketing automation and sales tools of HubSpot may be worth the investment.
Key Features:
Email and content analysis and optimization tools
Contact research and management
Monitoring of social media
Scheduling content
Detailed analysis.
Test Tools A / B
Service Type: Paid | More information
iContact

iContact is an online marketing tool that combines e-mail creation, contact management, and social media integration to help promote your brand better. As a part of this email marketing service, you can create as many autoresponder messages as you need. They can then be set for delivery at certain times or after specific triggers.
Key Features:
Responsive templates
Autoresponder tools
A / B testing
Landing pages
Scales the needs for your business to grow
Tracking and engagement tools
Integration with social media
30-day free trial
Service Type: Paid | More information
Mailerlite
Using Mailerlite, you can create advanced email marketing campaigns with features such as automation and landing pages. The results of your email campaign will be tracked via campaign reports. It has built-in photo editing functionality.
Features:
In addition to custom domains and embedded signup forms, Mailerlite also provides landing pages.

Among its features are pop-up subscribe forms, promotion pop-ups, subscriber management, and an unsubscribe page builder.

With this application, you can segment your list, test A/B variations, automate your emails, and perform A/B testing.

Time zone-based delivery will be provided.

User permissions, Domain authentication, and multi-user accounts are some of the account management features it provides.
MailChimp

MailChimp is a popular handyman in the world of email marketing and directory management services. The user interface is clean and modern and is relatively easy to get started with.
The free plan, which accommodates up to 2,000 subscribers, is very attractive, although it is lacking some features that are part of the premium plans. Be sure to compare the higher price levels if you plan to grow your list.
Key Features:
Customizable email library and templates
Tool to compose drag and drop emails
Built-in photo editor and file manager
Optin forms selector for emails
Integration with external CRM systems
Detailed automation on paid plans
A / B testing tools
Service Type:  Free | More information
MailPoet

MailPoet is an interesting option. This plugin allows you to manage your email marketing campaigns from within your WordPress admin panel. The free MailPoet plugin gives you access to the basic features and if you need more power, you can always upgrade to the premium version.
In addition to integrating the email marketing control panel with the administration area of your WordPress site, the subscriber data is stored in your WordPress database.
Key Features:
Familiar user interface based on WordPress
RSS builder for email newsletter
Autoresponder tools
Statistics and reporting tools
Database of subscribers stored in the database of your WordPress
Service Type:  Free | More information
As a Note:
If you are looking for Email Hosting Services, please get in touch with our team.