Introduction
Over the years, the marketing landscape has changed massively with the paradigm shift from traditional to digital marketing and now brands are filtering the digital marketing strategies as well.
Due to the volatility of digital media, these marketing strategies provide short-term success to marketers. This leads to brands & marketers searching for an overall brand success tactic for their digital marketing activities.
In recent years, it seems that brands have found one amazing tactic that uncovers the huge possibilities beyond just conversions & sales i.e. Social Wall.
But Social Walls?
What is A Social Wall?
A Social Wall is a feed of social content especially UGC that has been curated from social media platforms like Instagram, Facebook, Twitter, etc. and this feed can be displayed on any digital channels like websites, events, digital signages or any other display screen.
The Social Wall mainly curates content around hashtags, social handle, channel, keywords, mentions, etc.
You can display your own branded content but nowadays the emerging trend is to curate & display the valuable user-generated content from social media.
A Social Wall mainly helps you with:
Collect & curate content from different social media platforms into a single feed.
Customize this feed to make it more engaging, attractive, promotional, etc. for your brand's advantage.
Display this feed as a social wall on your choice of marketing channel be it social ads, signages, website, event marketing, emails, and more.
Social Walls are a great tactic for marketers especially when combined with user-generated content.
The Combination Of Social Walls & User-Generated Content
We have discussed what social walls are and now we will embark upon how user-generated content relates to a social wall that can help brands to boost their success.
Firstly, user-generated content is any form of content created and shared by the users on social media platforms based on their authentic feelings, opinions, ideas, experiences, feedback, reviews, etc.
It is the most trustworthy & reliable form of content for the people as compared to branded content.
In marketing terms, UGC is the content that users create about or relating to a brand or its offerings like products/services. So, having positive UGC about brands becomes extremely crucial & influential.
Social walls & UGC combine to allow the marketers to display all the relevant and powerful user-generated content about their brand in their marketing campaigns.
UGC-powered social walls have great benefits for any marketer and their brand in digital marketing and we have listed some of them here.
Related: 10 Top Social Media Content Marketing Tips
Benefits of Social Wall In Digital Marketing
1. Empower Brand Trust & Reliability
Brand trust and reliability are the new-age objectives for brands that they tend to achieve with their marketing efforts but it has become quite impossible for users to trust brands.
The distrust is due to the spammy and misrepresentative marketing that brands have done over the past few years.
Social UGC walls help the brands to showcase the trust & authenticity of their brand & products through the words of the consumers. And it is right as over 90% of the people trust user-generated content about a brand.
Social walls can perfectly highlight altogether about what users have to say about the brand & its offerings.
2. Word-Of-Mouth Marketing & Brand Advocacy
Every marketer tries to create a strategy that leads to positive word-of-mouth about their brand. As this word-of-mouth marketing is one of the most popular and few organic marketing tactics that is still highly effective and fruitful.
Some great examples of exemplary word of mouth marketing are brands like Coca-Cola, Nike, Apple, GoPro, etc. These brands have customers as brand advocates globally.
These brand advocates talk all positive and praise about the brand leading to influential word-of-mouth marketing.
Social Walls help your brand to do the same by collecting all the best of UGC from different sources and display it to your audience. It helps you showcase the content of your loyal brand advocates as your word-of-mouth marketing leading to better returns & growth.
3. Cost-Effective Marketing Strategy
Social walls give you a cost-effective marketing solution that helps you minimize your investments and maximize your returns simultaneously.
With a social wall, you just collect & curate the best of social media content created by the users that is way more useful than content created by your brand.
So, you get more valuable content easily at your hands without having to make time, money, and labor investment for content creation continuously.
Besides, Social Walls can easily collect and curate a massive amount of content in minutes from different social platforms which would not be possible otherwise as your audience is scattered over different platforms & demographic attributes.
Even the setup is easy across any marketing channel for Social Wall that helps in saving the execution costs as well compared to other alternatives.
4. Increase User Engagement & Interaction
User engagement nowadays is pivotal to a successful digital marketing strategy as engagement is positively correlated to conversions and revenue growth for any brand.
With traditional marketing, it was almost impossible to engage with the users and have two-way communication with the audience. But digital marketing has enabled brands to engage and interact with the users.
Social walls perfectly leverage this engagement opportunity where users can share their posts on social media about any brand or topics and their content can be displayed on the social wall as a part of the brand marketing strategy.
Users can take part in the brand campaigns and marketing strategy, share their feedback, interact with the brand, etc. in real-time. It also enables two-way communication between the brands & users.
This two-way communication helps the brand to form meaningful relationships with the users, understand their behavior, and connect with their customers.
5. Increase Your Conversions & Sales
Yes, with the Social Wall, you can take your marketing to the next level to increase your conversions & sales leading to drive revenue & brand growth.
Displaying user-generated content on Social Wall can help you boost your brand sales as over 90% of the users tend to trust user-generated content while making online purchase decisions.
Besides, social ads with UGC get 5 times higher click-through rate and including UGC in the online purchase path helps in increasing conversions by up to 10% and engagement by over 25% comparatively.
Also, if not just this, you turn the user-generated content into shoppable content allowing users to directly shop from the content in real-time that can enhance your conversions hugely.
As Shoppable social wall helps you shorten the buyer journey and bring the point of sale close to the point of inspiration.
Related: 10 ways to Boost your Organic Reach on Social Media
Ways To Leverage Social Wall For Marketing
1. Display Engaging Social Walls In Events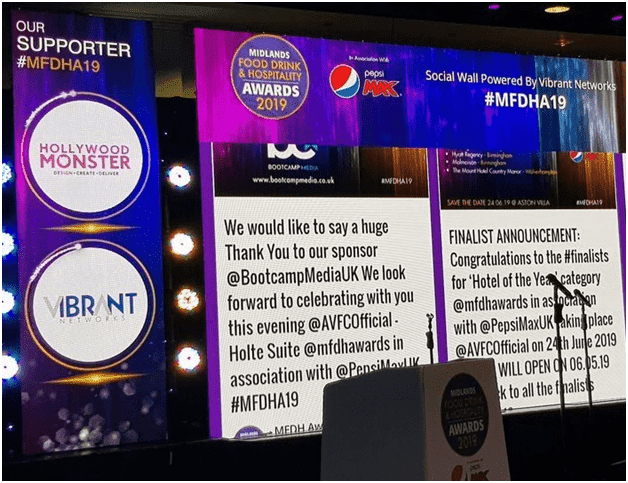 Event marketing is still a hugely popular strategy among marketers to connect with their audience and boost their brand growth. And with time, event marketing has become more experiential, digitized and interactive.
Social Walls is one such solution that helps you augment the audience engagement at an event and create memorable experiences for the audience.
Just display your Social Wall at different screens across your event venue to attract the audience and engage with them through these Social Walls. It works for any kind of event be it tradeshow, exhibition, seminar, wedding, concert, conferences, or any other event.
With Social walls, the event attendees can share their experiences, showcase their thoughts, have Q&A sessions, discussions, etc. that can be displayed across these screens in real-time.
Also, you can create a buzz about your event on social media and can display the content around your event from social media during your event.
2. Embed Social Wall On Your Website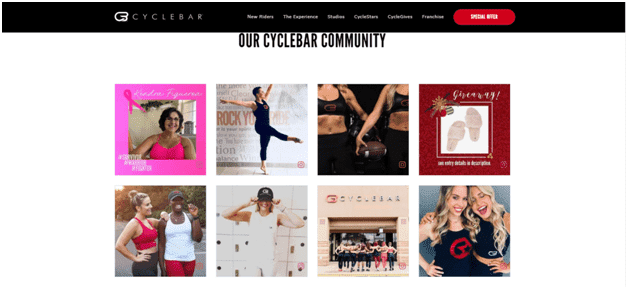 Another great way to create a successful digital marketing campaign is to embed your amazing social wall on your business website. Till now we have seen social sharing buttons that allow you to share website content to your social profiles.
The Social Wall though brings the social media user-generated content to your website for better website performance.
There are many possibilities that you can uncover by embedding social walls on your website. Firstly, the social wall helps you increase your website content vibrancy.
You can display attractive & interesting images, videos, and posts from social media to your website to make your content more vibrant and engaging. This content leads to increased user engagement and enhanced average dwell time for your website.
Besides, displaying UGC social wall also assists you in building social proof for your website & overall business that can be leveraged to bring profitable results. The increased engagement helps you empower your SEO performance and uplift your SERP ranking by reducing the bounce rate.
You can display reviews, testimonials, expert feedback, product visual galleries, and much more to influence & attract customers to your brand. Besides, it builds a link between social media & your website that can help you cross-channelize benefits amongst them.
3. Interactive Digital Signages For Marketing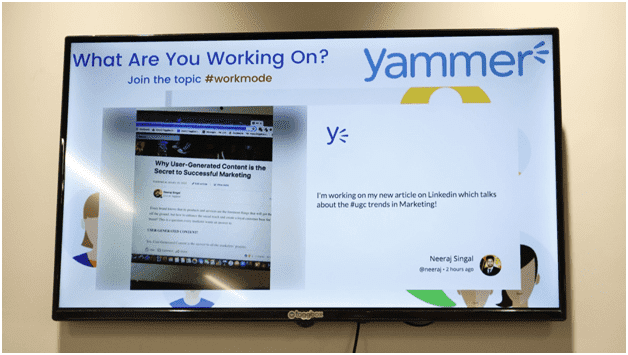 Digital signages are a concept of digital marketing in an offline environment by combining marketing strategy with digital display screens installed in different locations.
So, displaying Social Wall on digital signages helps your brand to reach out to customers, attract them to your brand, engage with them, and boost your conversions.
Social Wall helps you create interactive marketing campaigns where users can engage with the signages or can contribute to your marketing activities in response to rewards & recognition.
Besides, Social Wall on digital signages creates awareness about your social presence, augment social following, provide brand exposure, etc. to boost social interactions.
Also, you can build social proof for your brand by showcasing user-generated content on these signages and can guide them to your brick-and-mortar stores as these signages are mainly installed on stations, shopping arenas, market, city center, etc.
The best part is you have centralized control of different activations and you can create dynamic content for your signages in real-time with social walls. You can install these signages at stations, restaurants, hotels, billboards, and other public locations.
4.Upsell With In-Store Advertising
Displaying Social Wall in your brand stores can also magnify the impact of your digital marketing efforts. Just curate all the relevant user-generated content around your brand and display it on screens in your stores.
So, when the potential customers will come into your store for shopping, the live Social Wall will help in showcasing the brand's social proof through the content of existing customers which will allow these potential customers to trust your brand leading to potential conversions.
Also, you can display the product images, reviews, and videos shared by existing customers as Social Wall in your store.
This will help the users understand your products' real-life utility, its aesthetics, durability, quality, customer experience, and much more.
These things will lead to an increase in conversions and sales for your brand along with trust-building and brand image enhancement.
5. Shoppable Social Wall On Your Online Store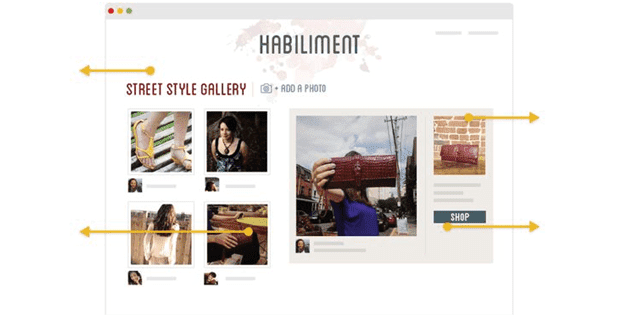 We discussed embedding Social Wall on the website, similarly, here we don't just embed but we turn the Social Wall into Shoppable Social Wall and then embed it on the website especially on the eCommerce website.
This is an excellent digital marketing strategy for eCommerce stores where they can display Shoppable Social Wall of user-generated content to build trust, increase engagement, and boost sales.
You can create a Shoppable UGC gallery and then you can display it on your eCommerce store's product pages, homepage, category page, etc. to influence potential customers towards conversions.
What this Shoppable Social Wall will do for you is that UGC will help you build trust and shoppability will allow the users to turn their trust into a sale instantly leading to revenue growth and brand success.
How To Create A Social Wall For Your Brand?
You can choose the best solution i.e. a UGC Platform to create a Social Wall for your digital marketing strategy.
A UGC platform helps in discovering, collection, and curation of user-generated content from different digital & social media platforms into a feed. Further, the UGC platform can help you easily display this UGC feed as Social Wall across different marketing channels.
The platform helps you to make customizations to your social wall, moderate the content quality, tag products into posts & make it shoppable, get UGC rights directly from users, real-time updates, and much more.
Besides, the in-built functionality provides you to leverage omnichannel marketing be it on the website, or in events, or in-store advertising, or digital out-of-home, or any other channel with easy management.
Creating a social wall is a task of minutes with the best UGC platform along with minimal hassle.
Conclusion
This was a holistic guide about what social walls are and how your brand can leverage them in their digital marketing strategy and further the opportunities are endless with Social Wall & UGC.
So, it is time to magnify your digital marketing efforts and start leveraging Social Walls for your brand marketing to boost brand growth and intensify returns on investments.