The fact is that the marketing process is nothing new, but what is newfangled is the fact that consumer insights are bringing a new spin on it! Brands are going back to the drawing board to have a closer look at the customer conversations and customer journeys, to adapt and innovate marketing effectiveness.
Consumer insights are changing the way marketers design their marketing strategies. Instead of trying to change consumer behaviors, marketing managers learn how to play into consumer behavior and thus, utilize them to their advantage.
A detailed study of firms that use consumer insights has revealed that benefits are seen highest in marketing.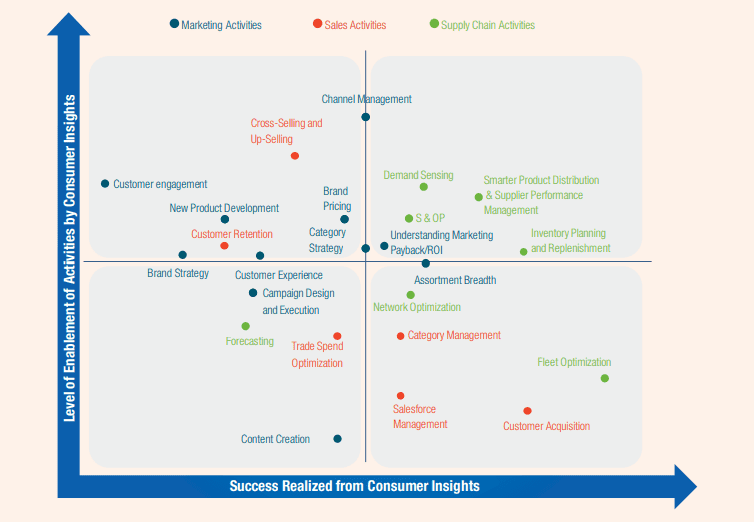 Source: Consumer Insights Survey, Capgemini Consulting
The study revealed that 58% of companies leverage consumer insights in marketing and product development, specifically in activities such as customer engagement, brand pricing, and marketing campaigns.
Thanks to the wonderful combination of consumer data and data science-enabled tools – today's marketers have the power to significantly improve their marketing effectiveness.
Developing an understanding of the numerous possibilities is just going to add enormously to any marketer's toolkit. Here are 10 such possibilities of improving marketing effectiveness using consumer insights:
1. Stop Selling to Everyone
First, let's get to understand the meaning of a buyer persona.
A buyer persona is a profile created after extensive research of your consumers, and it depicts a target customer.
Consumer insights play a great role in developing the most effective and accurate buyer persona. Buyer personas help a marketer understand or visualize an ideal customer, location, gender, age group, likes and dislikes, challenges, buying habits, and spending habits.
A buyer persona can be developed using the customer data, sales team feedback, interviews with customers, social media data, and information on forums, review websites, and any other form of publicly available data. The raw data is then used to discover what customers like about your product or service.
Here is an example of a buyer persona of a car buyer.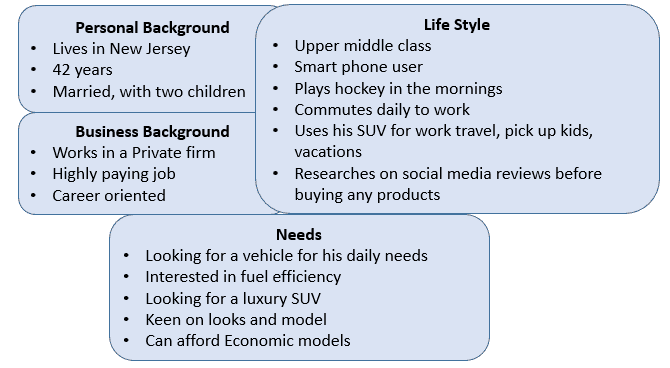 While the buyer persona describes detailed traits and characteristics of a car buyer, it also delves into the personal background and lifestyle to bring out the connection with his auto needs.
Buyer personas are like guides to marketing managers as they help to ensure that all marketing activities involved in acquiring and serving your customers are tailored to the targeted buyer's needs.
2. Quantitative Analysis of Your Marketing Efforts
Consumer insights bring out the best moments in an analysis that can be applied to improve marketing effectiveness. Consumer insights offer a surprise – a completely new connection that changes the way we think about marketing activities. When the insights give some leads, it is important to follow those leads and dig deeper that will often lead to richer, unexpected insights.
For instance, in one of the organizations, it was found that 72% of customers were giving revenue between $0-$250 per month, but this 72 % of customers generated only 25% of revenues for that organization.
But when analyzed, the customer segment that was paying us between $250-$1000 per month was just about 15% of the customer base, but they accounted for almost half of the organization's revenue.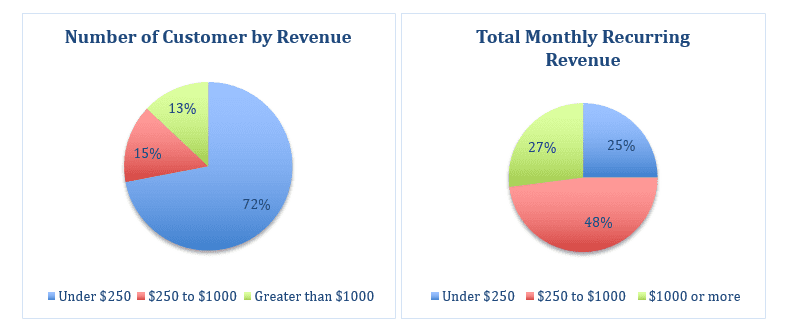 Using this consumer insight, the organization started to focus its marketing efforts more on the smaller segment that gave them higher revenues.
3. Map Your Customer Journey
Each one may call it differently – customer journey, user journey, buyer journey- but the ultimate goal is to better understand your customer so that better marketing efforts can be designed to woo the potential customers.
When marketers create a buyer persona, designs an ad, send an email – there is only one primary agenda – persuading visitors to take action – while predicting and preparing for the action they are expected to take next.
This means a marketer should know what motivates his potential customers – right now and in the future.
But how can we do this? Welcome to customer journey mapping!!
Dr. Chip Bell says, "The goal of customer journey mapping is to create and retain a deep understanding of the customer's experiences while he or she is traversing the path taken between having a need and getting that need met."
Due to the increased advancement in AI to process consumer data, companies have been able to process the data in real-time to create valuable marketing insights. With the help of consumer insights, organizations have been able to target new customers and cross-sell to existing customers.
As per industry statistics, customer journey mapping increases marketing ROI by 54 percent.
4. Marketing Tactics for Every Opportunity
Many times different situations demand different tactics to improve marketing effectiveness. This is where consumer insights come handy. Customer Insights prove to be useful to analyze and launch appropriate marketing tactics in each situation based on channels, audience, and messaging.
With the help of consumer insights, it is possible for marketers to understand what is relevant or irrelevant to your audience.
For instance, your company might have an assumption that money is the number one driver for consumers to choose your product. But when deep research is conducted on consumer feedback and conversations, it might come as a surprise that consumers are ready to pay a higher price for a product when certain features are offered. The pricing of a product might not be the first driving factor in all instances.
This is proved in a research conducted by Clootrack on business laptops. Through a detailed analysis of 6,302 online consumer conversations relating to several brands, Clootrack has listed down the top 5 drivers that buyers consider while making a purchase of a laptop. Research shows how customers place higher significance for reliability and feature overpricing.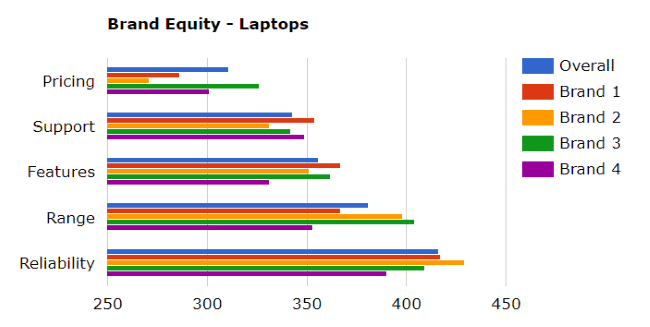 Source: Clootrack research report
Consumer insights have a great impact on the choice of channels, messaging, and creative. Unique marketing tactics should be applied based on your audience. For instance, the Facebook audience is different from those on Instagram or Twitter. With the help of consumer insights, you can gain knowledge of your audience to launch the most relevant campaigns and messaging.
5. Connect Dots Between Customer Feedback and Marketing
A marketing team is the strongest link connecting an organization with its consumers. A marketing team preciously knows how to reach, when to reach, and where to reach out to people who are interested in your products. But this is an ideal situation scenario that can get stale if not consistently kept up with the shifting tides. This is exactly ongoing customer insights that save your life.
You might have heard of Aguas Danone, a bottled water company in Argentina – a company that relied heavily on consumer insights to identify consumer feedback. When the company started to notice dipping sales, Aguas Danone identified two major reasons – health and flavor. Though consumers acknowledged that bottled water healthy, it was clear from their feedback that it did not offer good taste. Whereas consumers also expressed that soft drinks and juices tasted highly caloric.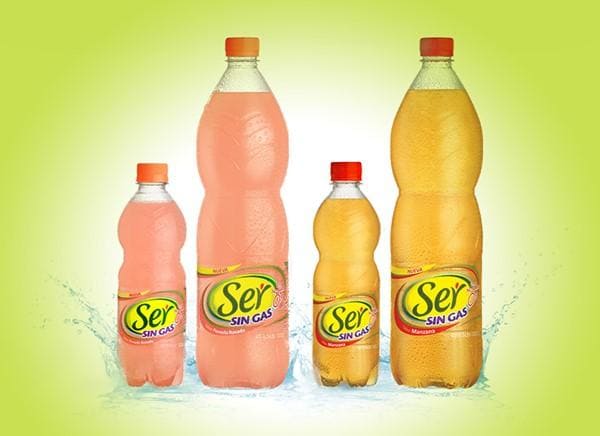 The company gathered consumer feedback and realized that they need to offer healthy drinks that can offer taste as well as and flavor. As a result, they gave birth to a new product – flavored bottled waters 'Ser' with great success.
According to data from Euromonitor International, Aguas Danone stood as the leader of reduced sugar-flavored bottled water in Argentina ever since its launch in 2002, overtaking giants such as Coca Cola and Nestlé.
Consumer insights gave them quick and continuous feedback that helped the marketing team to identify consumer needs.
Related: 7 Brilliant Ways To Stay In Touch With Your Customers During The Lockdown
6. Go Peek into Competitor Marketing Strategies
Getting an edge over your competitors is your ultimate goal. And it is possible only when you deeply understand the competition. This brings us to one of the best ways of gaining knowledge of your competitors – consumer insights!
When you know how you stack up against your competitors – it can be a massive advantage for your organization. To truly analyze the strengths and weaknesses, marketers have the golden opportunity to dig deep into the consumer activities of competitors and get incredible new ideas about their audience. Because of these advantages, it is important to conduct regular and thorough research into your competitors.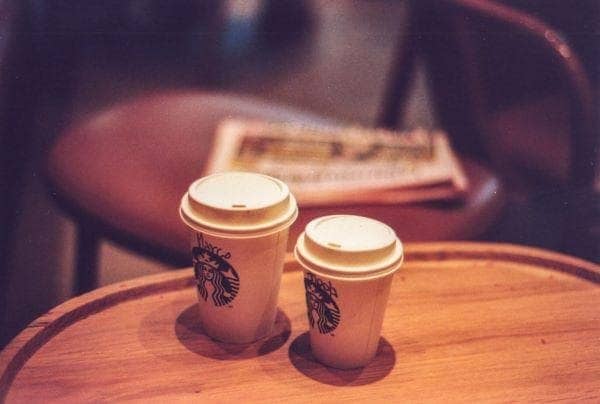 Starbucks has always made use of consumer insights to study its competitors and thereby altering its marketing activities. During 2012-2017, Starbucks analyzed the US market and realized that dairy-free milk alternatives saw 61% growth. The most popular types were almond, coconut, and soy milk.
Understanding the consumer trends, and leaping a step ahead of its competition, Starbucks launched drinks with coconut milk in 2015. And very soon, they launched its almond milk offering in 2016. It did not end there -Very soon, Starbucks offered oat milk in Europe stores in 2018.
7. Breath of Fresh Air into Marketing Innovation
Once Peter Drucker said, "Business has only two functions – marketing and innovation." This shows the importance of marketing and innovation for a company's success.
While we all know that innovation can be successful only with the help of good marketing, on the other hand, it is quite an ignored fact that marketing also needs innovation for the success of its products.
Innovation in marketing is possible with research into customer needs. The focus is on customers and market orientation. When all products and services are aligned with the needs of customers, success is guaranteed.
Innovating in marketing is sometimes described as an art and, at times, as a science. It is referred to as art when you are finding new methods to use your available resources with an intention to derive the best business outcomes. Whereas it is called as a science when it is used to monitor the outcomes and while using consumer data to plan future marketing activities.
This is exactly what L'Oreal did to dive into marketing Innovation.
L'Oreal has realized the importance of using insights for marketing, and hence was one of the first companies to introduce Augmented Reality (AR) in their marketing.
In 2014, they launched their L'Oreal Paris' Makeup Genius app, an AR service. The focus of this app was that it allowed users to try on makeup virtually. They understood the needs of the consumers and thereby introduced a marketing innovation that allowed people to try their makeup virtually. The app was downloaded over 20 million times.
8. Remove the Stink from Your Marketing Messages
More than ever, today's customers are expecting brands to understand their needs on an individual and personal level. By leveraging customer data, marketers have the ability to create effective marketing messages that are highly personalized to target specific customers.
According to a McKinsey report, "Personalized marketing messages can boost total sales by 15-20%, and digital sales much higher, while at the same time improving the ROI on marketing spend across marketing channels significantly."
Today marketers can use consumer insights to group preferred target audiences for their email campaign. Not only that, but consumer insights also enable marketers to easily personalize marketing messages that can connect, one-on-one, with each of their customers, instead of sending a 'one-size-fits-all' messages.
For instance, see how Boca Java, a gourmet coffee retailer, used consumer insights to send segmented promotion messages.
They created customer lists based on the number of coffee bags ordered. They segmented their customers into 3 groups – customers who had purchased two bags, three bags, and four bags of coffee previously. They crafted emails offering a 17% discount on the purchase of three packs of coffee. These personalized messages targeted customers who had bought two bags earlier, with an intention to attract them with this 17% discount and to upsell these customers ultimately.
9. Cleverly Create Viral Marketing Campaigns
For a marketing campaign to resonate with consumers, a deep understanding of the customer is key. While giving marketers all the tools to create great marketing campaigns, consumer insights are often the best tool that creates the best viral campaigns.
Gather that one fundamental truth of your consumers that inspires marketers to come up with a powerful campaign that lasts.
Here is a classic example of a company that used consumer insights to design one of the best marketing campaigns.
The Wonderful Company launched a marketing campaign to release its brand new product – wine range called JNSQ.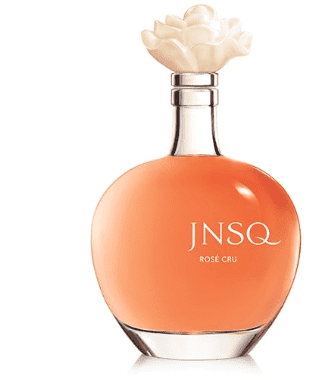 Taking the help of consumer insights to gather preferences of millennial women, the company promoted the release of its new product through a multi-channel campaign.
The Wonderful Company designed its brand campaign based on two fundamental truths that were unearthed during the consumer research. The first one was that women celebrated 'quality and beauty.' The second insight was that millennium women preferred 'rosé and sauvignon blanc.'
This campaign was a huge success as it embraced millennial women's desire for luxury. The company was able to do this by understanding its core audience better.
Related: Influencer Marketing : 5 Steps To A Flawless Influencer Marketing Campaign!
10. Stop Leaving Money on Your Table
A study by Gartner shows that organizations spent, on average, 11% of their revenue on marketing.
"Throughout the past two Gartner CMO Spend Surveys, budgets in North America and the U.K. have been hovering at just over 11% of company revenue. In fact, when you look back across the previous five CMO Spend Surveys, the mean average budget is anchored at 11%," says Ewan McIntyre, VP Analyst, Gartner.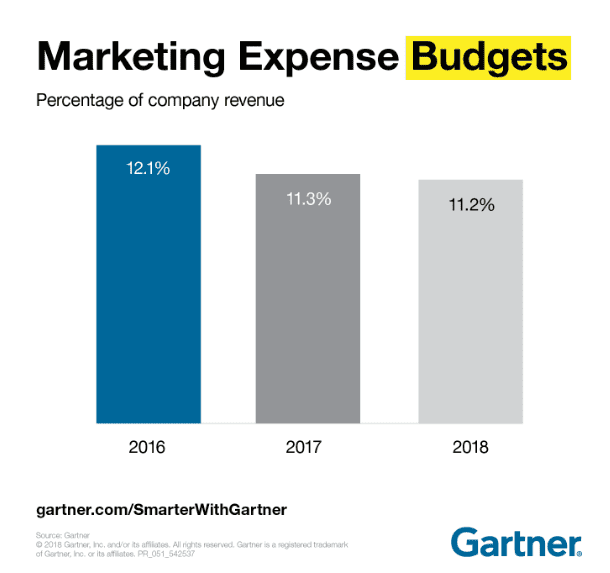 Source: CMO Spend Survey by Gartner
That's quite a bit of an organization's money, and it definitely has to be utilized effectively. Applying the knowledge derived out of consumer insights to design the marketing budget will certainly improve the quality and accuracy of forecasting marketing plans.
37% of marketers waste marketing spend due to poor data.
"The biggest waste in marketing is spending money on activities that reach the wrong audience," says Eran Livneh, president of MarketCapture, highlighting that reaching out to the wrong audience is an expensive mistake.
Consumer insights shed light on the patterns that show how customers have responded to marketing initiatives in the past. The data reveals how a set of customers respond to special offers, promotions, and discounts. This pattern enables a marketing manager to use the marketing budget towards the most effective marketing activities without wasting the budget on trial and error.
For instance, see how ice cream brand Ben & Jerry's exploits consumer insights. They observed that about 80% of their ice creams were sold on Saturday. But interestingly, they noticed that social media conversations happened mostly on Thursday and Friday, surprisingly not on Saturday! This gave them the insight that customers have the highest digital influence on Thursday and Friday. They understood that they are wasting money on ads run on a Monday or Tuesday.
Not just this, customer insight highlights the best marketing channels that work well with customers. Data from consumers can be segregated to analyze the level of sales that have come through retailers, direct sales, websites, or distributors. These insights give a very detailed level of comparison with earlier periods to detect changing trends. A marketer can wisely use his marketing budget on the most effective channel rather than waste money experimenting in the dark.
Cracking the Marketing Effectiveness Code Using Consumer Insights
How things have changed just in a matter of a few years! Consumer insights have now occupied the epicenter of the marketing revolution.
Since then, the humble consumer demographics no longer satisfy the complicated marketing environment – consumer insights have started to take hold and move ahead to achieve marketing effectiveness.