YouTube is one of the most fruitful and powerful online marketing channels that is great for promoting your startup online. When you think of online marketing, you might be thinking about articles, blogs, forums etc. but uploading videos and getting great results from them is the latest trend and you must catch up with it. Thousands of people all over the world are streaming videos; therefore you have a great chance of getting in touch with your potential customers on YouTube. As 'Vlogging' is the latest trend, there are many people out there waiting to cash on the YouTube marketing strategy, therefore it is important for you to be tactful and take care of many important aspects while marketing on YouTube.
Here are some amazing tips that will help you to create your mark on YouTube:
Do Your Research
Your competitors and other people related to your industry might be uploading videos on YouTube. Check what kind of content they have uploaded and plan on what type of videos you would like to make. For marketing your products on YouTube, you can create videos like:
Tutorial video about how your product will benefit your customers.
You can also create your own video where you explain the benefits of your product to the viewers.
You can make a video about reviews that your customers have about your product.
You can live stream an event.
You can create a general short video that contains a story line and that explains the use of your product etc.
While doing this, it is crucial to ensure that your video looks interesting to the viewers and at the same time it provides the necessary information. So your first step is to plan what kind of videos you would like to upload and get them made. It is alright if you take time to plan about what kind of video you would like to upload, because your video really needs to stand out in middle of all the competition.
While creating your videos, focus more on 'entertainment' instead of 'advertising'! Ofcourse advertising is your goal, but your video shouldn't lack in terms of the entertainment quotient!
Description And Link Back To Your Website
The main purpose of your video is to get traffic and potential customers; therefore it is important to provide your viewers with a link to your website home page or any of the relevant product pages at the end of the video. Make it easy for your audience to get to your website by making that link clickable in the video description box. If people like your video, then they would definitely look for an immediate link to your website and if your link is right in front of them, it will get direct traffic to your website. It is also important to note that YouTube is owned by Google, so every video that is published on YouTube has the potential for having high search capability. However this can happen if you appropriately fill out every available description box provided while uploading the video like title, category, tags, description etc.
Optimize Your Channel
Make sure to add the relevant description and social media links in your channel. If people like your videos, they will surely check out your channel to know more about you! Do not let this opportunity go out of your hand! Provide relevant information about your products and company on your channel page. Also, include links to your website and social media profiles. You can add a banner as well on your channel page, so make good use of it, and add an attractive customized banner.
Collaborate On YouTube
Join hands with your fellow YouTubers in order to expand your audience! This is known as 'cross-promotion'. As you share the videos of your peers, they will also start sharing yours. This helps in partnering with people on YouTube that have the similar interest as yours. You can create good relationships with like minded people on YouTube and create a cross-promotion strategy that works for both of you.
Add Annotations To Your YouTube Video
Annotations are small sections of text that are placed on the video. In annotations you can add links, text and hotspots for enriching the videos with additional information. Adding relevant annotations is the best way of ensuring interactivity and engagement. Check out this image with added annotations: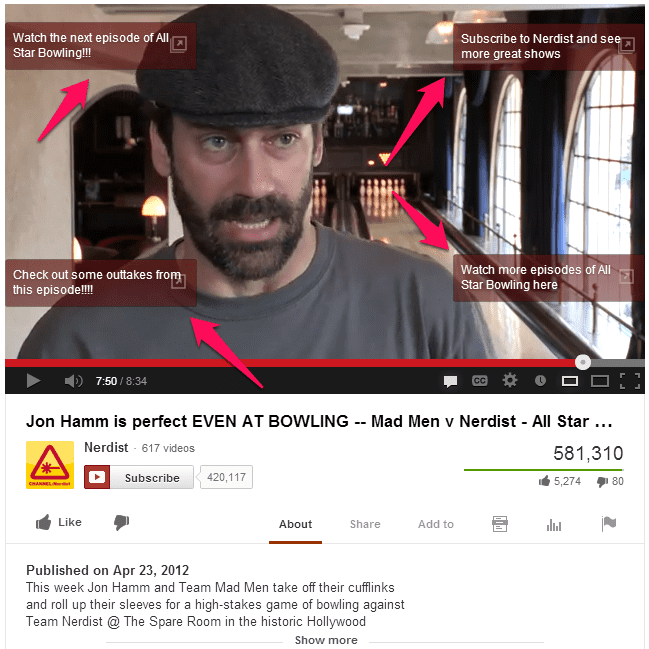 How to add annotations to your video?
For adding an annotation you should upload your video first. Annotation is a little popup that appears in your video.
Go to the 'Edit' option where you will the option of 'Annotations'.
Click on the 'annotations' link from the drop-down menu displayed next to the video
You can create your annotation from options like – 'Add Speech Bubble', 'Add Spotlight', 'Label', 'Title' or 'Add Note'
Play your video with the annotation screen on the side so that you know where you want to add the annotation.
For adding the annotation, click on the boxes on the side of your video, adjust the size of the box and type in what you want to say.
You can either point the annotation to something in your video or just add a note about it, and then click on 'Publish'.
Play your video again after adding the annotations to check if they are rightly added. You can create an annotation as per your preference.  Along with annotations it is also important to set the appropriate thumbnail for your YouTube videos that give the right impression about your videos to your viewers.
Make Use Of YouTube Analytics
YouTube analytics is an extremely important aspect of YouTube marketing. You can check the analytics data of your YouTube videos by logging into YouTube >> Click on your account icon >> Go to 'Creator Studio', on the left hand side select 'Analytics' and select the type of report that you would like to view for your videos. YouTube analytics provides important insights on the performances of your videos and user engagement. As a result of this, you can improvise on the coming videos. You can easily create different types of charts from the analytics data and study your video performances better for improvising on the next videos.
Conclusion
YouTube is a great marketing channel and you can get the best results through it by posting interesting and informative videos. It is important to make consistent efforts at YouTube marketing. If you have posted your first YouTube video, it is important to start working on the next one right away so that your viewers keep you in mind. Just like other online marketing channels, YouTube can also provide you with great benefits. Another important thing to keep in mind is that don't keep your videos confined to YouTube, promote them through various channels, you can promote your videos through various social media channels like Facebook, Twitter, Google+ etc. so spread a word and all the best with your YouTube marketing campaign 🙂