If you are not a newbie in the IT world, you've probably heard of SaaS and cloud-based solutions before. While both options are related and have a lot in common, they don't refer to the same thing. Understanding the difference between SaaS and cloud computing is one of the things you should care about to better select services designed to benefit your business. Let's begin with defying each of these separately.
Cloud Computing Overview
To put it simply, cloud computing refers to a technology that helps to deliver computing services via the cloud. Such services eliminate the need to buy expensive hardware and software. Cloud-based products/services run in the cloud and can be accessed 24/7 simply using the Internet connection and a device of your choice (PC, mobile devices, etc.). Cloud computing is represented by three service models: IaaS (Infrastructure-as-a-Service), PaaS (Platform-as-a-Service) and finally SaaS (Software-as-a-Service) model that we'll talk about later. Some of the biggest cloud-service providers include Google (Google Cloud Platform), Amazon (AWS), Microsoft (MS Azure), and IBM (IBM Cloud).
Refer: Everything About The Concept Of Cloud Computing
Additionally, cloud computing solutions are divided into private, public, and hybrid ones. A private cloud is a cloud-based environment exclusively accessed and used by a single organization. In this case, the cloud can be either hosted by a third-party cloud service provider or by a company's data center. Private cloud is commonly used by financial or governmental organizations and institutions that require strong security and total control over their data. Public cloud is owned and managed only by a third-party cloud service provider. Public cloud users can access services and manage their data via their personal accounts using the Internet connection. Hybrid cloud combines elements of both private and public cloud models where users can switch between two solutions when it's needed.
Before cloud computing, companies would have to own physical servers to store their data and software. According to Shareweb cloud-computing company research, an average company in the SMB (small and midsize business) sector can save up to 79% of its budget by switching from physical servers to cloud-based ones. With these results, it's no surprise that the public cloud service market size is expected to reach $362.3 billion by the end of 2022.
Before we get down to the SaaS solutions, let's briefly take a look at the other two services models. IaaS, aka cloud infrastructure service model, offers cloud-based services for networking, storage, and servers. IaaS users pay on demand. PaaS vendors provide access to their cloud environment where users can build, test, and deliver their own software and applications.
Software as a Service Overview
As it was mentioned before, SaaS is a part of cloud computing and refers to cloud-based software and applications that are not owned by users but are licensed to them. SaaS applications can be accessed via a web browser and don't require on-premise installation, maintenance, and configuration. These are ready-to-use solutions that run and are hosted on SaaS providers' servers and are owned by these providers.
SaaS providers normally use a subscription model where users can pay monthly or annually for access to the app. Besides, in this case, service providers are the ones responsible for the security of your data and for the timely software updates and support. Some of the most popular SaaS solutions include Salesforce CRM platform, Dropbox hosting service, Slack communication platform, and Zendesk customer service platform.
Comparing Cloud vs SaaS
Even though SaaS is a part of cloud computing, the two terms have one significant difference. Cloud computing allows users to access data, as well as to manage and customize apps via a cloud-based server. On the other hand, SaaS gives you access to an already designed software that you can use straight away and can't change its configuration.
Benefits of SaaS as a Part of Cloud Computing
Cloud-based solutions aim to make organizations' lives easier and help them better meet constantly changing market demands.
Read: Types of Cloud Computing in Business Environment
1. Cost-effectiveness
According to the BetterCloud research, the cost is the most important criteria an organization cares about when it comes to investing in SaaS solutions. If a company decides to adopt a cloud-based solution, the capital expenses are excluded, thus decreasing the overall IT spendings. Since everything is stored in the cloud, there is no need to have physical servers and spend extra money on their regular maintenance, as well as to have in-house server support specialists. Besides, cloud computing solutions allow you to pay only for the functionality you actually need which means that you won't be overpaying features that are useless for your specific business needs.
2. Flexibility and Scalability
The business world requirements and competition are constantly growing, thus forcing companies to introduce changes into their IT infrastructure. Cloud-based apps have the ability to scale and grow together with your needs and help you better respond to market changes. For instance, if your company plans to expand to new markets and requires more IT resources, features, and functionality, cloud solutions can be easily customized by your service provider.
3. High-level Security
Security is the 2nd most important criterion that business owners care about. From data encryption to multi-factor authentication and API keys, SaaS providers apply the latest security technologies to make sure your data is safe. Modern cloud-based apps are made to prevent potential threats such as hacker attacks, malware, and data breaches.
4. Data Backups and Disaster Recovery
No matter how much control you have over your organization, there are always things that can happen without your influence and can cause damage to your business. To add an extra layer of data security, SaaS providers enable automatic data backup via the cloud which makes data recovery easy and it normally costs you nothing.
5. Full Compliance
Besides the market requirements, governmental laws and regulations are also constantly changing and it can be complicated to constantly keep track of them. Reliable cloud service providers normally design their applications in accordance with the latest rules. It means that users no longer need to worry about checking on these changes and focus more on growing their business.
6. 24/7 Access
As we've mentioned before, you only need the Internet connection and a device of your choice to access cloud-based applications. This allows increasing your staff's flexibility and productivity and gives them an opportunity to work from anywhere anytime, thus responding to urgent requests more quickly and efficiently.
7. Increased Speed to Market and Higher Product Quality
For many developing enterprises it's important to launch a new product as fast as possible without compromising its quality. When an app is developed in the cloud, every member of the development team can assess the product to run tests and fix bugs, thus increasing the quality of the final product. Besides, with the cloud, the app is delivered to the market faster, thus giving users early access to the product.
8. Enhanced Staff Collaboration
Whether your company has 10, 200, or 1000 employees, it's important for your team members to stay in touch and collaborate more efficiently. This particular benefit played one of the key roles especially during the beginning of the COVID-19 pandemic when most of the companies were forced to switch to remote work. Cloud solutions make it easy to share and exchange data within a single system, and even provide collaborative spaces such as chats and in-built messengers to connect different departments and even offices across various locations. As a result, your employees no longer need to switch between applications and waste precious time sharing information with their colleagues.
9. Continuous Updates and Support
One of the benefits of cloud apps over regular software is their ability to automatically perform system updates once they are released by the provider. Checking for the latest versions and launching updates are no longer a user responsibility, cloud solutions will do it all by themselves. This not only helps your tech team to save valuable time but also decreases the costs associated with third-party support and consultation.
Are There Any Downsides?
Just like any other technology, cloud computing has its drawbacks:
1. Dependence on the Internet Connection
There is software that should be pre-installed on your device and can perfectly work without access to the Internet. SaaS apps, on the other hand, are hosted in the cloud and require the Internet to work. While the dependence of cloud apps from the Internet connection can be a benefit and provides 24/7 access to the app, it also can be a downside once the connection is lost. The slow internet connection can also negatively affect your company's performance, staff productivity, and deadlines. However, some of the latest SaaS apps provide basic functionality even when you are not connected to the Internet so you can access data and use key features when you're offline.
2. Lack of Control
It's not a secret that maintaining control is way more complicated when you are using SaaS solutions rather than when you have on-premise servers and software. All of the data as well as the app itself is stored in the cloud that is mainly controlled by a cloud service provider. To avoid any data losses and breaches, it's recommended to trust only reliable SaaS vendors that apply strong security measures.
3. Comparing the Costs
Before you switch to the cloud solution from a regular on-premise software, make sure to compare the two options and analyze the costs you're going to carry out. While in most cases cloud apps are likely to be more cost-effective, there are several installed solutions with features that may be crucial for your business.
Using SaaS Solutions to Enable Digital Transformation
Business owners already see great potential for SaaS and other cloud-based solutions as a driving force of digital transformation. Digital transformation can be defined in different ways but in general, it refers to a process of adopting digital solutions and applying the latest tech trends to drive business growth and performance. With SaaS solutions, companies no longer have to think of creating and adopting new business models but rather take ready-to-use software and customize it in accordance with the business-specific needs.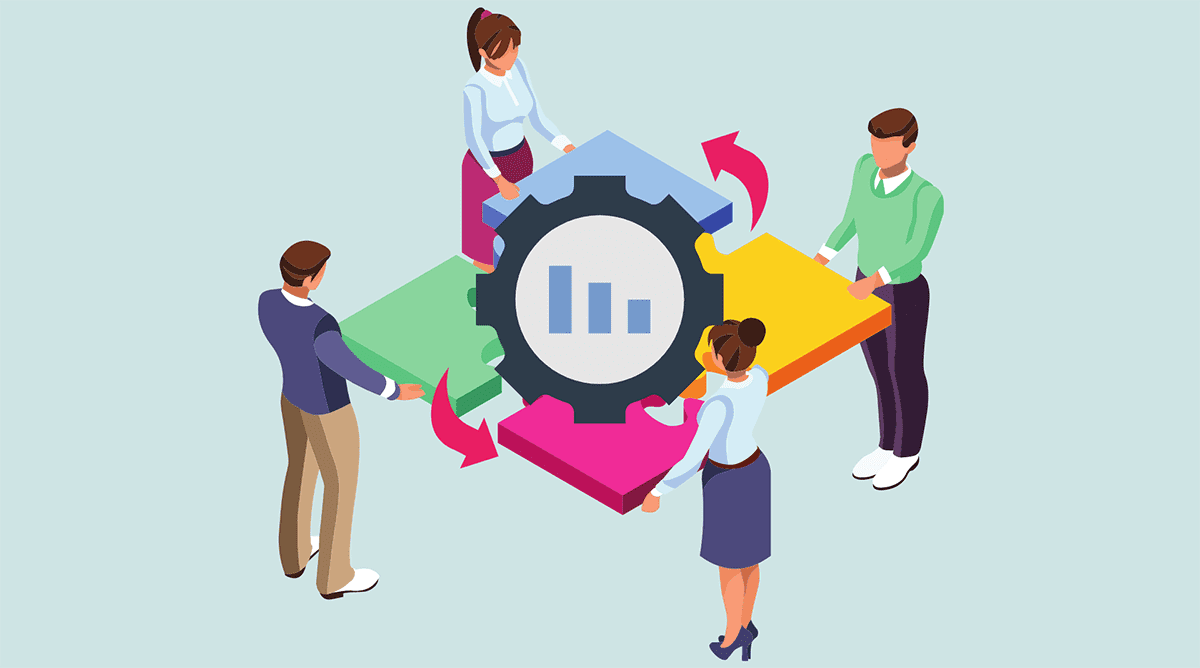 Why Companies Use Cloud Computing to Power Digital Transformation
1. Relying on the Internet Technology
It's hard to find or even imagine there is a company that still doesn't use IT for business benefit. Technologies have already become a big part of our business and private lives. With the increasing awareness of digital transformation, companies that have nothing to do with the actual software development still tend to invest more in IT every year. SaaS is one of the technologies that businesses are willing to adopt more in the next few years. According to researchers, 93% of CIOs are planning or already using SaaS applications.
2. The Size Doesn't Matter
Enterprise solutions were never available to smaller businesses due to their high cost. With SaaS solutions, no matter what size a company is, any business can get the features they need to perform better in the constantly growing competitive markets. Cloud service providers normally offer different subscription options for small and midsize businesses, as well as for large enterprises to meet their budgets and needs. SaaS tends to democratize digital transformation giving the opportunity for all companies to grow and evolve.
3. Business Agility
No matter how good your business's state is now. To succeed and be able to face current competition, any company should embrace changes and eager for more. This is what digital transformation is all about. SaaS can replace traditional software and provide more opportunities for future growth and improvements. Whenever you have new demands, SaaS can respond quickly to your requests. On the other hand, continuous updates and improvements support your constantly growing tech needs and don't let these solutions outgrow your business.
4. Work Better for Your Customers and Employees
Customer-centric SaaS solutions like Salesforce aim to bring value to your customers and employees. Staff members get more opportunities and tools to better reach out to clients, generate and qualify leads, and close deals. At the same time, they provide clients with only relevant information and quickly respond to their requests. SaaS solutions also deliver valuable insights into your customers' behavior. This data can be used to adjust your marketing and sales strategies, improve your products and services to make sure you give your customers exactly what they need. As a result, customers' satisfaction rates and sales are growing together with your employees' performance.
5. Eliminate Human-Related Errors
We all are humans and sometimes we make mistakes. Automation of repetitive and time-consuming tasks is one of the crucial parts of digital transformation. SaaS solutions help to solve the problem of human errors and provide employees with more time to spend on more valuable and important tasks.
Final Thoughts
There is no secret recipe to achieving digital transformation. However, adopting SaaS or any other cloud-based solution can become your first step on the way to receiving major benefits and improvements.