Being an artist and having your own unique talent is a great feeling! Your work deserves to be out there for people appreciate it and connect with it. The best way to do this is through an online portfolio website! You will come across a wide range of creative online portfolios on the web and its time you have yours as well.
Here are some important tips about what you need to do for setting up your online portfolio website:
Curate Your Best Work
Take some time and have a close look at all the work that you have done and select the pieces of art that you would like to feature on your online portfolio. Although you have your own choice and discretion of showcasing your work, it is preferable to select the work pieces that you loved doing, the best ones, the ones that you would like to do in the future. Remember, it is a good idea to have an online portfolio about a few selective amazing works of art rather than having dozens of projects that are just average.
Make Use Of Eye Catching And Stunning Images
Now that you have selected the work that you would like to feature on your website, it is important to get to the other minute details like use of images. The main image for any of your project will provide a sneak peak about that project to the viewers; therefore, it is important to make use of suitable and eye-catching images. You can even tell a story about the designing work that you have done right from the initial concept to the finished product through the images like the image given bellow:

A good thumb rule to be followed here is to make sure that all your images do justice to your work. The images should be of high quality and unique to make your portfolio stand out.
Register A Domain And A Web Hosting Package
Now that you have curated your best work, it's time to put it all online. Your nest step is to register a domain and purchase a web hosting package for making your portfolio website live. It is important to consider that your domain name is the first impression of your portfolio website and therefore you must put in a lot of thought to select the most preferable and impressive one. Read about selecting a great domain name to make the process easier.
You will come across many online free websites to create a portfolio but then they will have their own restrictions. The best thing about having your own portfolio website is that you have complete control over every aspect of your website and you can feature your creative work the way you want to. You can opt for the basic shared hosting package to start your website and you can upgrade the package at a later point of time. It is preferable to opt for WordPress hosting as WordPress is user-friendly and it comprises of a wide range of attractive themes to set up your portfolio website.
Create A Bio That Features Your Unique Approach And Point Of View
Create a personalized 'About' page that tells your story, feature more information on this page apart from your work. Share your point of view because as a creative person, you have your own perspective about things related to your industry. Craft your bio by penning down your own creative perspective or your mission statement. You can also share a back story about how you got into the creative field and what do you like the most about it. Portray your experience as well with some backing facts and finish it by being approachable, let people know how they can get in touch with you.
Keep Updating Your Portfolio Website
Your work is not finished only by creating a nice portfolio website, it is also important to keep updating it and keep posting new content. This will keep your audiences interested and you will also do good when it comes to achieving impressive search engine rankings as Google likes the websites that are updated regularly. You can either post something about your work or you can also create a blog and write articles about your industry. You can post videos images, infographics or text but make sure that your website is not just kept idle for a long span of time.
'Call To Action' Attributes
You need to be clear about what result you want though your portfolio website.
Do you want to be hired for more projects?
Do you want to attract more visitors to your work?
Do you want more recognition on the social media websites?
Or you just want people to know who you are…
According to the goal that you want to achieve through your website, it is important to add 'call to action' buttons accordingly on your website at the appropriate places. Every page on your website should have a 'call to action' button on your website that encourages the viewers to take the 'next step', the next step maybe sharing your work on social media websites, hiring you for some project, commenting on your posts etc.
Here is an example of a call to action button: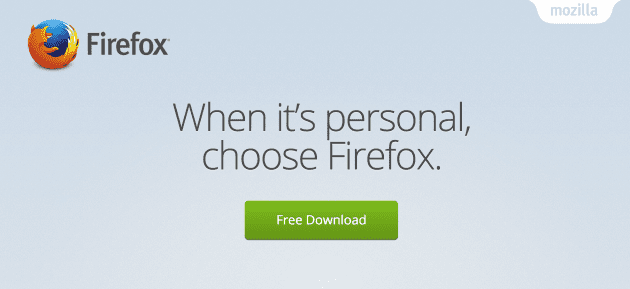 The call to action button must be clearly visible and it should stand out from the rest of the content on the page.
Conclusion:
You have put in a lot of efforts in the creative filed and its time people know about it. The best time to do it is through setting up a perfect portfolio website. Also make sure to post your address on your website because there are people who prefer to work with professionals who live in the same time zone or maybe in the same city. Your portfolio website is the backbone of your creative work and it shows what you are capable of so put in a lot of time and effort in designing it and setting it up perfectly.