The e-commerce sector has been moved to a large-scale expansion throughout the world. Small business owners and webmasters are moving their step into "Online Selling" to generate more revenue and more benefit from "E-Commerce Business".
When it comes to choosing the best eCommerce platform for your business there are many things that you have to think about, such as technology, security, features, tools and plugins etc. Lots of software's and tools are available in the market to find the platform for creating your online store. There is no rocket science. These tools make your online business easier and affordable.
There are many choices of platforms in the market, but today we will only talk about Magento and WooCommerce. These platforms are most widely used and considered the best e-commerce systems to ensure the success of your online business. Both are open source and allow unlimited inclusion of products.
In this post we have highlighted some key points to help you choose the best eCommerce platform for your online store.
Hosted and Self-Hosted
There are two main things that you have to check with e-commerce platforms: Hosted and Self-Hosted. Hosted means the company will provide you hosting space and other features for your online store and self-hosted means they will only provide you tool but they won't provide hosting features. So you must have your own web hosting space to host your website.
Magento and Woocomerce
Magento is an E-commerce platform and WooCommerce is WordPress plugin. Magento and WooCommerce both are great tools to build an E-commerce website. If we talk about functionality and features both are quite similar and provide an amazing shopping cart option for users. This comparison would help people who are thinking of setting up an online store but have not yet chosen the platform to use. Right now I will not tell you which platform to choose but by the end of this post, you'll have a better idea of both the platforms that allow you to evaluate the characteristics of each system against the requirements of your store.
Let's discuss about each platforms in detail.
Magento
This platform was officially launched in 2008. It was developed by Varien (now Magento Inc.) built on Zend Framework. Magento is an open source e-commerce store management system that specifically designed only for e-commerce business.
Magento is used by small to giant e-commerce companies. Ideal for those who want to grow in a professional and security sector. It is considered a complete platform with robust system which offers a range of unique features with high performance management and navigation with more secure environment, as well as complete integration with ERP, WMS, CRM, Payment Gateways, email marketing, anti-fraud systems etc.
However, it may seem a bit complex for beginners. The Magento domain requires dedication and depth to fully exploit the capabilities of your system. Magento platform best meets the needs of large companies for their flexibility in size, but requires greater financial investments for the creation and maintenance.
Magento Advantages
• Magento allows you handle multiple stores from single dashboard.
• It is ideal for large companies because it has a greater power of customization. The platform also offers the translation option into other languages to recognize foreign currencies.
• Magento offers three types of stores to choose from: Small, Medium and Large. You can choose one of these stores depending upon your needs.
• Magento has a great community and can help you develop your store if you know a bit of programming, as well as several specialized tutorials and videos are available on the internet.
• One of the main advantages of Magento is that it can easily handle unlimited number of products in your site without any server problem.
WooCommerce
Developed by WooThemes, WooCommerce is also in the race with other eCommerce platforms. It is growing very fast and has become the most loved eCommerce tool for small businesses, especially for WordPress system. It is also an open source e-commerce solution. The e-commerce platform WooCommerce works well to meet the need of small shops, especially if you are already familiar with the WordPress interface. WooCommerce has been downloaded over 3.3 million times and is now present in 20.72% of all e-commerce sites. This equates to over 250,000 online stores!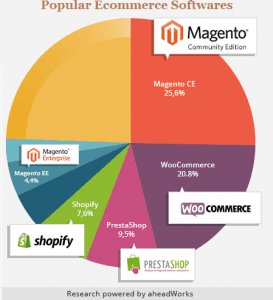 Technically WooCommerce is not even an e-commerce platform. It's actually an open source plugin for WordPress that turns your blog into an online sales model. WooCommerce was developed on WordPress standard that has become the perfect package for blogs and many small sites. Just like any other plugin, WooCommerce is managed directly from your WordPress dashboard, which gives access to a wide range of options and customization for creating your store exactly as you want. WooCommecrce configuration and installation is very simple.
WooCommerce Panel WordPress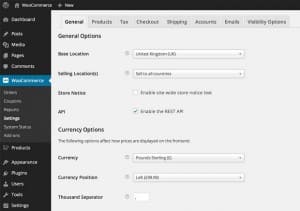 Advantages
• If you are planning to start your online business with less money than WooCommerce is right choice for you.
• It offers a simple interface, but very efficient. The download is free and requires few financial resources to maintain it.
• It is a WordPress plugin, it works well with the other plug-in available on the platform and that creates a good navigation experience on the site.
• Hosting needs are fairly simple, it does not require powerful server to run your store.
• Installation and integration with WordPress is very easy.
WooCommerce would be good option for you if your website development and maintenance budget is limited.
Similarities between Magento and WooCommerce
• Both are Open Source: Free for editing and customization.
• Both use the same business model "freemium". Some features are limited for free version but if you want specific resources you will have to install the premium version.
• Both stores allow you to have a blog.
• Both stores allow you to easily add infinite products.
• Both use themes to design and customize the look of your website.
Let's check what google trends say about these eCommerce platforms.
According to Google Trends, total number of searches and popularity of Magento is very high.

Analyze the Both Systems with Regard to the Following Aspects:
Hosting Server Needs
For WooCommerce, hosting needs are fairly simple. You will not need a very powerful server to run your online store even when there are thousands of items in your store and customer activity.
On the other hand, Magento is a feature of relatively heavy system. Its installation is quite simple and can be performed in any shared hosting service, however, once you upload more items in your shop, surely you will need to use a lot of memory and server resources.
Ease of Installation
If you have basic knowledge about programming servers than you can easily manage WooCommerce system. Installation of Woocommerce on wordpress is very easy. The wordpress comes with an installation wizard; you do not have to change all the files. Configuring WooCommerce is also a fairly simple process. For WooCommerce installation and setting up process; check this step by step guide.
Magento also has its own installation program that allows rapid integration and hassle-free installation. If the setting of your server does not meet the required minimum criteria than installation might fail, in this case you have to fix and install Basic programs to continue the installation. Check this guide for magento installation.
Easy to Use: Intuitive Usability
The main advantage of using WooCommerce is that it is a very friendly system. Magento can be a real pain for beginners. Some people say that Magento is not as intuitive, but it all depends on your needs. If your requirement is big then Magento is perfect for you.
Development Costs
WooCommerce and Magento both are freemium (Free and Premium) eCommerce software's. You don't need to pay any hidden charges or any subscription fees. If you are startup and don't have enough budget than WooCommerce would be the best option for you because it's cheaper than magento. Magento is by far a more complex and expensive system to maintain and develop. Magento is expensive because it has lots of power features to handle your online shop.
The Cons
WooCommerce is only recommended for small ecommerce sites, not good for big and heavy ecommerce sites with lots of products. Since, it works on WordPress so it may cause problems if you use many plugins, theme, extensions etc. Unnecessary plugins and tools can make your WordPress site slower.
On the other hand, Magento is highly recommended for big eCommerce sites with unlimited products. Hosting is only a problem for Magento. You will need to pay more to get good hosting and space to prevent server problems. To upload more products on the store more space will be required. Website development and maintenance is quite expensive than WordPress.
Conclusion
So which platform would you prefer for your online shop?
WooCommerce and Magento both are most popular and great platforms for E-commerce business.
Do not choose an e-commerce platform just for being beautiful, light, or famous. Identify your real needs and decide which one is best e-commerce platform for you!
We at MilesWeb provide hosting services for both Magento and WooCommerce. Checkout Magento hosting and WooCommerce hosting pages to view the plans and pricing details.