The coronavirus pandemic has shaken each and every individual across the world. From the loss of business to remote work, things are changing fast during the COVID-19 outbreak. People are being forced to adapt social distancing and other essential steps to slow down the spread of COVID-19 virus.
During the crisis, even your business must have been impacted whether you are an online business owner. In such a panic situation, you must be confused about what and how to handle your business.
So, we've made a checklist that will be a helping hand to your online business. This checklist will not only ensure the productivity of your employees but also help you keep your customers updated with your business.
A complete checklist that provides the set of guidelines best suited for the current situation:
Tips for your online business during the COVID-19 lockdown
Click To Tweet
1. Notify your customers about the changes to your business
Events are unfolding drastically and the picture changes on a daily basis. This has forced the businesses to change the way they operate and respond to unfolding events and communication such as:
Big and small businesses around the world have started rolling out mandatory remote working schemes which have increased the need for extra time to re-plan and restock.
Interruptions due to limited inventory for companies to reassess their supply chain exposure to outbreak-prone regions and reconfigure regionally.
A sustained pullback in consumption, coupled with extended closures of businesses, has limited the service availability for example restaurants, cafes, shopping malls, etc.
Due to the lockdown, the employees are forced to stay in self-quarantine which has resulted in the unavailability of staff.
Figure out the concerns of your customers. Convey a message that tells your customers what changes you are making in your organization. Whether your business is opened or closed or available only for specific hours, make sure your customers are notified if there are delays in processing their request.
Add a pop-up or banner
IKEA's Retail U.S. decision will temporarily close all 50 store locations across the U.S. made global headlines, and the company has a homepage banner to make sure customers get the info.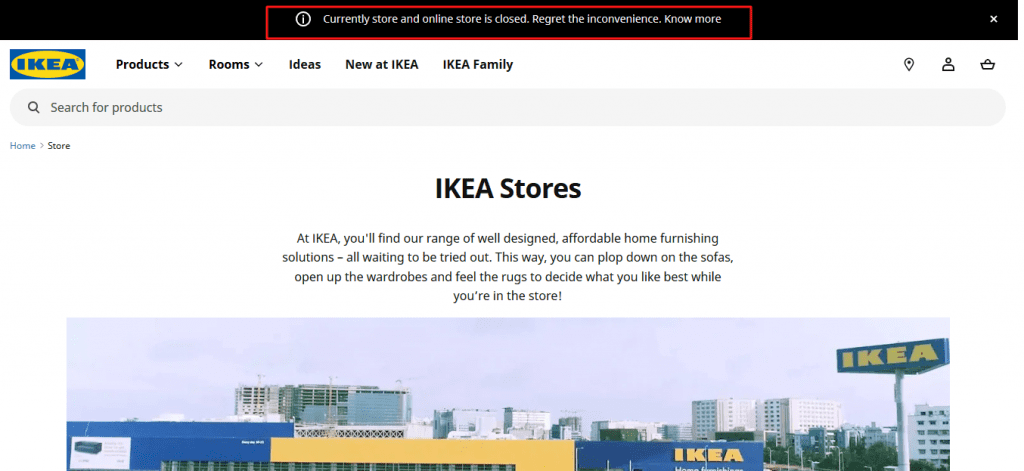 The most famous Italian luxury brand-GUCCI has added a pop-up on their website that they are currently not operating.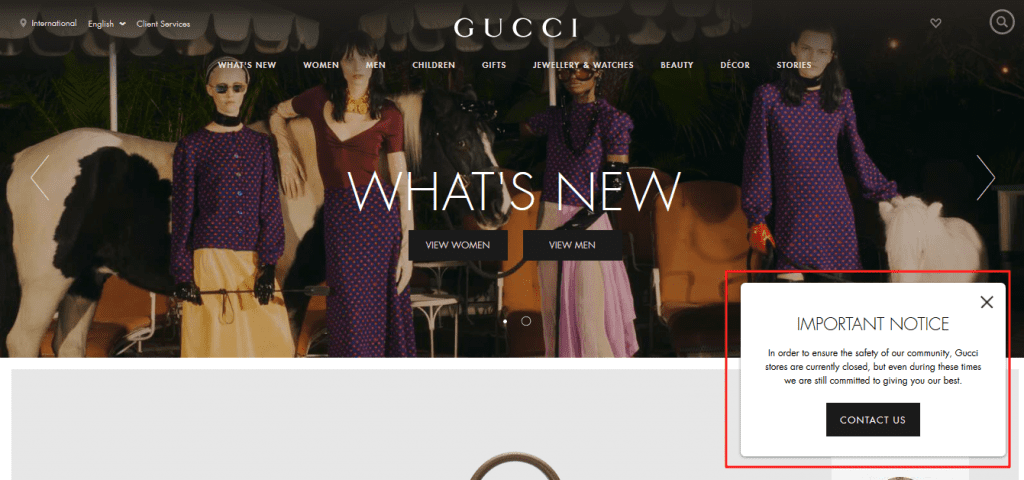 You can use a banner like IKEA or pop up like GUCCI to notify the status of your business.
Keep your online profiles updated
A lot of businesses use social media platforms to engage with their customers. With more and more people working or isolating from home, they are most likely to use social media in their free time. Social media platforms can be a good medium to build a vital connection with your potential customers. Doesn't matter if you are trading or temporarily closed don't quit posting on social media.
Send emails
With so many changes in the process and changing business updation, don't forget to update all your email subscribers about the changes you make to your business or its process.
The pop up that you are going to use on your site for updating your customers also can include a text area that will help you collect your visitor's email id. This way you can grow your email list which can later be utilized.
Manage delivery-time expectations
With the complete lockdown, most of the businesses have completely shutdown. But the government has allowed some businesses to deliver essentials to customers such as Big Basket, Amazon and Flipkart. But due to less availability of the staff or products you may not be able to meet the actual delivery time that is expected by the customers.
It's great to have a range of courier options available so that you can meet the needs of your customers during these challenging times. Even if it is taking long, it should be made clear to the end-users.
Here's an example of Big Basket: as people are avoiding going out in the grocery store, they have started to order it online. This notification gives a clear message to their customers that the delivery slots may not be available.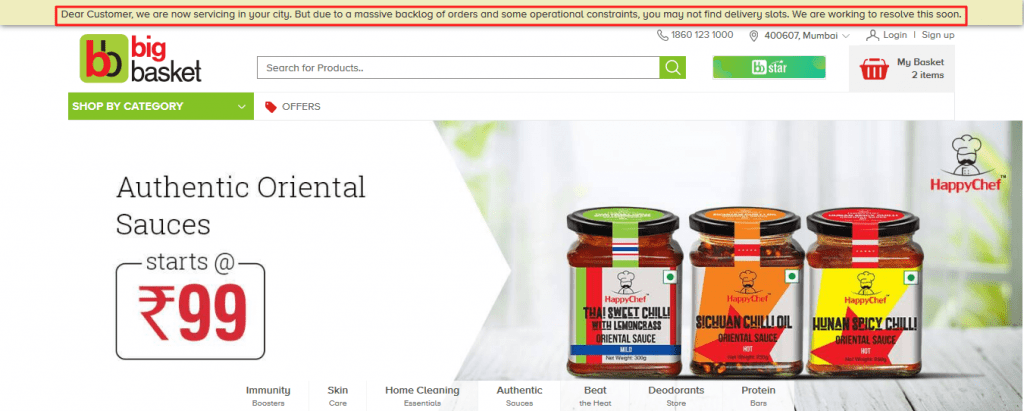 As this notification is coming up while adding items in the cart, the customer already knows that the groceries will take time instead of knowing it at the last moment (that is checkout).
2. Tell them the steps you are taking to keep everyone safe
The current situation is changing expeditiously and nobody knows what will happen next. Even if the customer is looking forward to buying anything from you, they may have hundreds of questions running in their mind. Whether your business is open, is it safe to place an order, is the business following hygiene and more.
Explaining your customers about the safety measures your employees are following and deep-hygiene steps you're taking for your customers is a good way to maintain relations with your customers.
For example, here's the homepage banner for a popular pizzeria Dominos: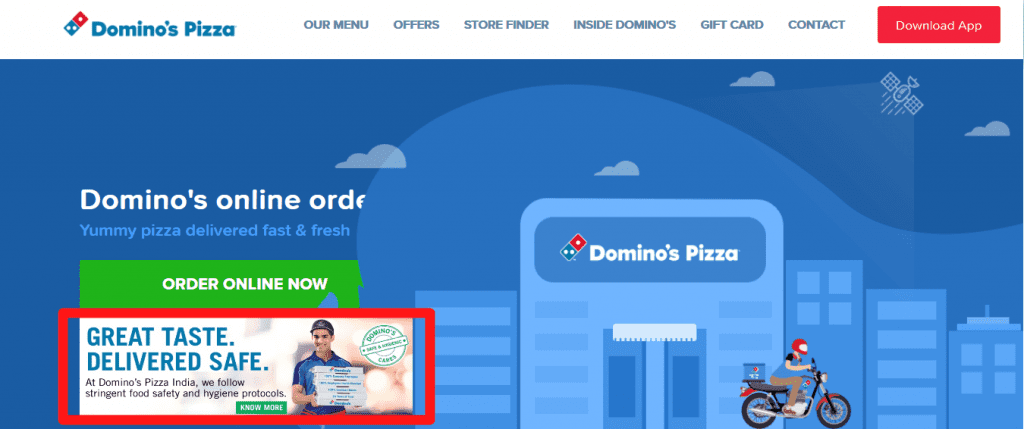 Clicking through "Know more" takes you to a new page that tells about what steps they are following to protect their staff and customers.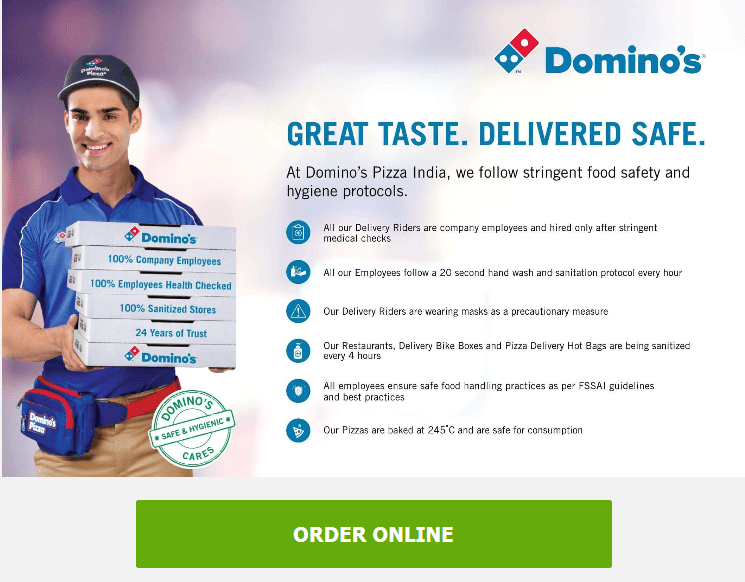 Doing this will build trust among your visitors and they'll be happy to eat without any worries about their health.
Consider adding a COVID-19 FAQ section to your business website
Along with the landing page, where the focus is to convert buyers, the FAQs are an important part of your website. Giving answers to all the questions that your customers may have about your business during the crisis will be an additional advantage.
The most popular courier delivery service – FedEx offers a great example. They have added a page that explains the precautions they are taking during COVID-19: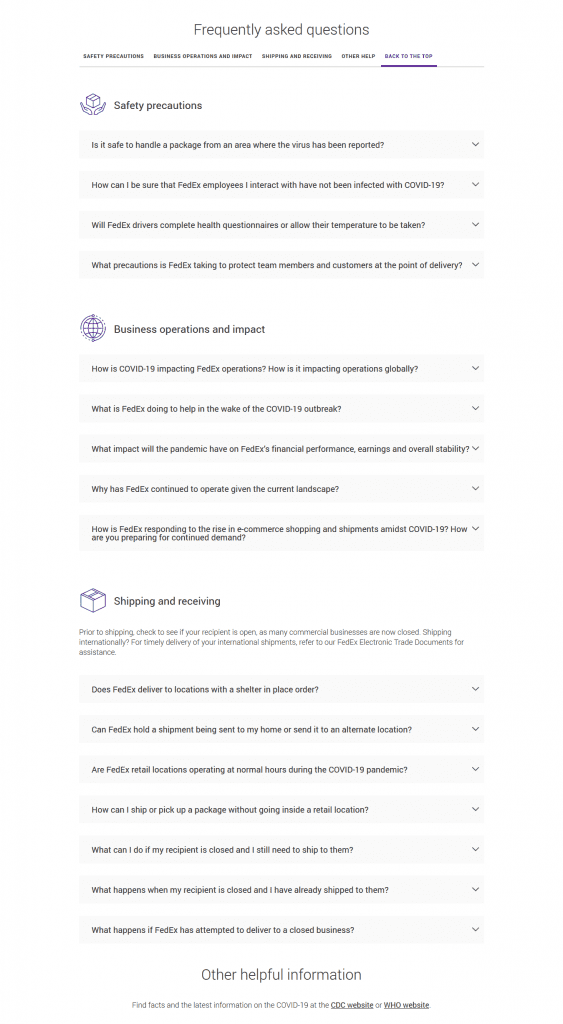 Such type of FAQ section will help to clear any doubts that your customer may have, which ultimately helps in maintaining the trust.
3. Figure out plans to keep your business running
Because of the lockdown worldwide, people are not allowed to go out of their houses and this leads to a sudden drop in foot traffic.
Even though social distancing is a good step for public health at the same time its frightful for small businesses.
Do not give up and plan your business wisely even in these tough times. We'll give you some tips that will keep your end-users engaged even from a distance.
This is the best chance to promote gift cards. If you own a restaurant or a cafe, people may not immediately opt-in for availing the gift card. But this will surely help you build a long term relation with your client. A gift card will guarantee that a customer will return to your business in the future.
You can offer an e-gift card as this will reduce any risk of any human contact. Yet another option is you can collaborate with food delivery partners like Swiggy or Zomato for offering gift cards.
As mentioned previously, people are more active on the internet during this period because almost everyone is at home and to pass their time they will use the internet and most of the time will be using social media. Take full advantage of this period and go digital.
If you still don't have a website, this is the most suitable time to launch your business online. Build an eCommerce website and get going. This way you can reach a large number of audiences who are currently staying online most of the time.
You can even make how-to video, tutorials, DIY, tips or something that will either be useful for people or keep them entertained.
For example, if you are an electronics store owner you can post content showing how to do in-home general servicing of your electronic appliances.
Think of the other offerings
Are your customers currently not buying your products? Think of what other offerings you can give them that they truly need. This does not mean you start a new business or sell products that are not relevant to your business. For example, a lot of hotels are in the process of converting their empty hotels into healthcare facilities for corona patients.
Time for a free subscription
Some online streaming services are already giving free subscriptions during the coronavirus outbreak. For example, Acorn TV is offering a free trial for 30 days for their customers.
Similarly, many other businesses are making this an opportunity for marketing their services by offering their subscription at lower prices or a free subscription for a specific duration.
Related: Work from Home Tools to Help You Become More Productive During COVID-19 Quarantine
Before you go…
Do not completely get disconnected from your customers or other business owners. Keep your customers engaged with your brand even in this lockdown period. Also, staying in touch with other business owners will help you learn what ideas they are implementing during this period.
Find ways and do everything that you can for your customers during this challenging time so that your customers never lose sight of your brand.
Stay home, stay safe!
Related: Getting Back to Work After COVID-19 Lockdown? Quick Tips