WordPress allows its users to include forums and blogs on their site, which enables outsiders to post on your site. Thus, permitting users to register for your WordPress website also invites spammers to register on your site. So, to limit the spam registration just like spam comments, it is better to regulate user registration like comments.
#Steps to regulate the process of New User Registration in WordPress
First of all, install and activate the plugin i.e. New User Approve plugin. This plugin works well and does not require any settings to be done to make it work.
In case you want to view this plugin in action, you will have to logout of the WordPress website and visit the registration page.
On the registration page, as a user, you will get a notice that informs that your request for registration is waiting for approval of the site administrator.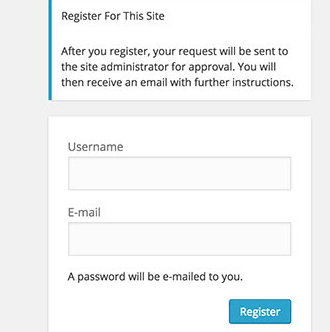 After receiving the user's request, the administrator in the WordPress dashboard admin area can either approve or deny the registration request.
When the new user's request gets approved, then the user receives an email that contains login credentials by which the approved user will be able to log in to his account. In case the user request gets denied, then that user gets notified that the registration request has been denied.
Note: If the user's request gets denied then it won't delete a user from the database. The denied user won't be able to login to a website and also cannot register again using the same username and email id.
If the admin deletes the user, then the system will permit the user once again, to register on the website. But, the admin still will have to approve the user before the user can access the websites.
A brief of the WordPress registration procedure with the New User Approve plugin after its activation.
User registers gains to gain access to the website.
User gets notified with a message pending approval.
Admin gets informed about the new user Sign-up by email.
Admin has the authority to access the WP-admin in-order to approve or deny the access request by a new user.
User gets updated about their approval status through emails. Approved users receive login details in the same email.
Using these details, user can log-in to a website.
Also Read :
1) How To Add Skype Share Button In WordPress?