Watch this video for a step by step process on How to Edit The New Account Information Message
DierctAdmin enables the resellers to send a message to the new users that contains their account information like – Welcome Email/ New Account Information email. This message contains the information required for the use of DA web hosting account. You can also send suspension messages from DierctAdmin.
Follow the steps given below to edit the new account message in DA:
Connect to your DA/reseller account.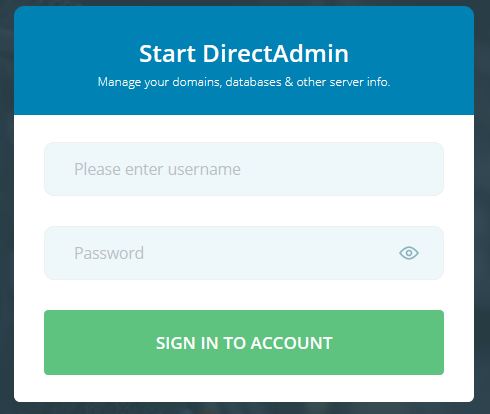 Go to Account Manager >> Edit User Message.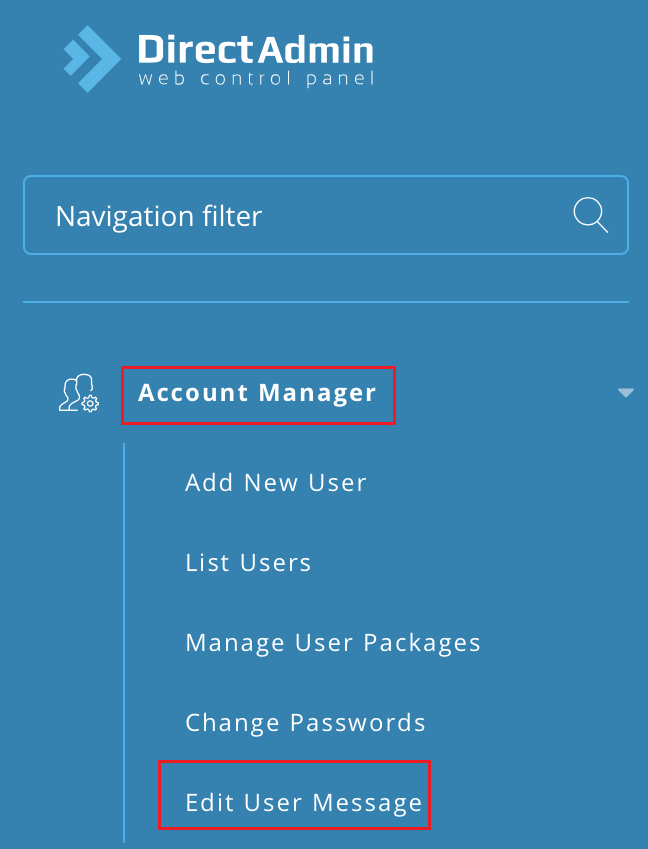 Your account for |domain| is now ready for use.
Dear Customer,

	Thank you for choosing our service to meet your web hosting needs.

Your account has been created with the following details:

Username:	|username|
Password:	|password|
Domain:		|domain|

To log in immediately, follow this link, using your username and password:

http://|ip|:|PORT|

Once your domain resolves, you will be able to follow this link:

http://www.|domain|:|PORT|

Bandwidth:	|bandwidth| Megabytes
Disk Space:	|quota| Megabytes

Virtual Domains:	|vdomains|
Subdomains:	|nsubdomains|

POP Email Accounts:	|nemails|
Email Forwarders:	|nemailf|
Email Autoresponders:	|nemailr|
Email Mailing Lists:	|nemailml|
POP Server:	mail.|domain|
SMTP Server:	mail.|domain|
Login:	|username|
Password:	|password|

FTP accounts:	|ftp|
Anonymous FTP:	|aftp|
FTP Server:	ftp.|domain|
Login:	|username|
Password:	|password|

IP:	|ip|
Use |ip||*if OWNED!="yes"|/~|username||*endif| to access it until the domain resolves.

You must use these dns servers for your domain. They can be changed through your domain registrar.

NS1:	|ns1|
NS1 IP:	|ns1ip|
NS2:	|ns2|
NS2 IP:	|ns2ip|

MySQL Databases:	|mysql|
Domain Pointers:	|domainptr|
SSH Access:	|ssh|
Secure Socket Layer:	|ssl|
CGI:	|cgi|
PHP:	|php|
DNS control:	|dnscontrol|

Once again, thank you for choosing our hosting service
Please don't hesitate to contact us if you have any questions

How to edit the account suspension message in DA:
Login to your DierctAdmin or Reseller account.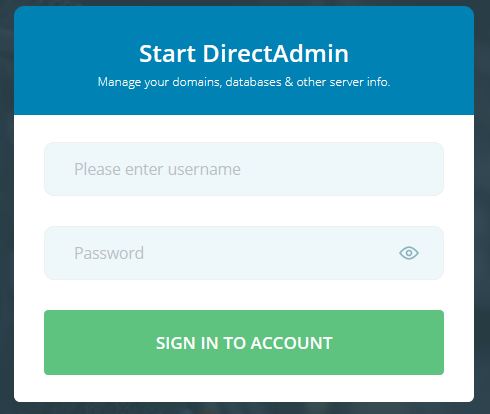 Go to Account Manager >> Suspension Message.
You have to edit the subject and the body of the message and click on 'Save'.
Your account '|USERNAME|' has been suspended. Reason: '|REASON|'
Hello,



This message is to notify you that your account '|USERNAME|' has been suspended.

Reason: |REASON|



If you feel this has been done in error, please contact your hosting provider for more information



|MSG_FOOTER|


If you are a server admin and if you wish to create a custom message for the new accounts creation process that can be used by you or all the resellers, put the message in this file:
/usr/local/directadmin/data/templates/custom/u_welcome.txt
If you are an admin and you want to change the new account message for some specific reseller, you can modify the file (USERNAME is the reader's account).
/usr/local/directadmin/data/users/USERNAME/u_welcome.txt
Once defined, the suspension message will be stored in:
/usr/local/directadmin/data/users/USERNAME/u_suspension.json