Need to display product information through tables on your site, but just imagine having to tinker with HTML do you think about quitting?
Here is the perfect solution to optimize your work and will allow you to create tables in WordPress.
Tables in WordPress
Creating tables, editing them and still importing and exporting from your site to Excel or vice versa seems like a dream. I know that!
Currently, there are several plugins that offer the creation of tables and editing their contents in an easy and uncomplicated way. However, many fail to get desired results.
For those who cannot and do not want to stop displaying information through tables – whether of their products, services, research, personnel, accounting, among other types of applications – working without some kind of tool is unbearable.
So the plugin we present below is perfect for solving your problem and also offers paging, result ordering, searching and even for exporting and importing tables.
TablePress

TablePress is the plugin you must consider to work with tables in WordPress in an easy way. Enough of having to manipulate HTML code with tr and td tags to be able to display values in the form of tables. It is the perfect tool for those who do not have any familiarity with WEB programming but need to manipulate tables within their pages and posts. And the detail: the plugin still gives options to import and export tables for Excel, CSV, HTML, etc.
Creating and managing tables by adding them through the use of shortcodes has never been simpler. Installing and working with TablePress lets you view tables even in widgets! This plugin allows you to add and edit data in your tables without any need for code and still brings with you JavaScript libraries so your visitors can change pages, sort and filter the data in the tables.
Managing Tables with TablePress
As you can see in the post How to Install and Activate a Plugin in WordPress, installing and activating TablePress on your site is very simple. So if you've already added it to your WP site, I'll show you below how to Create Tables in WordPress and add them to your posts and pages.
Creating Your First Table
As soon as TablePress is activated in your WP's Dashboard, a new menu item with the name of the plugin is added to the side of the Administrative Panel. So, you should go to TablePress> Add New to create our first table.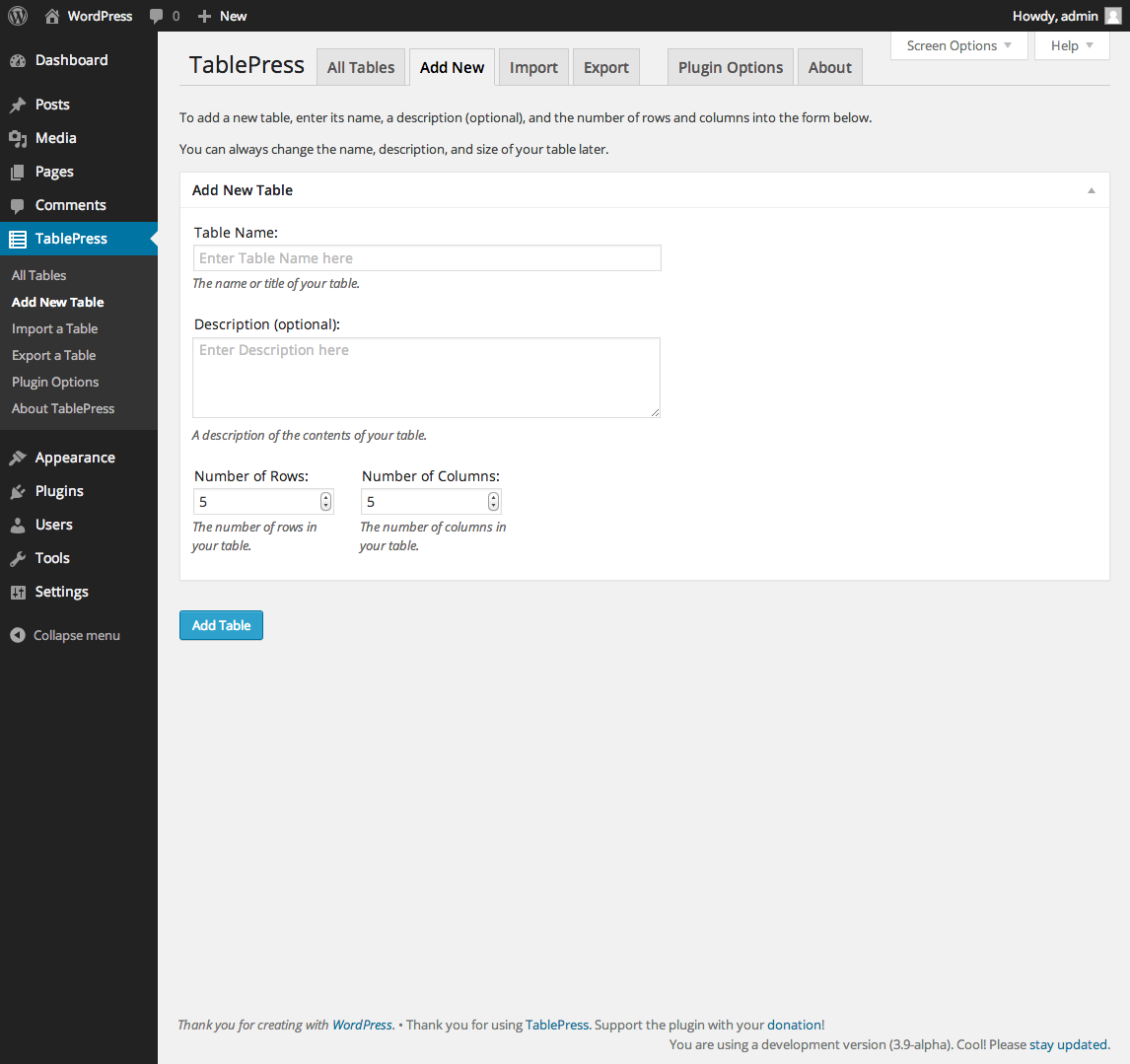 You will see a new page where few options need to be filled. Also, note that at the top of the page you have tabs to change the navigation of the areas that the plugin offers.
Start by entering a title/ table name, a brief description, the number of rows, and the number of columns. Then click the Add Table button at the bottom of the page.
Adding Content
Table created, it's time to add content to your rows and columns!
As soon as you click the Add Table button, the page will refresh by creating the table. Then on that same page, new fields will be displayed and you will also see the table ID and its specific shortcode.
To add information, you should look for the Table Contents and Table Manipulation areas.

In Table Content, you can enter the titles of each column and other information. With the help of the existing options in Table Manipulation, you can more easily insert links, images and use the advanced editor to add content. Just click on one of these 3 options and then click on the table cell where you want to add the text, link or photo.
Still, in Table manipulation, you can add insert rows and columns as well as delete, hide and duplicate. And of course, just like in Excel, you have the option of combining cells with the rowspan and colspan options.
Table Options
In this same page to add content, you will find the Table Options area.
This is where you can set up behaviors for the first and last lines as header or footer, alternation and color highlighting, specific CSS class specification and other options.
Ordering and Filters
For those who want to view the sorting, paging and filtering possibilities of the table for site visitors, you need to configure the Sorting and Filters area options.

When you have finished all your settings and inserted contents into the table, scroll the page to the end and click the Save Changes button.
Add Table to a Page
To add the table you just created and set up, go to a post or page where you want to insert it. For posts, you must access  Posts> All posts and create a new one or edit an already existing one.
Within the text editing area, in the toolbar, you should look for the icon of a table and click on it. See the image below:
A modal window is displayed and lists all the tables that you have created. Since we only create one, only the one is displayed. Click the Insert Shortcode button to add the code that will show on the post/page that particular table.
With the shortcode of the table added to your text edit area, click the button to Publish or Update.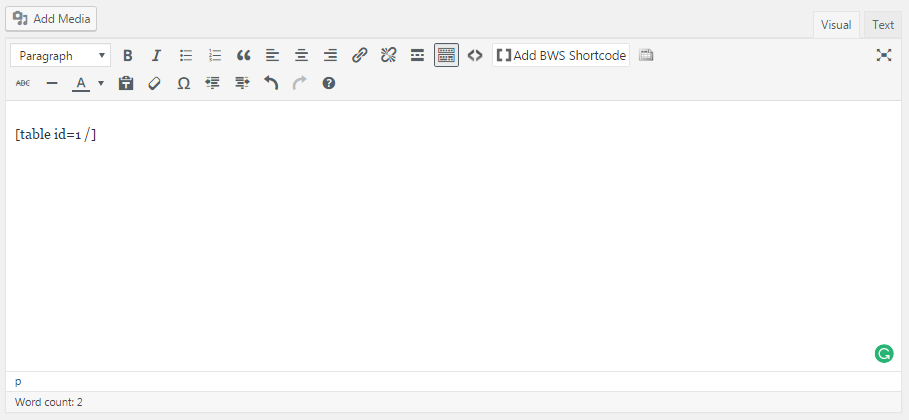 Access the page or post that has just received your table and see how it looks.
Depending on the style your theme uses, the appearance of your tables will be different. So it's interesting to work with specific CSS rules for them.
Conclusion
Using tools that help in the effectiveness of our work when we create with WordPress is something great. Often the plugins allow on our site there are several features and functions that we did not even imagine could be implemented.
Depending on the type of website, blog and even virtual store, using tables to display data and information is a must. And with TablePress this task becomes simply practical and fast. You can forget the idea and need to create HTML tables straight into the code. This plugin does exactly what you need and still leaves everything much better than you wanted. That's why we recommend TablePress to create, manage, import and export tables in WordPress easily.
If you liked this article consider sharing on social networks. If somehow this article was useful to you, leave your comment below so we can know your opinion.
Looking for WordPress Blog Hosting? Look no further than MilesWeb Hosting!!