Watch this video for a step by step process on How to Manage a Mail Queue in DirectAdmin
The admin of a DirectAdmin server enjoys special privileges that include managing mails. With the Mail Queue Administration tool, a server administrator can manage the mails in the queue via DirectAdmin.
To Manage a Mail Queue
1. Log in to your admin account of DirectAdmin.
2. Go to the Admin Tools section and click on Mail Queue Administration.
The Mail Queue Administration panel will open. Here, you can see the list or queue of emails.
Note: The frozen emails will be marked as such with a small warning icon by their side.
3. Select the email or emails from the queue.
A selection of multiple options will appear above the list:
Thaw: Unfreeze an email. Exim will again try to deliver the mail in the queue.
Freeze: Stop any attempts to make the email delivery. The email will remain in the queue for a while, so you can investigate the cause behind freezing it.
Retry: Retry delivering the email. Exim will retry to deliver the email as per the time defined in your exim.conf file. You can still force a retry at any time you want.
Bounce: Reports the sender that the email is undeliverable.
Warning: Bouncing an email is not a very agreeable option. Most systems are set to mark any undeliverable email as spam. The email will then bounce back to some user with no involvement, which will cause collateral spam.
Delete: Delete or remove the email from the queue.
4. Click the button to either Thaw, Freeze, Retry, Bounce or Delete the emails.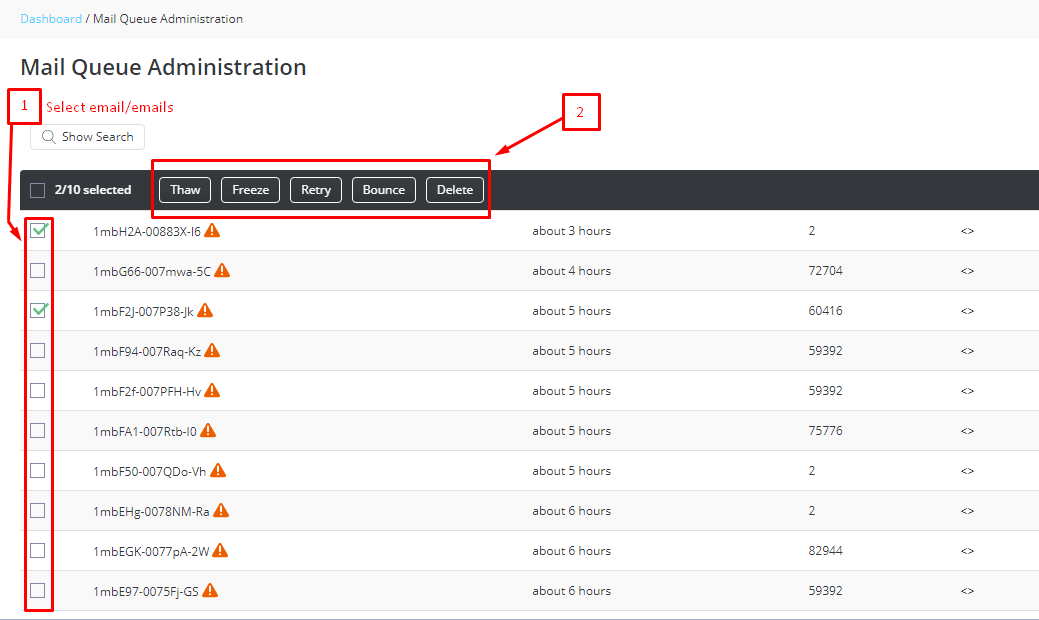 That is how you can access and manage the mail queue in DirectAdmin.