This article will guide you on how to log in to a sub-account in Plesk.
# Steps to access sub-account in Plesk
Being a Windows Reseller Hosting customer, you may need to log in to your customer's account very frequently. Follow these steps to do so :
1. Log in to Plesk from your reseller account
2. In the left sidebar menu under Hosting Services, click on Domains.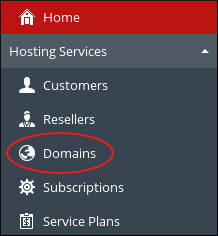 3. In the Domain Name column, identify and then click on the domain associated with the account you want to access. Plesk will log your account with the same permissions as the customer.
Read more :
2) How can I Access Webmail in Plesk?