You can register your own nameservers if you own a VPS or a dedicated server (ns1.yourdomain.com and ns2.yourdomain.com).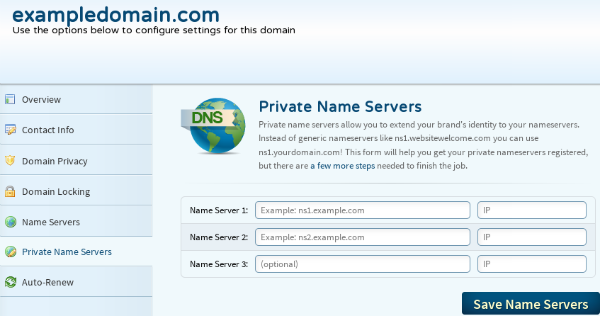 Your first step is to get IP addresses where you can point your domain nameservers.
The IP addresses will be specified in your welcome email, if not you can contact our support team anytime.
Once you have the IPs, you can register the nameservers with your domain registrar
If your domain is registered with MilesWeb, follow the steps mentioned here.
If your domain name is registered with some other company, please contact them for nameserver assistance.
When the nameservers are registered, you will have to set them on the server. Follow the steps mentioned below for that:
Login to WHM and >> 'DNS functions' section >> Edit DNS zone menu
From the drop down list, select the domain name you would like to set the nameservers for and click on 'Edit'
Update the 'SOA record' stating your primary nameserver and the email address
If you want the private nameservers to be automatically applied for all the new cPanel accounts and you also need to set them for all the addons before adding them to cPanel:
Go to 'Basic cPanel and WHM setup' in WHM >> and add your personal nameservers
You must allow 24-72 hours for the DNS changes to propagate worldwide. Contact MilesWeb support if you need any help.