Before we start looking into how to create a link for your customers to leave Google reviews, have a look at how reviews are shown: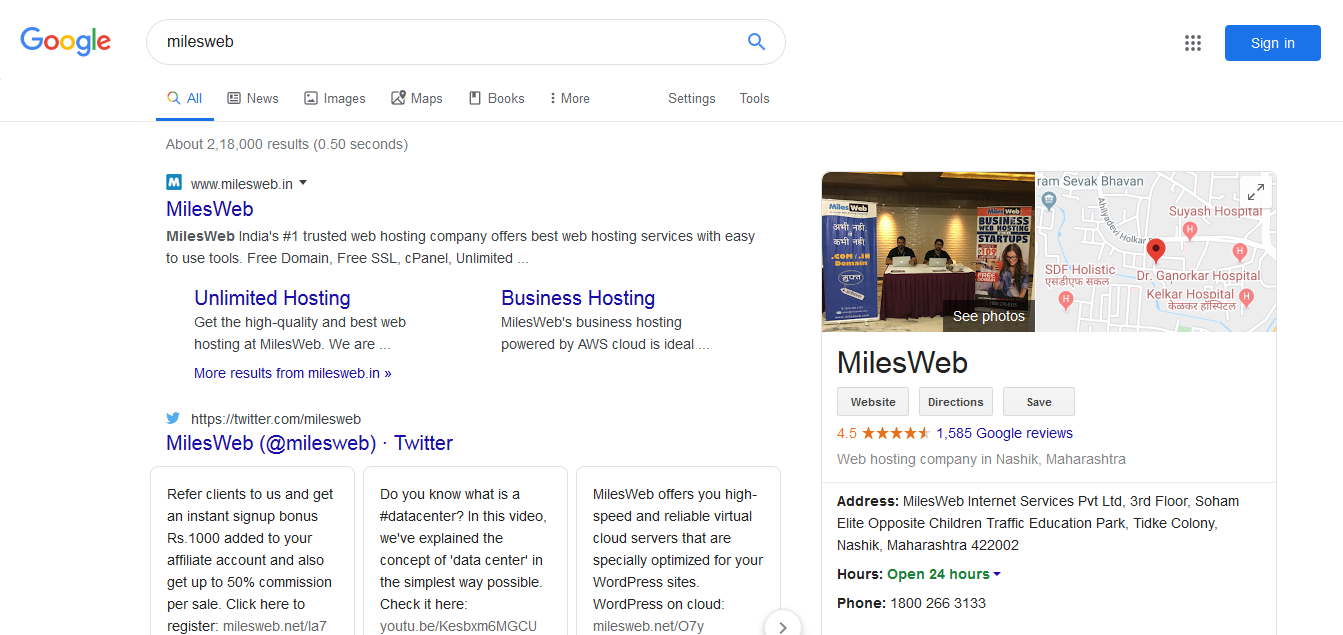 When you click on the link Google reviews, a new window will be shown that displays the feedback and reviews of your customers in detail, like this:
Looks great right! Its time you should have Google reviews displayed for your website! Having Google reviews increases the credibility of your business brand and creates a great impression on the people who search for your website online. Through the steps mentioned in this article, you can easily create a link that your customers can click on and write a review. You need to have a 'Google My Business' maps listing for people to review your business.
Here's how you can create a link through which people can leave Google reviews about your company:
Get A Google Review Link For Your Business Directly Through Google
This is the easiest way to find out the exact link from your Google location where your customers can leave Google reviews about your business. Follow the steps mentioned below for copying the link:
Sign in to your Google account.
Look for your business on Google.
On the right hand side of your business search results, click on 'Write Review'.
Copy the URL from the browser address bar.
Update : You can get the Google reviews link through your Google My Business Account as well:
Google has simplified the process of copying and sharing the link so that your customers can easily submit reviews on your business's Google location. In order to get this link, follow the steps mentioned below:
Login to your Google My Business account.
On the homepage, go to the 'Get more reviews' section.
Copy the link given there.
When your customers click on this link, they will be taken to your business location on the Google Maps app. Here a pop up will be displayed so that your customers can submit a review right away.
Use The PlaceID Generator
Google PlaceID is an easy to use generator that provides you with your Google Maps location ID. All you have to do is enter your business name, select it from the drop-down menu and copy the place ID from the popup.
Here are the steps in complete detail:
Enter your company name in the 'Enter a location' section.
Click on your company name that is displayed in the dropdown list.
Your Place ID will be displayed in the popup and all you have to do is copy it.
Paste this ID at the end of this link, after the '=' sign – https://search.google.com/local/writereview?placeid=
Now you have a Google reviews link that will look like the first image shown in this article!
Note : When you follow the steps mentioned above, you will be given a longer link that features the reviews of your company. It is recommended to use a tool in order to shorten this link.
Now let's move towards what you can do with this link and how you can ask your customers to leave reviews about your company?
To get more Google reviews, you can:
Mention this link when you send emails to your customers and ask them to submit a review for your company.
Generate a 'leave a review' button on your website, the customers will click on this link to create reviews.
You can also generate a QR code of this link and print it everywhere.
Mention your Google reviews link in your email signatures.
You can display your existing reviews on our website and provide the link for your new customers to leave reviews.
You can create a separate page on your website that is dedicated to customer testimonials and reviews and you can provide this link for people to leave more reviews.
For implementing any of the tips mentioned above, it is important that your customers should be signed in to their Google accounts or else they won't be able to submit reviews.