Apache SpamAssassin is a great email platform that provides information on incoming emails for various spam characteristics. It utilizes various network tests and spam filtering techniques to get to an overall score. On the basis of this information it is decided whether the email should be treated as spam or not.
How to configure SpamAssassin?
Follow the steps mentioned below in order to configure SpamAssassin:
1. Login to your cPanel account and navigate to the 'Mail' section.
2. You will come across an option: 'Apache SpamAssassin', click on it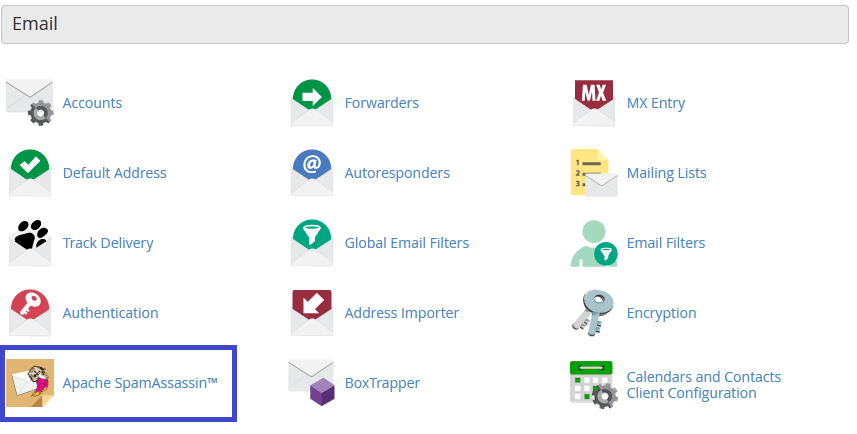 3. Now click on the option : 'Enable Apache SpamAssassin'

Filters
The spam auto-delete option automatically deletes the emails that meet the spam score test or exceed it. In order to configure this option, navigate to the SpamAssassin menu and search for the 'Filters' widget.
You can set the preferred score through the drop down menu (From 1 to 10)
For enabling the filter, click on 'Auto delete spam' button and in order to disable it, click on 'Disable Auto-Delete Spam'

Spam Score
Every incoming email is scrutinized by SpamAssassin and it is given a score on the basis of spam characteristics. By default, email messages that have a score of 5 are considered as spam. However, the filter can be adjusted according to your needs.
Once you have completed all the steps mentioned above, click on 'Configure Apache SpamAssassin'

You will be redirected to a page that features several options, setting your own spam score is one of these options. Go to 'required_score' field and enter the new value.

You can add the preferred score in the box. All the incoming emails that are scored with this number or higher than this will be marked as spam.
**Note that the lower your score is, the more restrictive filter will be.
Once you have set the core, click on the 'Save' button.
Blacklist / Whitelist
In some cases, some emails might be incorrectly termed as spam by Apache SpamAssassin. If you receive these email messages from some specific email senders, you can whitelist them.
Add the email addresses that you would like to whitelist in the boxes provided.

That's it! You have completed the process of configuring Apache SpamAssassin!
Get fast and secure email hosting at MilesWeb. Visit : https://www.milesweb.co.uk/email/gsuite to get complete information.