Watch this video for a step by step process on How to Enable Greylisting from WHM
Greylisting is a prevention tool that effectively protects users against spam emails. Here, you will learn to enable Greylisting from WHM.
To Enable Greylisting
1. Log in to your root account of WHM.
2. Select the Email option from the navigation menu.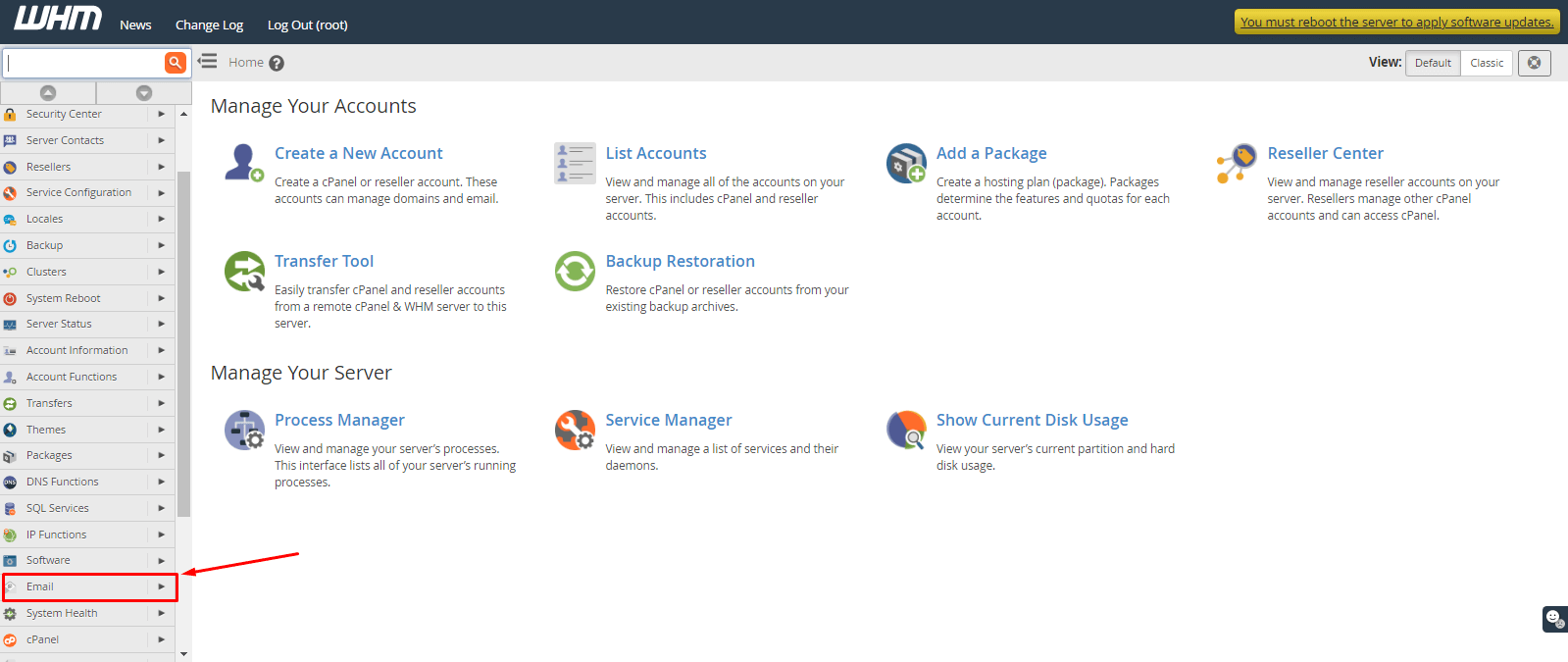 3. Click on Greylisting.
By default, the Greylisting will be disabled as the button is OFF.

4. Click the OFF button. It will switch to ON that will enable Greylisting.
Switching ON Greylisting will display options like- Configuration Settings, Trusted Hosts, Common Mail Providers, and Reports. These options customize Greylisting to filter emails, reaccept temporarily rejected emails, etc. We will see what you can do with these options.
Configuration Settings
These are the settings that determine the response/reaction time of Greylisting. We recommend that you do not change the default settings. But, if you want to change them, you should know what these settings are.
Initial Deferral Period (in minutes): time for the mail server to defer an email from an unknown triplet.
Resend Acceptance Period (in minutes): number of minutes the mail server takes to accept the email resent from an unrecognized triplet.
Record Expiration Time (in minutes): The time a mail server takes to treat a resent email as coming from a new unknown triplet.
Allow/disallow Bypass Greylisting for Hosts with Valid SPF Records.
Trusted Hosts
It is a list of IP addresses whose emails are important for you. Greylisting will never block/defer the emails from the IP addresses in the Trusted Hosts list.
To add IP addresses in Trusted Hosts:
Enter the IP address (or range) of the host in the New Trusted Hosts text box.
Although it is optional, you can also type a Comment for the entry.
Click on Add.
The IP address will then appear in the list.
Common Mail Providers
It is a list of Common Mail Providers that automatically updates. It is because the option Automatically trust newly added mail providers is selected by default. The Common Mail Providers are similar to Trusted Hosts as Greylisting will not defer their emails.
If you want to remove a common mail provider:
Un-check the box in the Trust column for the mail provider.
Click on Save.
Reports
The last tab, Reports, is a log of Greylisting. It offers a concise summary of all the actions that Greylisting has performed in a tabular form.

That is all you need to know about Greylisting and how to enable it with WHM.