You can modify the appearance of cPanel of your customers along with the webmail interface. You can easily add your company's logo or a custom footer. In this guide, you will learn to make a copy of your existing cPanel branding style by going to the editable options and setting it as the default cPanel style.
1. Login to WHM with your credentials.
2. Hover to the top left search box and type branding. Click on Branding when it appears.
3. There will be two options listed – one for webmail and one for cPanel. Next, click on the Live Editor link besides the one which you want to edit. (The option for webmail ends in mail.)
4. Go to the Create or Upload Branding button and click on it.
5. Now go to the Create a new branding style section and give a name to your new template. Click on the Create button. Here, we have named as custom-cpanel. After this you will see a message starting that "The branding style custom-cpanel was successfully created."
6. Next, click on the Go Back to Branding Editor button.
7. Then scroll down and search for the branding style you created and click Edit this Style.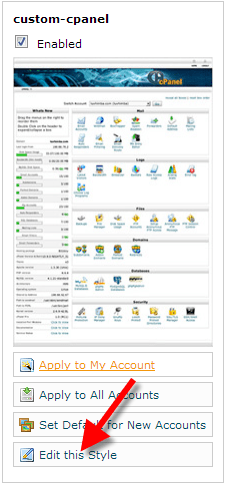 You will now see edit options. Check below the brief description of what can be modified:
| NAME | TYPE | CLUSTER-IP | EXTERNAL-IP | PORT(S) | AGE |
| --- | --- | --- | --- | --- | --- |
| kubernetes | ClusterIP | 10.96.0.1 | None | 443/TCP | 10m |
| nginx | ClusterIP | 10.102.160.47 | your_public_ip | 80/TCP | 50s |
| php | ClusterIP | 10.100.59.238 | None | 9000/TCP | 5m |
8. Your new custom branded style can be set to default style in the Branding Editor. For this you will need to click on Set Default for New Accounts. This will lead the new accounts to use the new custom branded cPanel you created.
Congratulations! You have now learnt about making a copy of an existing cPanel branding style, become familiar with the options, and also, know to set it as the default cPanel style.