Watch this video for a step by step process on How to Create a Mailing List in the DirectAdmin Panel
A mailing list is a must for any website owner as it allows you to keep in touch with your visitors and subscribers. It is a record of the names, contact numbers and addresses of people that are potential clients.
Usually, users prefer an independent software application for creating and managing their mailing lists. However, it is possible to create one in the DirectAdmin panel with a few easy steps.
To Create a Mailing List in DirectAdmin
1. Log in to your DirectAdmin account.
2. Scroll down to the E-Mail Manager section and click on Mailing Lists.

3. Click on the Create Mailing List button.

A pop-up window will open for you to assign an address to the mailing list you are creating.
4. Enter an address for the mailing list under the List Name field and click on CREATE.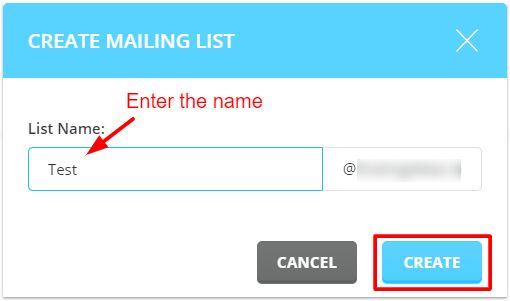 Note: Try not to assign an address that you have already used for a POP account, email forwarder or autoresponder. The address of the mailing list should be unique so that it may function optimally.
A success message will flash and, you will see the mailing list you created in the table.

5. Click on the newly created mailing list to add new subscribers.
There are two kinds of subscribers you can add:
Subscribers: Receive emails as soon as you post them on the mailing list.
Digest Subscribers: Receive a digest of email messages stored over a week/month in a batch.
6. Choose the tab for the type of subscribers you want to add and click on the ADD SUBSCRIBER button.

7. A pop-up window will appear where you have to:
Type subscriber's address in the E-mail Address field.
Pick a list as per the type of subscriber.
Click the ADD button.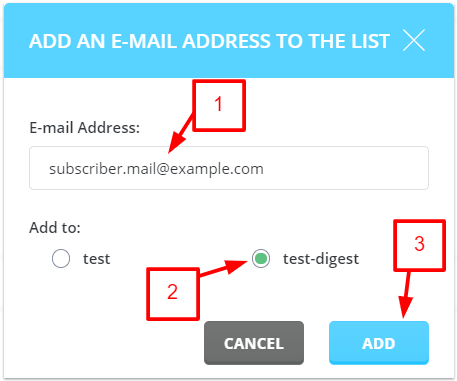 Use this process to keep adding more subscribers to the list.
Now, you will have a mailing list to send emails to all your subscribers at once.